Haley Fowler, a pitcher with the Lowndes High Vikettes softball team, wants to win. When she steps between the white lines, that's all she wants to do. Her competitive nature belies her sweet, polite demeanor. Make no mistake about it – when she is on that field, she will do whatever she can within the rules of the game to completely shut down her opponents. And during her three-year career at Lowndes, she's been pretty effective at doing just that.
Fowler and her family moved to Lowndes from North Georgia when she was a freshman. Fowler was already an accomplished softball player when she arrived in Valdosta. She began playing softball when she was four years old. Though that first playing experience was just tee ball, she immediately fell in love with the game and hasn't quit playing since. Throughout her career, Fowler has played just about every infield position. She started pitching when she was about 12 years old but pitching didn't really click with her until she was a sophomore. That's when her career took off.
That season, the Vikettes won the region title and advanced to the Sweet 16 of the state playoffs. Fowler earned region Pitcher of the Year honors for the role she played in the run to the region title. Last season, Lowndes repeated with another region championship. This time, Fowler was named region Player of the Year. A tremendous hitter, Fowler hits in the #3 spot and led the team in home runs the last two seasons.
What makes Fowler such a great player? First of all, she loves the game. When she stepped on the field that first time almost a decade and a half ago, she knew softball was her game. In many ways, Fowler feels as though she was born to play softball and she's dedicated nearly every waking hour that she hasn't been in school to perfecting her craft. Aside for the physical work she's done, Fowler is also meticulous when it comes to the mental side of the game. She pours over other pitchers' statistics, trying to figure out what they do in certain situations. She also studies game film and score sheets from previous region games to gain insight into the tendencies of opposing hitters. "Last year against Colquitt in the region championship series, I took every score sheet from our games with them and studied their line-up. I wanted to know how to pitch to them and where to place the ball," she says.
That kind of attention to detail, along with a velocity that hits 63 mph and her command of six different pitches, made her hot commodity to college programs. In the end, Fowler decided to stay home and attend Valdosta State University. The primary reason? VSU is a winning program with a national championship resume. "I've always wanted to play in college. But I also want to win. I'd rather play for a smaller school that wins than for a Division-I program that doesn't. I also love Coach [Thomas] Macera's coaching style and rest of the staff at VSU," she says.
Fowler has devoted her life to playing softball. Now she's seeing all that work and all those hours pay off – two straight region titles, Pitcher and Player of the Year honors, a college scholarship, and more than enough memories to last a lifetime. Through it all, she's just happy to be able to play the game. "I'm so blessed to be able to play softball. It's been a huge part of my life. It's my go-to. It's fun to look back where I came from and where I am right now," she says.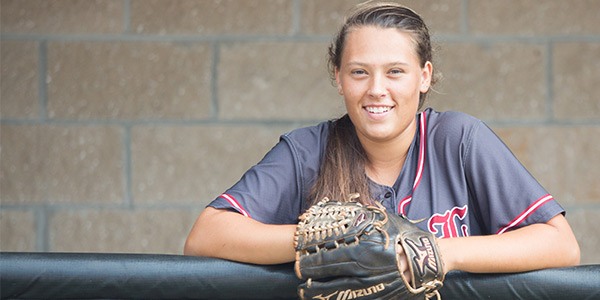 ---
Special Feature/South Georgia/September 2015
Haley Fowler
Lowndes High School
Valdosta, Georgia
Robert Preston Jr.
Photography by Lindsi Jones