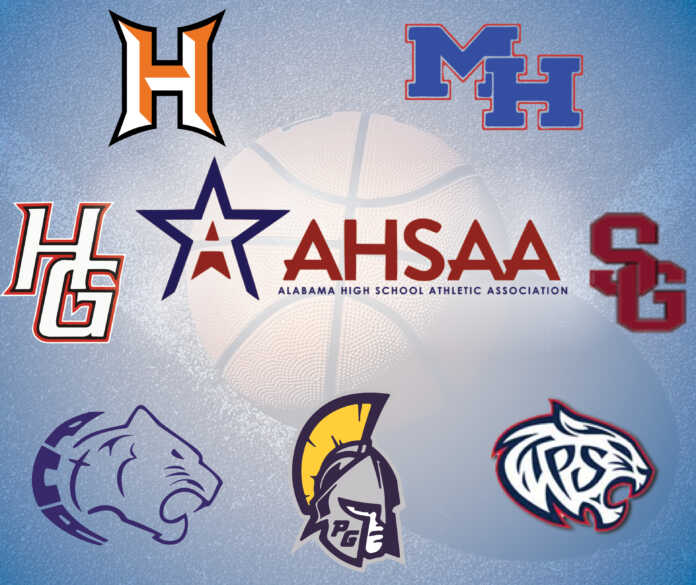 Hazel Green Makes History with 6th Straight Title
The AHSAA girls basketball state semifinal playoffs saw just about every classification's matchup include a blowout victory along with a fairly close game in the opposite bracket. Here's a quick recap of each of the Alabama high school girls final four and state championship games.
7A Semifinals
The Class 7A semifinal games were played on the tournament's final day last Thursday, with Hoover High defeating Prattville to advance to the state finals, where they would battle Sparkman, which defeated Foley by 18 points, 51-33.
7A Championship
The Hoover Lady Buccaneers continued their dominant run in Alabama high school girls basketball's highest classification, winning their third consecutive state championship and fifth in seven years with a 55-44 win over Sparkman. Layla Ethinson had 20 points and 3 key steals, and Reniya Kelly had 25 points, 15 of which were from 3-point land, to lead Hoover's dominating effort Saturday night at Legacy Arena.
6A Semifinals
The Class 6A semifinals saw Hazel Green defeat McGill Toolen 49-22, while Huffman climbed back from a game-long deficit to top Hillcrest 56-50. Huffman's first lead came with just over two minutes remaining in the game. Hazel Green's stifling defense kept McGill Toolen from making a serious run at the 35-1 Trojans, who were going for a sixth straight state championship.
6A Championship
The Hazel Green Lady Trojans finished off a dominating season that saw them win 36 games against just one loss, with that final victory coming last Saturday against Huffman High 50-43 in the Alabama high school girls Class 6A state championship game. Coach Tim Miller's team made history by becoming Alabama's first team (boys or girls) to win six straight state titles.
5A Semifinals
The Class 5A semis produced one close contest between Arab and Brewbaker Tech, while the other side of the bracket saw a blowout between Pleasant Grove and Charles Henderson. Arab advanced to the title game after Maggie Chastain hit three consecutive free throws with just two seconds remaining to give her team the win 52-49.
5A Championship
The Pleasant Grove Spartans are the 2023 Alabama Class 5A state champions after pulling away from the Arab Lady Knights to win by 17 points. Tamya Smith led the charge for Pleasant Grove and was named the tournament MVP for her efforts.
4A Semifinals
In the Class 4A semifinals, one of the team's we featured last week, Prattville Christian Academy, cruised to a 15-point victory over New Hope to advance to the state championship. Their opponent would be Priceville, which defeated UMS-Wright by 20 point, and would be seeking its third state championship in a row and first as a 4A team.
4A Championship
Coach Jason Roberson did it: After two Alabama high school girls state championship wins in Class 3A, the veteran coach led his Lady Panthers to their third consecutive state title and first as a member of Class 4A. With the "Twin Towers," Hannah Jones and CoCo Thomas, leading the way, and PCA 3-point sharp shooter Avery Rogers on a tear, it didn't seem to matter what Priceville did in this game as Prattville Christian claimed a 76-59 victory.
3A Semifinals
The Class 3A semifinals saw another team we've been following, Blake Smith's Trinity Presbyterian squad, defeat the Callie Smallwood-led Susan Moore Bulldogs 53-47. Trinity was seeking its first-ever state championship in what has been the finest season in program history. They improved to 31-2 with the win. Maddie Smith was dependable as always down the stretch and led Trinity with 20 points. Smallwood did her part, pouring in 14 points to help lead Susan Moore High.
3A Championship
Blake Smith and his Trinity Presbyterian Girls captured their first-ever state championship with a 52-48 come-from-behind win over Clements High School. Mia Moskowitz was named the 3A Tournament MVP.
Clements looked as if it was on the way to claiming the state championship, carrying an 8-point lead into the fourth quarter. But Emma Kate Smith came alive, and that spurned her teammates also. Smith put up 11 fourth-quarter points, leading a 12-0 rally by Trinity Presbyterian to start the final stanza. Trinity finished with a 32-2 record, while Clements finished 28-7.
2A Semifinals
Mars Hill Bible, led by head coach Flori Sweatt, defeated the Geneva County Lady Bulldogs by 20 points, and the Cold Springs Lady Eagles won their game over Lannett by a 44-37 final score to set up a championship matchup with the Lady Panthers.
2A Championship
Mars Hill Bible snapped its long stretch of 17 seasons without an Alabama high school girls state championship by claiming the Class 2A title with a dominating 69-47 win over Cold Springs. The championship was Mars Hill's first state championship since 2005. The Panthers were led by tournament MVP Belle Hill, who scored 27 points in the championship contest.
1A Semifinals
Marion County defeated Elba by 7 points, 68-61, to advance to the 1A state championship game against the 35-1 and No. 1-ranked Spring Garden High School Lady Panthers. The Red Raiders of Marion County entered the state title game as the defending Class A state champions.
1A Championship
Marion County could not repeat as Alabama's girls Class A state champions, dropping a 62-39 decision to head coach Ricky Austin and his Spring Garden Lady Panthers. Spring Garden was led by an outstanding performance by Ace Austin, who poured in 33 points in the win. Keyley Kirk contributed 14 points for Spring Garden.