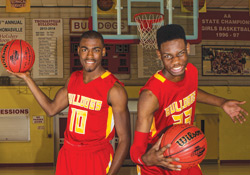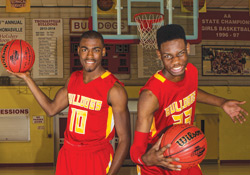 Over the last three years, the Thomasville Bulldogs have made three straight appearances in the Elite Eight of the state basketball playoffs. Anchoring their lineup are two talented young men, the 6'8", 200-pound Andrew Parker, a basketball specialist who dominates in the paint, and the 5'6", 150-pound Henri Abrams, an all-around athlete who controls the game from the point. Both young men are excellent players and proven leaders, the kind of athletes who can take charge of a game and change the outcome all on their own.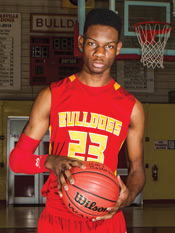 Andrew Parker is considered one of best players in Georgia, and at least one service, phenomhoopreport.com, has him listed as one of the top 50 in the state. A center/power forward, Parker has been on Thomasville's varsity team all four years of his high school career. In addition to his impressive physical skills, Parker is a coach on the floor. He often directs the other players and helps set up the Bulldogs' offense from the post. He understands his role as a leader on the team and strives hard every day to be a good role model for his teammates. Parker also knows how to score, and he finishes strong around the basket. "I just want to be a good senior and a leader for my teammates. I want us to have a strong second half of the season," says Parker.
When In the Game spoke with Parker, the Bulldogs were 7-7 overall and 2-1 in region play. Parker was averaging about seven points per game. Thus far, he is pleased with the way the season has gone. Coming into his senior campaign, Parker wanted to make sure this was the best season he's ever had. "This is my senior year, and I want to finish on a high note," he says. "Right now, everything is on track. I feel like things are going well."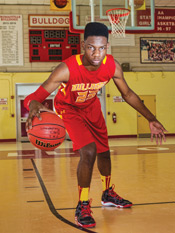 Parker announced his presence in a big way when he was a freshman. That year, the Bulldogs won the region championship. In the title game, Thomasville's starting center fouled out near the end of the game. The game was tight, and Parker found himself in the biggest game of his life with a region championship on the line as a ninth-grader. He scored four points, including a jump shot that put the Bulldogs up and helped them win the championship.
His talent and physical tools have colleges calling. He has several offers he is considering, including Gardner Webb, Florida Atlantic, Seattle University, and Lincoln Memorial. "I'm going to continue to evaluate my options. I've visited Lincoln and Seattle. I still need to visit the others," he says. Playing college basketball has been a goal of Parker's since he was in the 10th grade. "I started getting bigger, and I knew then I could play at the next level."
Throughout his career, Parker has been the focus of a great deal of attention. It hasn't been easy playing under the spotlight, but it's something he has learned to deal with. "I try to stay away from all that. I don't worry about what's going on around me. I just try to focus on basketball and what I need to do," he says.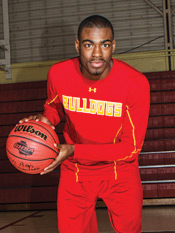 Henri Abrams is one of the fiercest competitors the Bulldogs have. He is a small kid, but a lot of athletic ability is crammed into that 5'6" frame. "I'm short, but I can still dunk. I love scoring points, but I also respect my teammates and I want them to play well. I love getting the ball to my teammates, but I can score, too," he says. For his career, Abrams is averaging nearly seven points per game. And when the situation calls for it, he is capable of scoring much, much more than that. He has three triple doubles thus far, and Abrams has a 38-point game to his credit. "I just hate to lose. I want to win, and I'll do everything I can to win. I don't want to talk about it. I want to play," he says.
Abrams is very good about involving his teammates. He is confident in his own ability to make plays but wants everyone to be a part of the team's success. He encourages, communicates, and, at times, coaches from the point. "We need to help each other win games. There doesn't need to be any confusion on the floor. If we're together, we'll win," he says.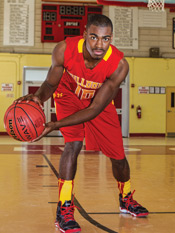 Earlier this season against Thomas County Central, Abrams showed what kind of competitor he is. Thomasville v. Thomas County Central is a big game no matter what sport. And in basketball season, with the fans so close to the floor and to each other, the stakes are even higher. When the two teams played in January, neither squad could gain an advantage. It was back and forth until Abrams took over. He turned up his game in the fourth quarter, scoring eight of his 10 points in the final period en route to a narrow 43-42 win.
Like Parker, Abrams is pleased with the way this season has turned out, with one exception. "We've been winning games, and that's been good," he says. However, Abrams would like to play basketball, football, or both in college. Thus far, he has no offers. "I know my skills are good. I can play. I'm sitting back and waiting to see what happens," he says.
Both players are very complementary of each other. They are good friends, and they play well together. They know they can depend on each other to get the job done, and they trust each other on the court. "Henri is a great player. He gets to the basket well, and he's a great scorer," says Parker.
Says Abrams of Parker: "He's one of our key players. He can take over a game, and he helps me on the court. When I get the ball to him, he doesn't miss. It's the bottom of the net, and that's it."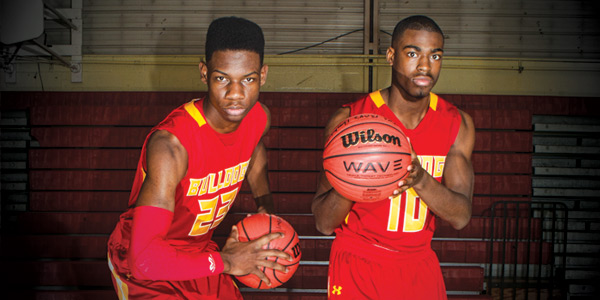 In Thomasville, football is king. That's the way it always has been, and the way it always will be. Henri Abrams also plays football and has done very well for the Bulldogs. He can play multiple positions and has seen time at wide receiver, running back, linebacker, even quarterback when needed. "I can pick apart a defense. I know how to play football," he says.
Andrew Parker has never played football. Every coach would love to have a 6'8" wide receiver, but Parker has steadfastly refused the gridiron. "They tried to get me to play in middle school, but I didn't want to. I wanted to stay injury-free and focus on basketball," he says.
Favorites: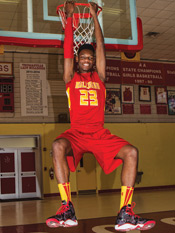 Andrew Parker
• Team: Miami Heat and the Florida Gators
• Player: LeBron James
• Place to travel: Japan
• Best movie in the last year: Ironman II
• Sport you wish you could play: Track
• Superpower: Invisibility
• Animal that best describes you: Lion. "He's the king of the jungle, and the toughest animal in the jungle. That's how I feel on the court – like I'm the biggest and toughest on the floor."
• Person to meet: Michael Jordan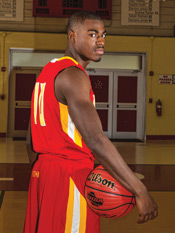 Henri Abrams
• Team: LA Lakers
• Player: Kobe Bryant
• Best movie in the last year: American Gangster
• Person to meet: Kobe Bryant
• Coke or Pepsi: Coke
• Super hero: The Hulk
• Place to travel: Los Angeles
---
Player Spotlight/South Georgia/February 2014
Andrew Parker and Henri Abrams
Thomasville High School
Thomasville, Georgia
Robert Preston, Jr.
Talented Pair Of Seniors Anchor Thomasville Bulldogs
https://itgnext.com/wp-content/uploads/sg_ps_01-14_hilite.jpg
175
250
admin
https://itgnext.com/wp-content/uploads/ITGNext-logo-Black-and-Cyan-300x186.png
admin
2014-02-05 15:20:22
2014-02-05 15:20:22
Talented Pair Of Seniors Anchor Thomasville Bulldogs