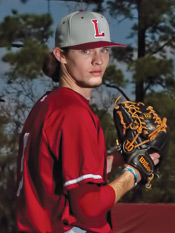 Cory Pope, a senior left-handed pitcher for the Lowndes Vikings, is one of those athletes coaches love to have. He's a good player, but most importantly, he wants to do what's best for the team. He prides team achievement above personal accomplishments. And as he brings his high school baseball career to a close, he would like to see his Vikings surpass last year's region championship and Elite Eight playoff run.
Like most players, Pope started playing baseball at a young age. He loved the sport from the first time he stepped on the field. His love of the game and work ethic helped him develop into a very good young pitcher. "I can't hit and I'm glad I don't have to. I'm not good at it and it gives one of my teammates the opportunity to do something that I can't. I love being in control of a game. I love the responsibility and I like the pressure of being on the mound," he says.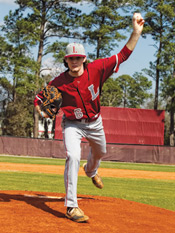 Standing out there on the pitcher's mound for a Region 1-6A team can be a nerve-wracking experience. The stakes are high and there is never time for an off night. To stay calm, Pope has a routine he goes through between innings. He always goes straight to the Gatorade cooler and gets a cupful. He keeps a Bible in the dugout and reads Romans 14:8 – for if we live, we live for the Lord, or if we die, we die for the Lord; therefore whether we live or die, we are the Lord's – as soon as he sits down and again before he goes out for the next inning. "That verse helps me keep things in perspective. All I can do is do my best and glorify God. He will take care of the rest," says Pope.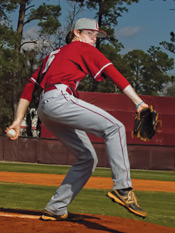 His routine has worked well. Pope posted a 7-2 record last year with a 2.71 ERA. He struck out 80 batters in 83 innings. Pope is a finesse pitcher who relies on location and the ability to outsmart hitters. His velocity isn't bad – low to mid 80s – but he isn't going to overpower batters very often. "I try not to throw the same pitch twice. I'm not going to just blow the ball by hitters very much. I've got to get batters out in other ways," he says. Pope has managed to get himself out of some difficult situations, none more difficult than that he encountered last year on a road trip Lowndes took to Miami. The Vikings played several very good teams. Pope threw against LaSalle and found himself in some trouble during the game. LaSalle loaded the bases with nobody out. Pope stayed calm and struck out the next two batters. Then he got another to pop up for the third out. "They didn't score. That was one of the highlights of my season last year," he says.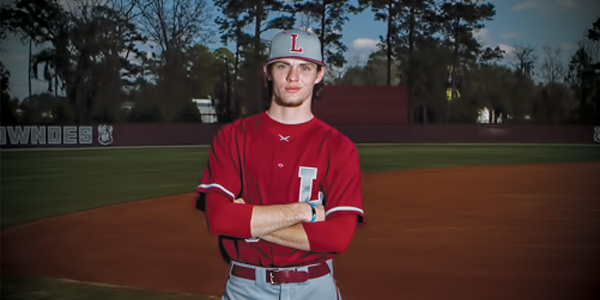 Pope doesn't look very far into the future with regard to baseball. For this season, which hadn't yet begun when In the Game spoke with Pope, he would simply like to do his job to the best of his ability and give the Vikings a chance to win. "Yeah, I'd love to win state. But ultimately, I want to be able to contribute to my team's success. I want to have fun and do my job. Other than that, I don't have any expectations," he says. Pope hasn't made a decision yet on where he will attend college. Several schools are looking at him and he's taken several visits. Thus far, he has made no decision. He will most definitely play in college; an All-Region selection and region Co-Pitcher of the Year from a 6A program shouldn't have a problem getting on a college roster. The question comes down to where. "I'm just going to pitch this season then re-evaluate everything after the season ends. Then I will make my decision," he says.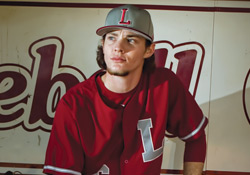 Cory Pope's baseball career didn't begin in Valdosta. It started in Memphis, Tennessee. Pope was born in Valdosta but moved to Tennessee for two years when he was very young. After a couple of years in Tennessee, he and his family came back to Valdosta, where he developed into a promising young baseball talent.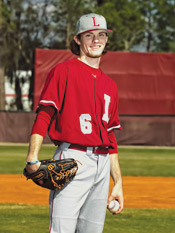 Favorites:
• Team: Los Angeles Angels of Anaheim
• Player: Mariano Rivera
• Sport you wish you could play: Lacrosse
• Subject: History
• Last song downloaded: "You Can't Stop Me" by Andy Mineo
• Coke or Pepsi: Coke
• Superpower: Ability to freeze time
• Person to meet: Will Smith
---
Player Spotlight/South Georgia/March 2014
Cory Pope
Lowndes High School
Valdosta, Georgia
Robert Preston Jr.
Lowndes High senior lefty: "I just want to give my team a chance to win"
Photography: Micki K Photography
https://itgnext.com/wp-content/uploads/ITGNext-logo-Black-and-Cyan-300x186.png
0
0
admin
https://itgnext.com/wp-content/uploads/ITGNext-logo-Black-and-Cyan-300x186.png
admin
2014-03-10 19:01:44
2014-03-10 19:01:44
Lowndes High senior lefty: "I just want to give my team a chance to win"