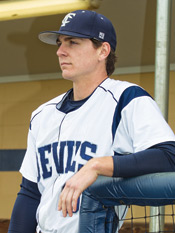 "I just love to play baseball. A lot of people say baseball is a slow game, and maybe it is in some ways. But the most unusual things can happen and those things can change a game in an instant. Success doesn't come easy. I played everything growing up. My whole family loves athletics. But baseball is what I loved the most," says Tift County senior centerfielder Alex Abbott.
Abbott, an athletic 6'1", 195-pounder, is a hard-hitting outfielder with good speed and a great glove. He's been patrolling the outfield for the Blue Devils for four years and he has become one of the best players in the state. Abbott is passionate about baseball and he had a keen understanding of the game. He knows baseball is a fickle game, one that rewards patience and simplicity. While it is easy to get caught up in the intricacies of the game, Abbott takes a different approach. He refuses to overthink things when he's on the field, instead letting the game develop in front of him. He doesn't waste opportunities and produces in clutch situations. When the Blue Devils need a hit or a run – or both – he wants to be at the plate. Abbott doesn't fear those situations – he thrives in them. And that gives him a huge advantage over his opponents.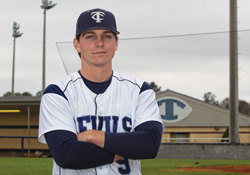 Last year, the Blue Devils advanced to the Elite Eight (They were one of three teams, along with Lowndes and Colquitt, from the region that went to the quarterfinals). The two previous years, Tift went to the Sweet Sixteen. And Abbott's bat was a big reason why. This season, Abbott wants to build on the successes of the previous three. He would like to go farther in the playoffs and maybe, just maybe, add a second state title to the Tift trophy case this year (see In the Game's special feature on the state champion Tift County basketball team in this edition for a recap of the Blue Devils' first state title of 2013-2014). "I just want to go out and enjoy my senior year. I want to play the game I love so much and hit as well as I possibly can," he says. At the time of this writing, he had done that very thing. Tift County was a perfect 10-0 and Abbott was hitting .520 with three home runs and 25 RBI.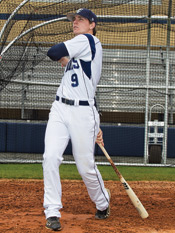 It's that kind of production that earned him a starting spot as a ninth-grader and has since attracted the attention of college scouts from all over. For several years, he knew he wanted to be a Florida Gator. He says he committed to Florida as a freshman and has never wavered. Earlier this year, he signed with the Gators, getting a tough decision out of the way and allowing him to focus on his senior year with no distractions. "Florida is only two hours from home. It's a great school and a great team. I feel like I can be successful in Gainesville and I know the program will help me become a better player and a better person," he says.
For Abbott, his career at Tift County has been filled with big moments. He's been named First Team All Region for three straight years and has put together a fine career. As he reflects on three-plus years of baseball, no individual moment stands out. Instead, it's a collection of games, moments, practices and time with friends that he remembers. "I've enjoyed all the opportunities I've had. It's been a lot of fun and a lot of great things have happened to me. It's been awesome to start all four years. It's all of it together – I've got some fond memories," he says.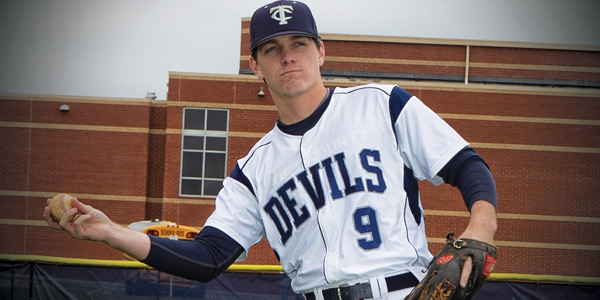 With his build and athleticism, Alex Abbott would have made an excellent football player. In fact, he played football until middle school. Then he suffered a stress fracture in his back as an eighth-grader from playing football. The injury took a long time to heal and hindered his swing. Abbott began questioning his football career and ultimately decided the risk wasn't worth the reward. "I felt like my future was in baseball, and it was time to stop playing football," he says.
Favorites:
• Major League team: Texas Rangers
• Player: Josh Hamilton
• Sport you wish you could play: Football
• What would you do with $1 million? "Pay off my parents' house and put the rest in the bank."
• Best movie in the last year: We're the Millers
• Person to meet: Josh Hamilton
• Place to travel: Hawaii
---
Player Spotlight/South Georgia/April 2014
Alex Abbott
Tift County High School
Tifton, Georgia
Robert Preston Jr.
Hard-hitting Blue Devil centerfielder headed to UF
https://itgnext.com/wp-content/uploads/ITGNext-logo-Black-and-Cyan-300x186.png
0
0
admin
https://itgnext.com/wp-content/uploads/ITGNext-logo-Black-and-Cyan-300x186.png
admin
2014-04-07 18:20:48
2014-04-07 18:20:48
Hard-hitting Blue Devil centerfielder headed to UF