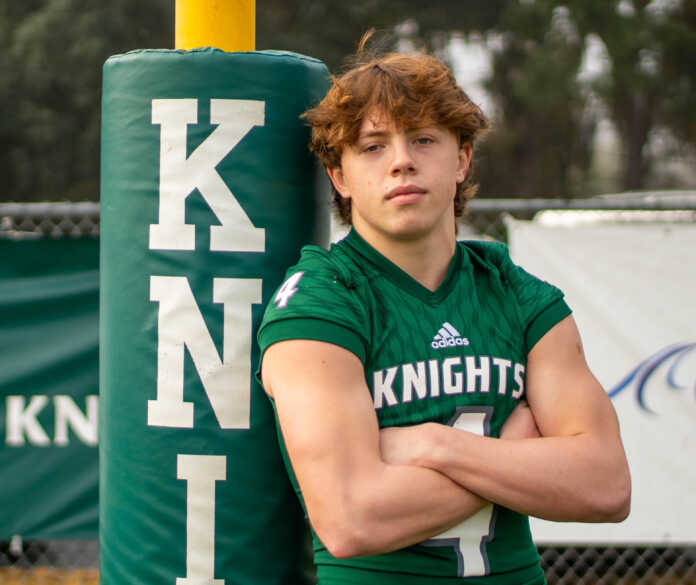 Here's ITG Next Georgia Week 2 Top Performers spotlight, which recognizes those Georgia high school players who made significant contributions to their team, win or lose. It's all about the effort and doing their part, and we recognize players at all positions in all three phases of the game each week.
Tip-Top Performer
Each week we will announce our "Tip Top Performer" to lead off the list of outstanding performances from around the state. We begin our list of Georgia high school Week 2 top performers with this week's Tip Top Performer, Peachtree Ridge quarterback Darnell Kelly. The sophomore completed 73% of his pass attempts, going 25-of-34 for 307 yards and 3 TDs. Kelly also had 5 carries for 49 yards with 2 TDs as he lead the Lions to a 44-36 win Friday night. Head coach Matt Helrich told ITG Next that Kelly received his first three college offers following that masterful performance.
Offense
Georgia high school Week 2 top performers on offense include five quarterbacks, four running backs and a pair of receivers.
Houston County QB AJ Hill: 26-for-40, 363 yards, 5 TDs
Walton QB Jeremy Hecklinski: 14-for-20, 251 Yards, 3 TDs
Jones County QB Judd Anderson: Accounted for 6 TDs in win over Dacula – 10-for-15 passing for 175 yards and 4 TDs; 2 rushing TDs
Greater Atlanta Christian QB Jack Stanton: School-record 392 yards passing; team 605 total yards in win over Lovett
Rome QB Reece Fountain: 7-for-11, 151 yds, 3 TDs, all in one quarter
Lowndes RB Jacarri "Smoke" Fleming: 18 carries, 183 yards, 3 TDs
Mill Creek RB Cam Robinson: 26 carries, 201 yards, 1 TD
Frederica RB Jordan Triplett: 31 carries, 342 yards, 5 TDs
Greater Atlanta Christian RB GL Tiberia: 14 carries, 170 yards, 2 TDs
Thomas County Central WR Trevon Pringle: 5 receptions, 162 yards, 2 TDs
GAC WR Xavier Daisy: 7 receptions, 197 yards receiving, 1 TD
Defense
Lee County DB Cory McDowell: 2 INT, 6 tackles
Buford LB Jadon Perlotte: Late-game INT and long return to secure 10-7 win over Mallard Creek
Gainesville CB Zion Ferguson: INT return for TD to break 7-7 tie late in first half
Rome S Joe Wilkinson: 92-yard INT return for TD
Peachtree Ridge LB Taysean Wilson: 11 tackles, 2 TFL, INT return for TD
Calhoun DB Bryant Arnold: 2 INT, including a pick-6 TD against Carver
Special Teams
Langston Hughes KR Tre Page: 99-yard kickoff return for a TD gave Panthers their first lead of the game and made Page a lock for this Georgia high school Week 2 top performers list.
McEachern K Johnathon Rodriguez: Kicked a 48-yard FG against Langston Hughes to give his team an early 9-0 lead. Also kicked a PAT.
Greater Atlanta Christian K Brandon Beckham: Kicked FGs of 27, 30, and 35 yards in Friday night's win over Lovett. Beckham has returned after missing the past two seasons due to a hip injury and surgery as a freshman.
Colquitt County K Brett Fitzgerald: 2-for-2 on FG attempts of 22 and 24 yards, plus 4 touchbacks on kickoffs and recovered his own onside kick. Also aa perfect 5-for-5 on PATs in his team's win.