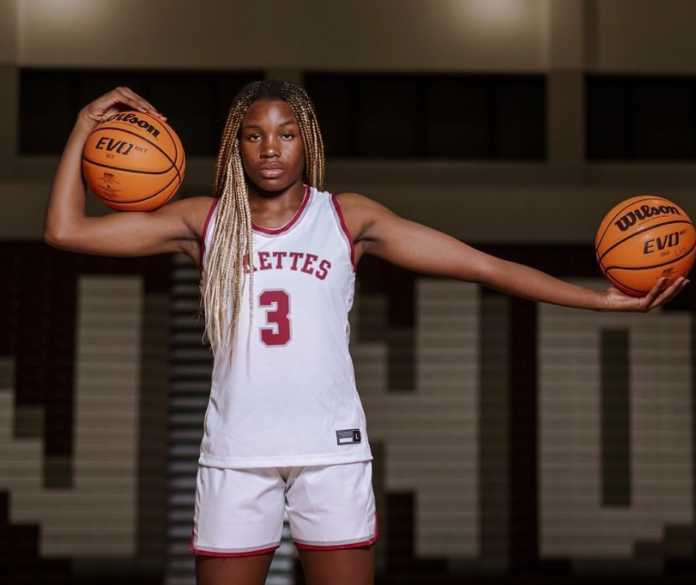 Lowndes Basketball Player Otaifo Esenabhalu Voted ITG Next Georgia Female Athlete of the Month
Congratulations to the ITG Next Georgia Female Athlete of the Month, Otaifo Esenabhalu from the Lowndes High Girls basketball team. The junior enjoyed a standout season this past year after transferring to Lowndes High School from Minnesota in the preseason. 
She came in, earned a starting spot on the team, and immediately made an impact. According to her coach, Lowndes head coach Antonia Tookes, Esenabhalu was a "double-double" player, averaging double-digit points as well as double-digit rebounds for much of the season. 
"She was our best rebounder and best defender this season," said Tookes. 
Her performance during the month of February not only helped her nomination for Athlete of the Month but was also a big reason for her team's win of the region tournament championship.
During February, her play was critical in regular season wins against Colquitt County and Valdosta to close out the regular season, then in the region tournament. Against Camden County, Esenabhalu had 17 points, two steals, and 11 rebounds in the Vikettes win over the Lady Wildcats. Then, in the championship contest against Tift County, she scored 10 points, 11 rebounds, and had one assist.
Esenabhalu was born in New York before moving to Minnesota with her parents, Victor and Lucy Esenabhalu. Her parents are from Nigeria, and her name is taken from Nigerian culture and means, "Do what you do best." 
She played one year of high school basketball in Minnesota, at Faribault High. As a freshman for the Lady Falcons, she was the team's third leading scorer, averaging 5.7 points per game, with a single game high of 12 points. She also averaged three rebounds per game. 
Tookes actually called her coach there at Faribault to get the scouting report on her new player, and to inquire about her strengths. 
"The Faribault coach remarked how much they missed her, and how she was really coming into her own as just a freshman," said Tookes. 
The Vikettes coach said she was delighted to get a player the caliber of Esenabhalu, and all of her qualities that she brought to the team. 
"We were lacking in height, and really needed help with our rebounding, and she fit that need in a big way," said Tookes. 
Tookes added that Esenabhalu had the intangibles that separate the good ones from the great ones. 
"She works hard at practice, then stays afterwards to work on her game. That's one of the things that really stands out with her," said Tookes. 
Esenabhalu led the Vikettes in rebounding and blocks this season and was a first team All- Region selection in 1-AAAAAAA. Tookes added that Esenabhalu plans to play for a top AAU program this summer, and that will make her a more complete player for her upcoming senior season. 
There are several schools that have inquired to Tookes about her star post/center player, and the coach says that college basketball is most certainly in her future, if that's what she decides to do. What does our Athlete of The Month think about that? 
"I definitely hope to play college basketball, and maybe in the WNBA after that," said Esenabhalu. 
If she doesn't make it to pro basketball, she has a solid back up plan. 
"I want to become a lawyer," Esenabhalu said.  
Just do what you do best, Esenabhalu.