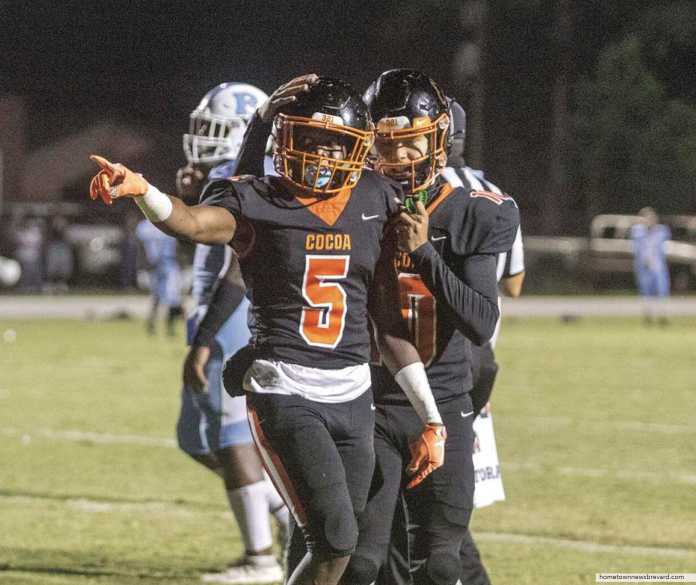 Cocoa's OJ Ross Named ITG Next Florida December Male Athlete of the Month
As Cocoa gets set to face Cardinal Gibbons later this week in the Florida Class 4A state championship game, the Chiefs defense will be tasked with containing one player in particular on the Tigers offense: senior running back OJ Ross. Not many opponents have been able to do that so far this season.
One of the top overall running backs in Florida, Ross has been showing out on the field for Cocoa since the 2021 season kicked off in August. Ranking near the top of the state's rushing leaders in almost all offensive categories, Ross has continued this stellar on-field play throughout the month of November and because of it has been named our ITG Next Florida Male Athlete of the Month for December, receiving 37.94% of the votes.
Having already had a phenomenal 2021 season up to this point, Ross began the month back on November 6 in what was the Tigers' regular season finale against Rockledge. With Cocoa picking up their sixth consecutive win in the process, Ross led the Tigers' offensive attack by carrying the ball 27 times for 154 yards and two touchdowns, while also catching three passes for 13 yards.
After a first-round bye in the Class 4A playoffs, Cocoa went on to post a dominant 41-0 win over South Sumter, a game that Ross flat-out dominated. In a season that included some phenomenal performances up to that point, the senior posted his best game of the year, rushing for a season-high 248 yards and five touchdowns on 15 carries.
Averaging a then season-high 16.5 YPC against South Sumter, Ross concluded the month with another phenomenal showing in the state quarterfinals in a 54-21 win over The Villages Charter by rushing for 158 yards and three touchdowns (17.6 YPC) on nine carries, while catching two passes for 21 yards.
For the month of November overall, Ross rushed for a total of 560 yards and 10 touchdowns on 51 carries, as well as five catches for 33 yards. A phenomenal 2021 season that was headlined by a special November, congrats to Cocoa running back OJ Ross, our ITG Next Florida December Male Athlete of the Month.
Written by: Matt Melton