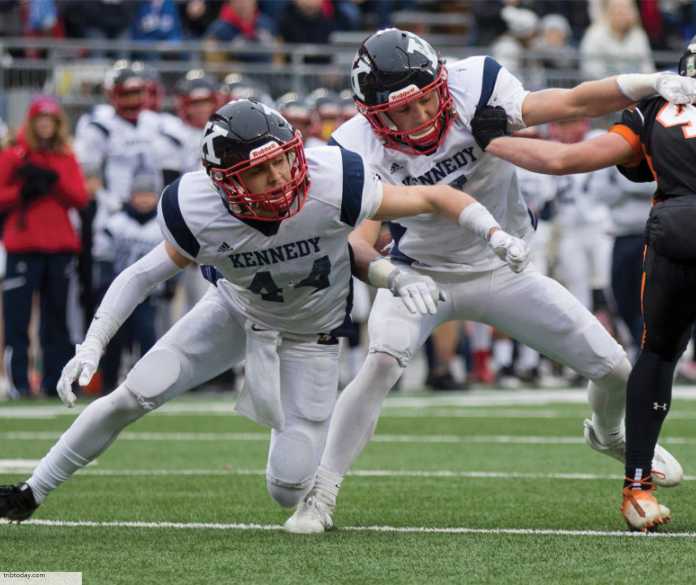 Ohio High School Football Playoffs Reach Quarterfinals
Playoff brackets nationwide are in different stages of completion. In Georgia and Texas, the first round of games have just finished. Ohio high school football playoffs, however, are currently in the state quarterfinals, otherwise known as the Regional Finals.
Ohio high school football playoffs consist of seven divisions, each featuring a 64-team, March Madness-style elimination bracket. Teams are seeded 1 through 16 in four quadrants of the bracket, almost exactly mirroring March Madness once again. Division I is the most focused on, but even Division VII has featured some very interesting results so far. Let's take a quick look at where each division stands heading into Regional Finals weekend.
Division VII
No. 3 seed John F. Kennedy reached the Regional Finals after outscoring their first three playoff opponents 154-35. They will play equally dominant #4 Dalton. #1 Newark Catholic and #3 Shadyside meet in the top right, while #1 Marion Local takes on 6-seed St. Henry, who shut out their last two opponents, in the bottom right. #1 Hopewell-Loudon will take on #3 Lima Central Catholic as well. 
Division VI
Only one top-seeded team reached the Regional Finals: Fort Frye. Two 4-seeds, Mogadore and Coldwater, reached the quarterfinals after knocking off #1 teams. However, this bracket's Cinderella story comes in the bottom left, where #5 Liberty Center knocked off #4 Columbus Grove in the second round and previously undefeated #1 Archbold in the Sweet 16 to reach the Regional Finals.
Division V
Three 5-seeds (Wheelersburg, Versailles, and Ottawa-Glandorf) reached the Regional Finals, each one knocking off a 1-seed in their previous round. #1 seed Kirtland outscored their first three playoff opponents 118-7 to keep their unbeaten season alive.
Division IV
In a stunning first round upset, #16 Edison knocked off #1 Bellevue, allowing 4-seed Port Clinton to eventually make the Regional Finals. Two dominant forces in 1-seed Bloom-Carroll and 2-seed St. Clairsville will meet in the top right. The bottom right features a standout, 4th-seeded Clinton-Massie team, who's 11-1 record seems to be the real indicator of their outstanding play so far.
Division III
With one of the most surprising runs of any bracket, 8-seed Holy Name reached the Regional Finals after shutting out previously unbeaten 1-seed Norton. 6-seed Western Brown made it as well in the top right. Top-seeded Chardon, Granville, and Badin will all look to continue their dominance this weekend.
Division II
7th-seeded Winton Woods got revenge on La Salle after an early-season loss by advancing to the quarterfinals. In the top right, 3-seed Archbishop Hoban will face off against 5-seed Walsh Jesuit. As usual, #4 Washington-Massillon is on a tear so far this playoffs, shutting out 1-seed Big Walnut and dropping 76 points on Independence.
Division I
1-seeds Archbishop Moeller and St. Edward will compete in the Region Finals in one of the most standard bracket outcomes. All one and two seeds made the quarterfinals with the exception of #3 Lakota West, who shocked last season's state champion, St. Xavier, by a score of 12-2.
Written by: Matt Melton