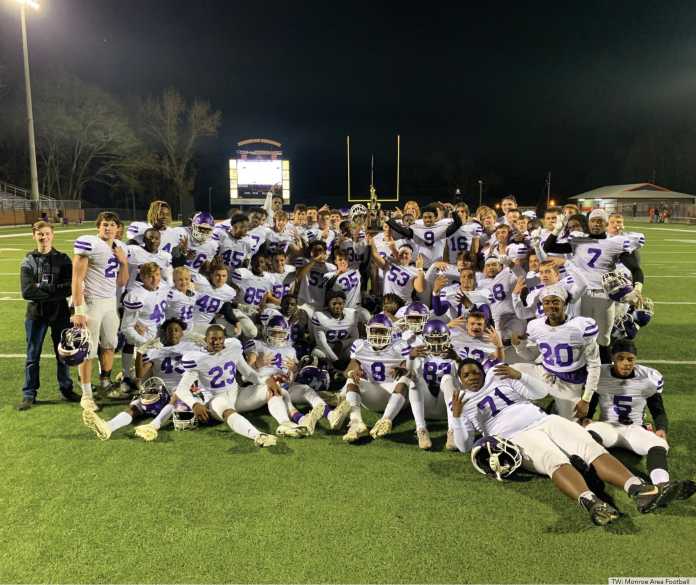 Monroe Area Football: The Oddest Turnaround
Losing was nothing new for Monroe Area football. Since 1923, the Purple Hurricanes had not won 10 games in a season. Ever. That all changed in 2010 under the oddest possible circumstances.
Monroe Area hired head coach Matt Fligg in 2006 with the hopes of turning around a stagnant program. The Purple Hurricanes had had four different head coaches in the previous eight years. 
Unfortunately, Fligg's hiring didn't do much to improve the team; instead, the win totals began to decline. With just five wins in his first two years, expectations were very low entering the 2008 season. Those expectations were shattered… in the wrong way.
The Purple Hurricanes opened their 2008 campaign with a loss to Apalachee. Sure, it was a 20-point loss, but it was nothing unexpected as Apalachee would go on to win seven games that year. 
The panic began to creep in as Monroe Area completed their third, fourth, and fifth games of the year. They scored a total of 7 points in those three games, losing by 34, 17, and 44 points, respectively. The season didn't get much better, as the Purple Hurricanes lost every remaining game in the 2008 season by at least 12 points.
The win drought continued in 2009. With the same schedule as the previous year, Monroe Area lost to their first four opponents by larger margins than in 2008. 
However, there seemed to be a turnaround in the rematch against Cedar Shoals. Of course, the Purple Hurricanes still lost, but they only fell 2 points short of a win, losing 17-16. 
In every remaining game, Monroe Area played their opponents closer than in the previous year. Still, 0-20 over a span of 24 months was a dismal mark of failure.
Enter 2010. Monroe Area opened their season with a 55-7 win over Monticello. A win? Yes, they had finally broken that streak of 20 consecutive losses. 
The Purple Hurricanes weren't done though. They won their next five games before losing to 8th-ranked Gainesville. Still, this was a historical mark for Monroe Area. These five wins already matched the amount they won over the past four years. But the craziness didn't end there.
The Purple Hurricanes turned heads by shutting out their last three opponents, scoring a combined 105 points over that stretch. They even won their first-round playoff game against Troup County. That one win set a historical mark. Monroe Area became the first team ever to win 10 games in a season after going 0-10 the year prior.
Monroe Area defeated 10-2 Woodward Academy in the second round of the playoffs by 29 points before losing to second-ranked Sandy Creek in the quarterfinals. 
Despite the loss, this was the farthest a Monroe Area team had ever made it in the playoffs. This was also the first time ever that the Purple Hurricanes had won 10 games in a year. Who would've thought that it would come on the heels of 20 straight losses?
Written by: Dhruv Mohan