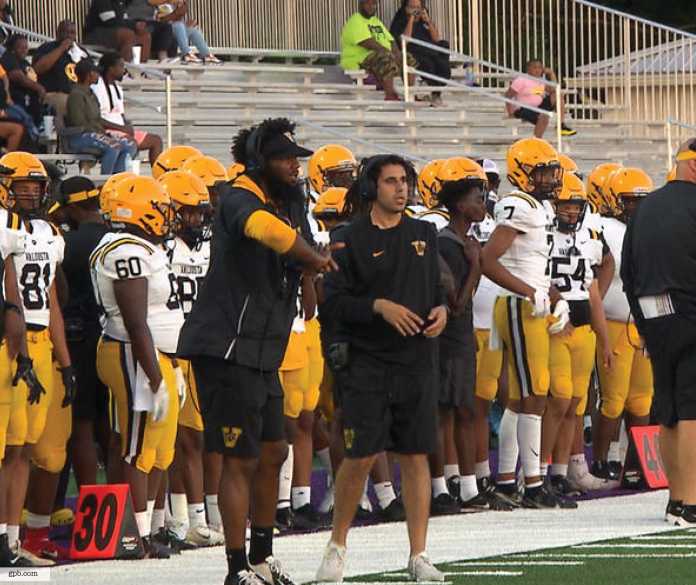 In a move that caught many observers by surprise, the Valdosta City School Board unanimously voted to remove the interim tag and officially name Shelton Felton as the new head football coach at Valdosta High School. 
The vote came during the Tuesday night meeting of the Valdosta City School Board, during which the board voted to add to the agenda under "personnel" a motion to officially promote Felton to head coach. The motion was unanimously approved.  
A post to the Valdosta City Schools Facebook page announced the results of the vote, said more details would be shared on October 27, and offered congratulations to Felton.
Shelton Felton becomes the 18th head football coach in the long and illustrious history of the Valdosta program, but has made history by becoming the program's first black head football coach.
Felton was hired as an assistant under previous Valdosta football head coach Rush Propst last season, and when Propst's contract was not renewed earlier this year, Felton was named as the interim head football coach. 
Under his direction as the acting head coach, Felton has led the Wildcat football team to a 4-5 record this season, with one regular season game remaining.
Valdosta City Schools Superintendent Todd Cason told ITG Next that he appreciates the job Felton has done this season, especially under tough conditions. 
"I would like to take this opportunity to thank Coach Felton and his staff for their devotion to the Wildcat program throughout this season," Cason said. "While serving as the team's interim head coach, Coach Felton guided and directed the team to play with a renewed Wildcat spirit in spite of challenges, difficulties, and uncertainties this program faced." 
The superintendent said that he believes the work put in by Felton and his staff this season speaks for itself. 
"At any time throughout this season, our young men could have given up, but he (Felton) challenged them, by example, to never, never give up the honor of being a Valdosta Wildcat," Cason said. 
He did indicate that even with the players rallying behind Felton, it's going to take some help from the fans, too. 
"With the support of this community, I truly believe Coach Felton and his staff will be able to continue the Wildcat tradition, which has been a standard on and off the field of play for many, many years," Cason said. 
Valdosta remains the winningest high school football program in the country as of the 2021 season.  
Written by: Phil Jones