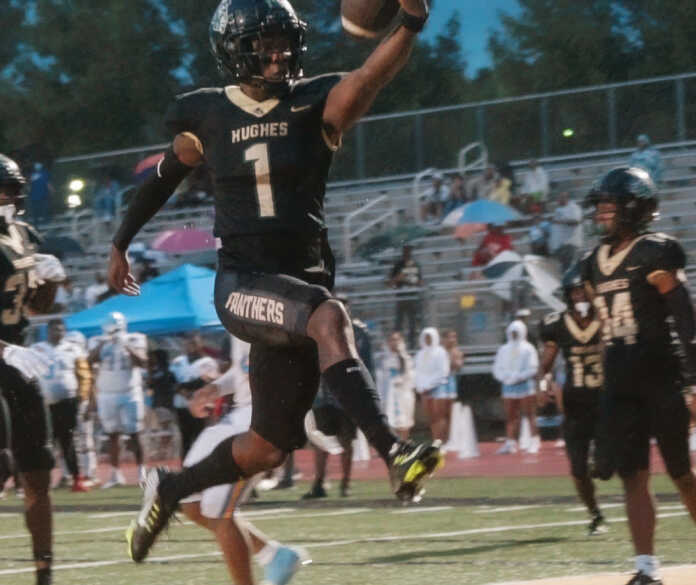 Defending Class 6A Champ Also Has Star QB Noland
In the latest installment of our series previewing the defending Georgia high school football state champions from 2022, we take a look at Class 6A's Langston Hughes Panthers and their promising defense.
The Langston Hughes Panthers rode a devastating offense all the way through the 2022 season and straight to a state championship. In their 15-0 run to the title, the Hughes offense rang up blowout after blowout, averaging 52.8 points per game. But it just might be the Langston Hughes defense that everyone is talking about in 2023.
Yes, the offense will still have one of the top quarterbacks the state of Georgia has ever seen in  Prentiss "Air" Noland. But Noland's surrounding cast will include a great deal of inexperience.
The defense, however, is a different story.
"Every one of our guys on defense started last year," said Langston Hughes head coach Daniel "Boone" Williams, who is kicking off his 10th season overall at the school, and his fifth as the team's head coach.
While Williams may not have the quantity of returning offensive personnel, he is quick to point out the quality in the few returning starters.
"Offensively, we have some key guys who understand what we are trying to do here, and the commitment it takes to play at a high level," Williams said.
Leading the Hughes offensive attack will be Noland, of course. When he committed to Ohio State last month, he quieted a very noisy recruiting process that involved just about every major college program in the country seeking the services of the southpaw signal-caller. Of all the amazing stats that Air Noland has, perhaps the best – and possibly the most overlooked – is his completion percentage of 73%. He threw only 4 interceptions while tossing 55 TD passes. He also had 5 rushing TDs, but his poise in the pocket while waiting for the play to develop is one of the main reasons he is considered to be the next great pro-style QB to come out of Georgia.
"He's our general," Williams said.
Returning up front to offer protection for Noland is four-star offensive lineman Dontrell Glover, who has committed to Alabama. The rising junior stands at 6 feet, 3 inches tall, weighs 290 pounds, and can play tackle or guard, but you can bet he'll be called on to protect his prized QB teammate's blindside.
Two skill players returning from the Hughes' prolific 2022 offense are senior RB Justus Savage and junior wide receiver Javanni "Chi" McGee. Savage ran for 1,028 yards and 12 TDs on 153 carries last season. He also had 86 yards receiving with a TD. He'll be the go-to back for Williams' Panthers in 2023.
McGee had 42 catches for 511 yards and 9 TDs last year. He'll likely emerge as Air Noland's primary receiver in 2023, setting himself up for a breakout year for the Hughes offense.
While the offense is lean but mean with returning experience, the Langston Hughes defense is loaded with experience and a whole lot of talent.
"This [defense] is where the bulk of our experience will be this season," Williams said.
"I will return four defensive linemen, my three linebackers are coming back, and we have four starters back in the secondary."
That's 11.
The three linebackers are seniors Justin Bond, Xavier Leonard, and Jordan Thompson. Bond had 44 tackles with 3 sacks last season, while the three-star OLB Thompson finished 2022 with an astounding 119 total tackles, including 10 TFL, 1 forced fumble, and 3 INT. Xavier "The X Man" Leonard had 57 tackles with 2 INT last season.
The defensive front returns seniors Jaymond Whitaker and three-star Ameir Glenn, a Wake Forest commit. Look out for 6-foot, 1-inch junior Quavion Pitts on the D-line. He's a playmaker, and a play stopper for opposing offenses. The fourth DL is Frederick "Fat" Tigner, who has several offers, including one from UAB.
The secondary will return several key contributors and starters, including safeties Nacari Johnson and Torey Arnold. One of the defensive leaders is strong safety Santonio "Papi" Jones, who has racked up 151 total tackles and 3 INT over his last two seasons patrolling the Hughes secondary and stuffing the run. Junior Terence Brown had 25 tackles with an INT last season, and the Langston Hughes defense also welcomes back senior CB Amir Wright.
Hughes will have the talent to make another run to the top of Class 6A, but make no mistake – the players not returning were a major reason for Hughes' two straight title game appearances.
Coach Williams underscores that fact by acknowledging just how talented they were: "Every key player we lost was very good – every one of 'em signed college scholarships."
This group was not just super-talented, but several of the graduating seniors contributed on both offense and defense. Maybe we should count those players twice?
They include TE/DE Jelani Thurman, who has signed with Ohio State. Over the last two years, Thurman had 70 catches for over 1,100 yards and 20 TDs. On defense, he racked up 144 total tackles with 4 sacks. He got it done on either side of the ball at Hughes, but the Buckeyes will use him as a TE, where he'll enjoy a reunion with Air Noland next season.
Another two-way standout who will be missed on both sides of the Hughes program is WR/DB Terrance Love. He leaves behind a career stat line of 59 receptions for 960 yards and 12 TDs on offense, and defensively, he had 231 tackles with 9 career INT, including 3 in last season's state title campaign. He signed with Auburn.
Bo Hughley is off to Georgia, where he'll give the 'Dogs an impressive presence along the O-line with his 6-foot, 7-inch, 290-pound frame. Center Tony Saylor will head to Lenoir Rhyne. His 6-foot, 3-inch, 300-pound presence will be missed in front of and protecting Noland this season. Jekail Middlebrook is yet another two-way standout who signed with Middle Tennessee State. As a RB, he had 119 carries for 1,389 yards with 20 TDs, averaging 11.7 yards per carry. As a DB, Middlebrook had 101 tackles with 3 INT during his Hughes career.
Safety Gannon Weathersby will take his talents to James Madison University, and a look at his high school career stats shows why the three-star head-hunter of a strong safety had 14 offers to choose from before settling on JMU: 562 career tackles, 12 sacks, 22.5 tackles for loss tells you all you need to know about how much this four-year contributor will be missed.
Aiden Watkins, Ahmad Howard, Jediyah Willoughby, and Jaden Barnes are the others who are off to the next level, leaving behind quite a lot of production for Coach Boone to somehow replace.
"I think this year's group that we have coming back is a balance," he said. "There is some inexperience that will need to step up, but I have juniors and seniors who have played in two straight state championships, and they understand the commitment of what it takes to play 15 games. They've been through it, so they know."
And don't forget, Williams and the Panthers still have a very important part of that two-year run. They have their general, Prentiss Air Noland, on hand for another season.