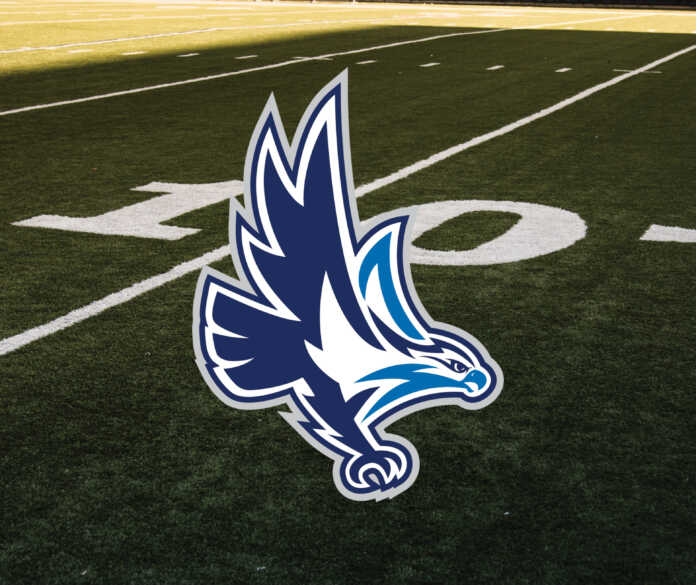 Vero Beach Graduate Has Overcome Three Torn ACLs
Jaden Meizinger suffered three major knee injuries in high school, yet he soldiered through to earn the chance to play college football. He now is a standout running back for the Keiser University Seahawks. And he's doing it all without a functional ACL in his right knee.
Meizinger's first torn anterior cruciate ligament occurred in the spring of 2016, during his ninth-grade year, just as he was preparing for his dream of playing high school football at Fort Pierce Central. The injury occurred during a freshman-only 8-on-8 tackle football league, in the very first game.
"I planted my right leg, and [the ACL] tore," Meizinger recalled. "I really wasn't sure what had happened, but then I had the MRI and that's when the doctor told me."
There was no contact. In fact, Meizinger said each of his three ACL tears occurred without contact.
"It was a freak thing, really," he said.
Following the tear, Meizinger underwent surgery to repair the ligament, followed by months of rehabilitation. He soared through the rehab fairly quickly, ready to get back on the football field with his teammates. He returned in 2017, his sophomore season, ready to go. His coach at the time suggested he ease back into things by playing with Fort Pierce Central's junior varsity squad, and Meizinger agreed. Then, in the team's first game that season – and on his first time touching the football in almost a year – lady luck thumbed her nose at the sophomore again. This time Meizinger knew right away what had happened.
"Oh yeah, I knew that same feeling from before," he said.
There was a difference, however.
"This time I tore the ACL in my other leg," Meizinger said. "It was my left knee."
But that wasn't the only thing different. No, this time things were tougher on the sophomore.
"I went through a bit of a rough time, physically and mentally," he said.
This was, after all, the second tear in a year, and he knew what was waiting on him: months of tough rehab.
"This rehab seemed a lot tougher, and I think it was as much the mental part as anything," Meizinger said.
Still, Meizinger again held on to his hopes of playing high school football. He would not give up. The familiar daily grind of rehab went on and on, but Meizinger was determined to get through it. And he did.
2018 rolled around and Jason was cleared to play football for his junior season. Finally, he could get on with his football career. Right? Not so fast.
"One day after I was cleared to play, I was playing basketball with friends and felt a pop in my right knee," Meizinger remembered.
No way. Unfortunately, it was exactly what Jason was thinking. He had torn the ACL in his right knee. Again. Another MRI confirmed what Meizinger already knew.
This was now a third ACL tear in as many years, and the otherwise healthy young man had still not played a down of high school football.
Jaden's family was thinking that maybe football wasn't going to be in his future.
"My mom actually thought I had some type of disease in my leg," he said.
There was no disease, but this was now his body's third overall major knee injury, and the second tear of his right ACL. If he wanted to play football, he really didn't have a choice.
"I was looking at another surgery, but at this point, I really didn't trust surgery," he said. "I spoke to my doctor about not even getting another surgery. The doctor actually pulled my mom aside when I wasn't around and told her that I should stop playing football, but she never told me that until later. She knew I wanted to play."
Almost three years of non-stop surgeries and rehab was enough for Meizinger.
Meizinger had made up his mind: "No more surgeries," he said.
One thing that helped him decide was how his leg was feeling. This was different than after the previous ACL tears.
"I noticed that the pain and swelling wasn't quite as bad as before," he said. "I got to thinking that if I can stand the pain, maybe I can still play."
No way. Play without having an ACL stabilizing his knee?
His doctor told Meizinger that it had been done before. There were actually a few players who played football after tearing their ACL. Which meant that they essentially played without an ACL. Jaden wanted to give it a try.
"I went out and didn't say a word to anyone," he recalled. "I figured I would give it a month and see what happens. My mom and doctor were the only ones who knew."
His plan worked. Jaden was able to finally play football in his junior season.
Jaden and his family thought a change of scenery might help change his luck, so he transferred to Vero Beach High School for his final year, where he enjoyed a breakout season for the Indians, rushing for 819 yards and 12 touchdowns while also hauling in 20 catches for 117 yards and 2 TDs.
Vero Beach head coach Lenny Janikowski recalled Jaden's senior season, calling him a one-of-a-kind player.
"What a stud!" said Janikowski. "He was one of the toughest kids I have ever been around. He was very fun to coach. One of my all-time favorites"
Was Janikowski aware of Jaden playing with no ACL?
"Yes, I was aware," he said. "Didn't seem to matter a whole lot."
It certainly didn't matter to Keiser University, one of only two college football programs that saw the potential in Meizinger. Keiser head football coach Doug Socha recruited Meizinger to play for the Seahawks, and Jaden accepted.
Socha said recruiting Meizinger to Keiser was an easy decision.
"His story is incredible," Socha said. "We saw his character and his mindset as a football player. Those were the things that stood out for us about Jaden. He is as tough as kids come."
Meizinger made an immediate impact at Keiser, both on the field and in the classroom. He has been honored as an Academic All Conference selection, and so far, in his first two seasons, he has rushed for 1,267 yards and 16 TDs. He also has 23 catches for 130 yards and 2 TDs.
"Jaden is an excellent every-down back with toughness, physicality, elusiveness, and speed," Socha said.
Meizinger is grateful for the opportunity he's been given at Keiser, especially after everything he's been through. But he feels like he got a pretty special push.
"I believe this has been God's plan all along," he said. "I never really questioned it."
With two years of eligibility remaining at Keiser, there may be a lot more football left for Meizinger. It would be crazy not to believe in him.