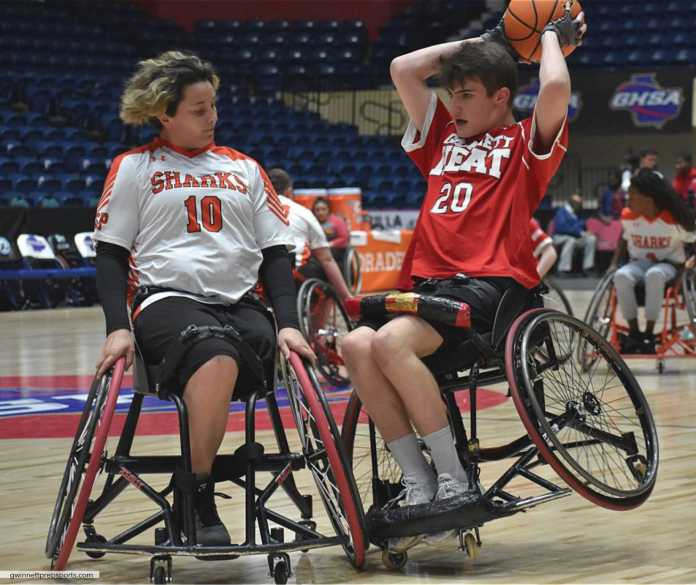 Gwinnett Heat Wins GHSA Adapted Sports State Title
Finally, after multiple heartbreaks and devastating losses, the Gwinnett Heat broke through. The adapted sports basketball team captured the program's second GHSA Adapted Sports state title in history and first since the 2012 season.
The Heat convincingly defeated the Houston County Sharks in the championship game by a score of 42-25.
The Sharks came into the game at the Macon Centreplex as the eight-time defending state champions and held a 14-game winning streak over the Heat before losing twice in the 2021 regular season.
By winning the season's biggest game, the Heat capped off a perfect 8-0 season.
"We finally broke through," said Heat head coach Len Boudreax to The Gwinnett Daily Post. "And coming in second place or lower for a long time, these kids were really hungry for it. They marked [this game] on their calendars, and they really wanted to play."
His team was making its sixth championship game appearance in the past nine seasons, including three runner-up finishes to the Sharks. 
"We came in wanting to be aggressive. We knew we had the players to be aggressive," said Boudreax.
Aggressive they were.
The Heat jumped all over the Sharks from the opening tip with 18 points in the first quarter, mainly coming from seniors Seth Earley and Will Millikan. 
By halftime, the Heat had stretched its lead to 32-9.
It proved to be more than enough to stave off Houston County's furious second-half effort, led by Joe Hall with 12 points. 
Millikan finished with a game-high 20 points, while Earley finished with 18. Only one other Heat player scored, as Samantha Fraser had four. 
The rest of the Heat squad maintained furious defense, and contributed offensively with rebounds and assists.
"With everyone else doing their jobs," said Millikan, "we did everything we wanted."
The satisfying win is something that the Heat's four seniors will not soon forget.
"It's definitely been something we've been waiting for," Earley said. "Being able to come out and finish the job for our four seniors was what the goal was. At the end of the day, we finished that."
Written by: Reagan Cofield