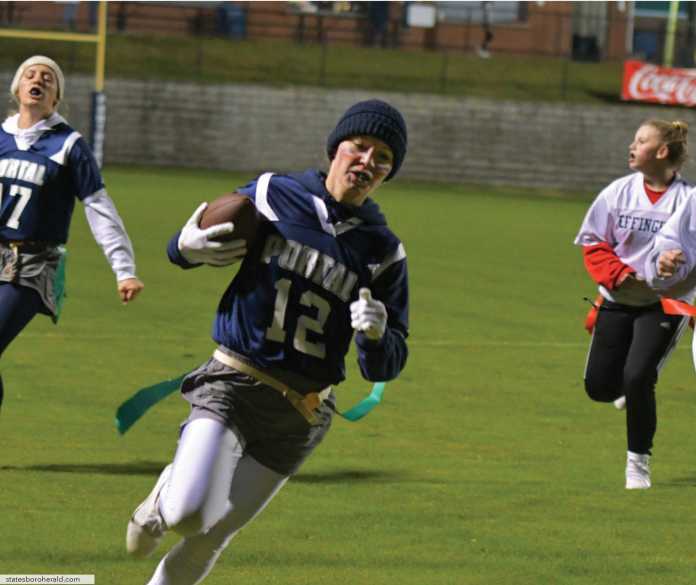 Girls Flag Football Putting Portal on the Map
Tucked away in East Georgia, the quaint town of Portal only has a population of around 680 people. It is largely overshadowed by nearby cities, namely Statesboro, Swainsboro, and Vidalia. Portal has a namesake joint middle and high school that only totals 441 students, averaging about 55 children per grade. Due to their size, the Panthers compete in 1A Private for football and have not fared well recently, winning only one of their last 19 games. It has been nine years since Portal football achieved a winning record, with the last over 0.500 season being in 2011 under coach David Nesmith. However, football did bring Portal to fame in 2020. Just not in the style of play one would expect. Enter Jay Reddick, coach of the Portal Panthers girls flag football team.
With this being the first season of GHSA-sanctioned flag football, Reddick agreed to teach football to a group of mostly sophomore and junior girls from one of the smallest public high schools in Georgia. There would be no easy wins despite a pandemic-stricken 2020; several teams from every classification suited up for the inauguration of this groundbreaking sport.
Portal did not find success early in the season. A 6-6 tie with Cavalry Day in the season opener was promising, but a shutout 7-0 loss to Richmond Hill over half a month later did no favors. It only took two days to right the ship. With a dominant 18-0 victory over Effingham County, the Panthers grasped their first win of the season and began their reign as one of the hottest teams in Georgia. They closed out their four-game regular season with another assertive 19-0 win over Dodge County, clinching a spot in the playoffs.
Playoffs would not get any easier for Portal. The structure of Division I flag football allowed for a joint playoff between teams ranging from classes 1A through 5A. This means that the tiny Portal Panthers would run into schools that could hand-pick their team from a pool of over 1,500 available students.
However, that did not phase them. Two COVID-19 forfeits and two away wins patched Portal through to the GHSA Flag Football State Championships at Center Parc Stadium. History had been made, both for the GHSA and for Portal Middle High School.
In a rematch with Cavalry Day, the Panthers fell just short of the Division I title. A 6-0 loss spelled the end of a historic season. In the first ever flag football state championship, Portal played an inspired game, losing by only one score.
Despite the loss, the Panthers have etched their name into the record books forever. When future generations look back at the first state title game ever for girls flag football, the small town of Portal will stare back, grinning widely.
Written by: Dhruv Mohan