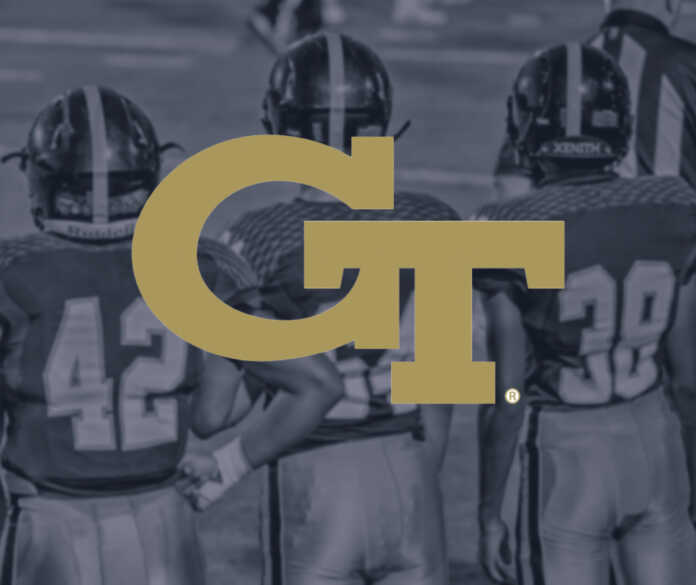 Receivers Coach Has Done Just That His Entire Career
Josh Crawford has made the most of his opportunities. From volunteer coach at Greater Atlanta Christian, to coaching at some of Georgia's top high school football programs, to positions at the college level – including his new role as wide receivers coach at Georgia Tech – Crawford has learned that working hard and making a name for yourself always pays off.
Following his high school coaching career that spanned 10 years from 2010 to 2020, Crawford – who is featured on this week's episode of our Next Take Georgia podcast – was hired by Tyson Helton at Western Kentucky University to coach receivers.
Now, Crawford's accomplishments have again been recognized, as new Georgia Tech head football coach Brent Key has hired Crawford to coach Yellow Jackets receivers.
One of Crawford's earliest opportunities came as a walk-on at Morehouse College, where he played running back for four seasons, from 2004-2007. A few years later, during a visit to Greater Atlanta Christian School to watch his cousin Darius Slayton (who's now a New York Giants wide receiver) and Darius' sister compete in a track meet, a chance encounter set him on the path to a coaching career.
"I wound up in a circle of people talking, and one of those people just happened to be Tim Cokely," Crawford remembers.
Cokely had just been hired at GAC as their new head football coach. Crawford said he and Cokely began talking, and that led to an invitation from Cokely to join his staff as a volunteer coach in the Spartans football program. Crawford says he knew immediately that coaching was for him. It was what he wanted to do – forever.
"It became obvious to me very quickly that coaching was something I was very passionate about, and I knew right away with everything in my being that this was what I was born to do," he says.
With this new realization and life's calling, Crawford began working on getting his teaching certification, and he began coaching full-time on Cokely's staff at Greater Atlanta Christian.
Crawford credits that turn of events as the springboard to his coaching career.
"I was so fortunate to work for and learn under a coach who had won so many state championships [Cokely won six state titles while coaching in Florida], and in an environment like the one there at GAC," Crawford says. "My time with Coach Cokely at GAC really set me up for all of my future coaching stops."
Those stops include some of Georgia's most storied and successful high school football programs: Lee County, led by head coach Dean Fabrizio; Colquitt County and Rush Propst; and Valdosta High, where he was hired as the team's offensive coordinator on Alan Rodemaker's staff. Crawford remembers that despite the long-standing history of success at Valdosta, the Wildcats' more recent performance was not very good.
"When I got to Valdosta, the team was coming off a really bad season," he says. "I remember the offensive players didn't really play with a lot of confidence because of that one bad season, so we as a staff decided that we had to believe in these kids so that they could start believing in themselves."
In his first season at Valdosta in 2018, Crawford took an offense that had averaged less than 20 points per game the previous season to an explosive unit that put up 38 points per game. The next season, the Wildcats offense did even better, averaging over 40 points per game. In addition to his duties as the offensive coordinator, Crawford was also the quarterbacks coach, working with Tate Rodemaker. With Crawford as his position coach as well as play caller, Rodemaker became the school's all-time passing yards leader.
That success at Valdosta, along with his time helping develop championship-caliber offenses, first with Cokely at Greater Atlanta Christian, then at Lee County and Colquitt County, helped  shape Josh Crawford's approach and development as a top assistant coach and communicator. Lee County's Fabrizio says Crawford was as important as anyone to the Trojans' success in 2017.
"Josh was a big reason that our team won the state championship in 2017," Fabrizio says.
Following his second year at Valdosta, opportunity again came knocking, and this would be the opportunity that every high school coach dreams of. Crawford had taken the Valdosta High offensive staff to Western Kentucky University for a professional development retreat. That was when he met Helton, and just as his first meeting with Cokely back at Greater Atlanta Christian had opened the door to coaching, this encounter would open an even bigger door.
Helton wanted Crawford to come join his staff at Western Kentucky. Just as he had done his entire high school career, developing offenses good enough to compete for championships, he would accomplish the same feat with the Hilltoppers, and his work was drawing more attention than ever before.
"I coached four receivers that had made the Biletnikoff [Award] watch list [named after former Oakland Raiders receiver Fred Biletnikoff and given to the top receiver in college football] and were a part of the leading passing offense in the country for the two years I was there," Crawford recalls. "I was promoted to co-offensive coordinator after just one year at Western Kentucky, and I was up for some national awards as an assistant coach. There were a lot of good things happening for me."
Key, the newly named head coach at Georgia Tech, was one of the coaches who took notice of Crawford.
"One day out of the blue, I got a call from Coach Key," Crawford recalls. "He said he had been seeking a receivers coach to add to his staff, and that every time he asked about someone who would make a good receivers coach, my name kept coming up. I was just so humbled."
Crawford says that working as a high school assistant coach has helped shape who he is today
"There is no doubt that the 10 years I spent coaching high school football have been very pivotal in my success," Crawford says. "I was able to cut my teeth while a part of some great high school programs.
"I am blessed to have received this latest opportunity with Georgia Tech," Crawford adds.
It's safe to say that Josh Crawford earned every one of them.
Hear more from Josh Crawford on our Next Take Georgia podcast.