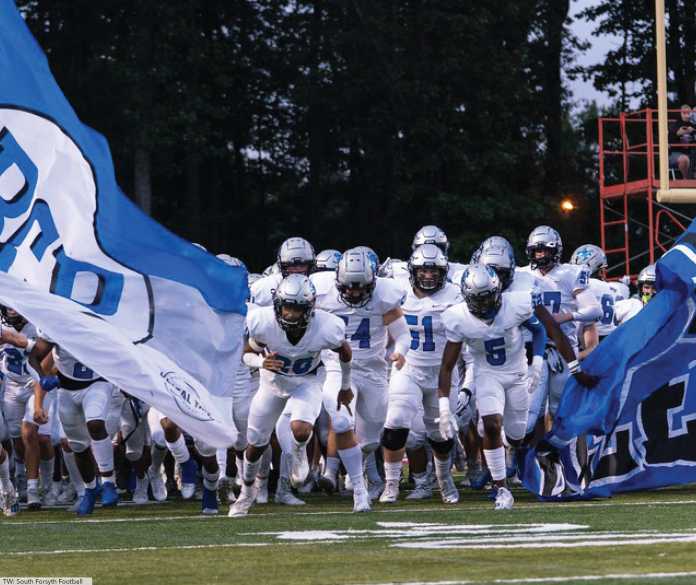 Georgia High School Football Playoff Sleepers
With the end of the Georgia high school football regular season in sight, the chase for a playoff berth begins. Some playoff spots are almost set in stone, whether it be North Cobb in 7A or Jefferson in 4A. But what sleeper teams could make an impact in this year's playoffs as lower seeds? Here is one team from each classification that could surprise the state.
South Forsyth (7A)
The War Eagles are not mentioned much, but they have won 6 of 7 games this season, including defeating Gainesville and once-ranked West Forsyth. If they win the region, don't be surprised to see them in the quarterfinals for the first time since 2015.
South Paulding (6A)
Behind QB Kasen Weisman, the Spartans offense has been electric. They have scored 34 or more points in 4 of their 7 games this season and even defeated Rome at home. Regardless of where they end up in the bracket, their passing game could lead them to an upset over a title contender.
Whitewater (5A)
In the grand scheme of 5A, the Wildcats seem to be good only in record. However, Whitewater has found their stride at the right time, scoring at least 39 points in each of their first three region games. The Wildcats could make the quarterfinals with a favorable quadrant of the bracket.
North Oconee (4A)
Don't let their 5-3 record fool you: North Oconee defeated a top ten Flowery Branch squad and lost to Oconee County by 7. The Titans are likely to be 2nd in region, which helps pave the way for a deep playoff run akin to perennial contenders. Their built-up momentum could strike at the right time.
Harlem (3A)
At 4-3, Harlem does have work to do, but they may be able to turn heads in a top-heavy 3A classification. They lost to Evans (6A) 22-20 and defeated Aquinas and Greenbrier. The Bulldogs may lose before they should in the playoffs, and a relatively strong region should prepare them for a tough road ahead.
Laney (2A)
Laney has been under-the-radar this season. The Wildcats have defeated two top ten programs (Washington-Wilkes and Lincoln County) and came extremely close to defeating a third (Putnam County). If this trend continues, a 1-seed or 2-seed in the playoffs may have to watch out for the upset-oriented Wildcats.
Manchester (A-Public)
The Blue Devils scored an early-season upset over Haralson County. Since then, Manchester's only two losses have come against Heard County and Chattahoochee County, both top ten teams. The Blue Devils may be the 4th seed in their region, but they look more than capable of upsetting the top-ranked team in Region 7.
Mount Vernon (A-Private)
After losing to Whitefield Academy and #1 Trinity Christian to open the season, the Mustangs have won 6 straight, winning by no less than 17. They may suffer a few more losses before region play ends, but the battle-tested Mustangs could pull off playoff upsets on a few unsuspecting teams.
Written by: Dhruv Mohan