One of Thomasville's first fishing team members is also one of its best.
"I grew up bream fishing in the lakes and ponds around the house. When I was 12, I started bass fishing. I joined a youth fishing club in Valdosta and fished there for a few years. When I was about to age out, I didn't want to start fishing solely against adults," says Gavin Hiers, a junior member of Thomasville High School's bass fishing team.
Thomasville High started a bass fishing team in 2014 and is one of several schools in the area that have such teams. The team competes on the School Angler Federation (SAF) circuit at most of the major lakes throughout the state. The rules of the tournament are simple: Catch as many bass as you can, bring in the biggest five of the day for the weigh-in, and do your best to keep them alive. Live fish are worth more than those that don't survive a day in the live well.
During his competitive fishing career, Hiers has placed pretty well. He's been top 10 in youth tournaments and, along with his partner James Herbert, placed in the top 20 in SAF competitions. The key to success on the water, says Hiers, is to be patient. "You've got to keep it together mentally. If the fish aren't biting, you have to stay with your plan and don't get frustrated," he says. It also takes something else, something that most people probably don't associate with fishing: Hard work. "If you want to be competitive, you've got to be out on the water by five or six in the morning. Then you have to stay out there until lunch. It's not easy and it takes a lot of time. Right now, Gavin and James are the only ones who are really doing tournaments for us," says Tom Imhof, the fishing team's coach.
Weather plays a critical role in fishing success. Wind and rain alter water conditions. Fish can be stubborn and you've got to use all the tricks of the trade to entice them to bite. "When that happens, you need to use a different color lure and maybe fish deeper. Cold fronts also mess up the fish and it will be slow out there." So what does Hiers go to when the fish aren't biting? He grabs a Senko worm and heads to shallow water. He looks for grass, lily pads, or some other type of structure. "I'll slow down and try to get more bites. You'll get more bites but the quality won't always be the same as say with a Rat-L-Trap, big jig, or crank bait." Hiers's biggest bass is a 12 lb. 3 oz. lunker he caught on Lake Seminole during practice. His biggest tournament catch is 6 lbs. 2 oz. "I would have loved to have caught that 12-pounder in competition," he laments.
Should Hiers decide to pursue fishing in college, he could find a team on which to compete. However, that requires a boat, which right now he doesn't have. More than likely, Hiers will play football in college. He's the Bulldogs' starting middle linebacker and totaled nearly 100 tackles last season. At 5'11", 190 pounds, he has good size and speed, and several smaller schools have already expressed interest in having him on their teams after he graduates. "I'd like to lead the region in tackles next year. I'd also like to have at least one interception. I had a few chances last season but I guess I started thinking about running before I did catching," he laughs.
And if he had to choose between football and fishing? "I better not answer that one. Let's just say I'll probably end up on a football team in college," he says, smiling.
For Gavin, appearing on the pages of In the Game is the continuation of a family legacy. Both of his older sisters, Shelby and Carrilee, have been featured athletes in the past. Shelby plays softball for the University of Arkansas while Carrilee is a golfer at the University of North Georgia. As I closed Shelby's story (she was an Academic Athlete feature back in 2012), I mentioned Gavin and younger brother Luke, at the time a third grader. "One way or another, we haven't heard the last of the Hiers children." I'm not right often but I was in this instance!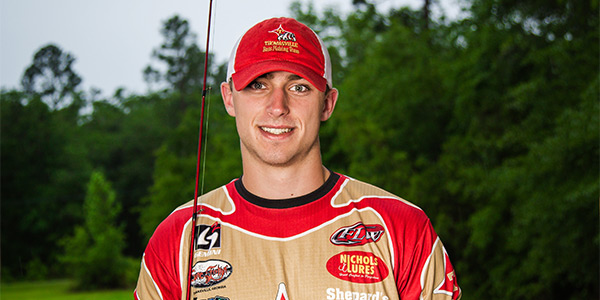 ---
Special Feature/South Georgia/June 2015
Gavin Hiers
Thomasville High School
Thomasville, Georgia
by Robert Preston Jr.
Photography by Micki K Photography
https://itgnext.com/wp-content/uploads/web_hiers_main_SG_0615.jpg
1000
750
Georgia
https://itgnext.com/wp-content/uploads/ITGNext-logo-Black-and-Cyan-300x186.png
Georgia
2015-06-09 19:52:00
2016-10-13 16:08:46
Gavin Hiers:Thomasville Fishing