Player Spotlight/Columbus Valley/September 2013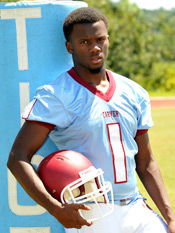 Tim Whatley
Carver High School
Columbus, Georgia
by Robert Preston Jr.
For Carver High linebacker, football is more mental than physical.Carver High School linebacker Tim Whatley is an anomaly. In a time when most elite football players add basketball, track, or wrestling to their athletic resume, Whatley refuses to play anything other than football.
Except for decathlon – the academic decathlon. "I play football and I'm on the academic decathlon team. I want to keep my grades up year round. My mom has always stayed on me about my grades," he says. Whatley's mother, Vanessa, has a take-no-prisoners attitude when it comes to academics. She is uncompromising and refuses to accept excuses. As a result, Whatley is not only one of the best football players in the area, he's also one of the best students.Whatley, a 6', 215-pound linebacker, is listed as a three-star recruit by espn.com. That designation only evaluates his athletic ability. It doesn't take into account what he brings to the table academically. He carries a 4.2 grade point average and he enjoys critical thinking.
To Whatley, critical thinking and football go hand in hand. As a defensive player, his job is to read the offense and do his best to figure out what it's going to do before it does it. It's about reading formations, which all defensive players are taught to do. But Whatley is looking for something else, more subtle hints that the offense doesn't even know its revealing – the kind of hints that can be found by studying offensive players' eyes, nervous twitches, and clues from the quarterback's voice. "Football is a puzzle to me, one that I'm determined to solve. It comes naturally to me. Football is all about critical thinking," he says.Whatley has done a good job figuring out his opponents. In the one game they've played thus far, the Tigers defeated Spencer, 40-3. Whatley had 12 tackles and a fumble recovery that he almost ran back for a touchdown. Whatley is one of Carver's leaders on the field, and he is very comfortable in that role. "If the team needs me to put them on my back, I can do it," he says confidently. A two-time All-State player, Whatley would like to make All-State for a third time this year and finish the season with more than 120 tackles for the season. He would also like to leave Carver with a state championship, something the Tigers have flirted with but haven't been able to win recently. Whatley is confident he and his teammates can win it all in 2013. "We just need to stay focused and get more discipline. It's going to take even more hard work," he says.
Whatley has not decided where he will attend college, though he has offers and interest from schools all over the country. Duke, East Carolina, and Georgia State have made offers. There is also interest from Mercer, Georgia Southern, Georgia Tech, Missouri, Vanderbilt, and Nebraska. Whatley won't say which way he's leaning. He will only state that he wants to attend a Division I school. He isn't restricting himself to one area of the country over another. "I will go wherever the best opportunity is," he says. Football is just a small part of his college choice. It also has to be a very good academic school, one that will give him the best chance of graduating with a chemistry degree. What would he like to do after college? "I want to be a forensic pathologist." Every activity in which Whatley engages is an opportunity to learn, whether in the classroom, on the football field, or in other areas of his life. As he plays football, he is paying attention to everything going on around him, processing all the information, picking up on those life lessons that athletics teaches.
So what is the biggest lesson he has learned from playing football? "Never, ever give up. Face adversity head on and always get up.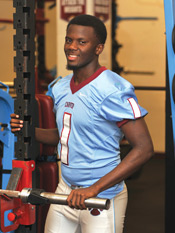 This football season is one of uncertainty for the Carver High Tigers. For the first time in many years, they are taking the field without Del McGee as their head coach. McGee transformed the Tigers into one of the most formidable teams in the state. McGee is no longer at Carver and is now a member of the Auburn University staff. As far as Tim Whatley is concerned, little – if anything – has changed. "It was a big loss when Coach McGee left but I didn't dwell on it. We have to stay focused and things have stayed the same. It's the same routine, the same tradition, the same expectations," he says.

Favorites:
Subject: Chemistry
Least favorite: Reading
Team: Pittsburgh Steelers
Player: Troy Polamalu
Sport you wish you could play: Basketball
Pepsi or Coke: Sprite
Place to travel: Europe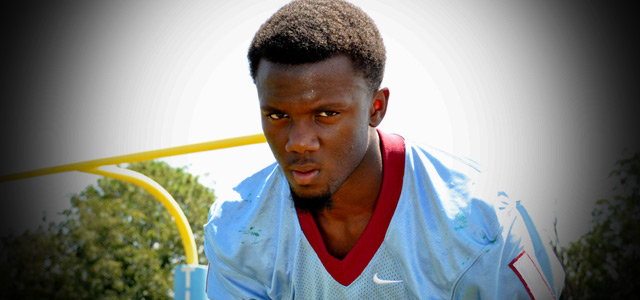 https://itgnext.com/wp-content/uploads/ITGNext-logo-Black-and-Cyan-300x186.png
0
0
admin
https://itgnext.com/wp-content/uploads/ITGNext-logo-Black-and-Cyan-300x186.png
admin
2013-10-03 19:00:32
2013-10-03 19:00:32
For a linebacker, football is more mental than physical