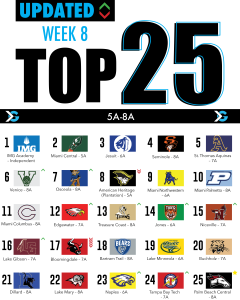 The lone notable movement in this week's 5A-8A Florida high school football rankings comes from No. 17 Bloomingdale dropping five spots after a 25-15 road loss to Plant City. No. 8 American Heritage also saw a fall after their 27-14 loss at Trinity Christian.
New No. 25 Palm Beach Central debuts after an undefeated start to the season with an offense that is averaging over 40 PPG.
Looking ahead to this week, many Top 25 teams will face tough matchups, in-particular Miami Central, St. Thomas Aquinas, Treasure Coast, and Bloomingdale.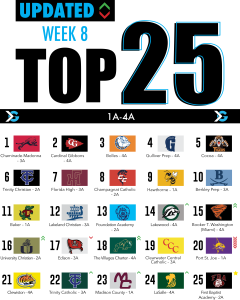 As we enter Week 8 of the 2021 season, the 4A-1A Top 25 Florida high school football rankings saw some change from a week ago, despite the top-half of the rankings remaining the same.
No. 21 Port St. Joe was the most notable team to drop in this week's Top 25 after a 40-36 loss to South Walton, while a few other teams picked up impressive wins. Class 2A's First Baptist Academy enters the Top 25 this week after a 6-0 start to the season as one of the most impressive teams in 2A so far.
Looking ahead, Week 8 brings many high profile matchups within the Top 25, including No. 6 Trinity Christian versus No. 7 Florida High, No. 1 Chaminade-Madonna versus No. 4 Gulliver Prep, and No. 13 Foundation Academy versus No. 16 University Christian. Champagnat Catholic, Baker, Edison, Cocoa, and Cardinal Gibbons all also face tough matchups this week.
Written by: Matt Melton