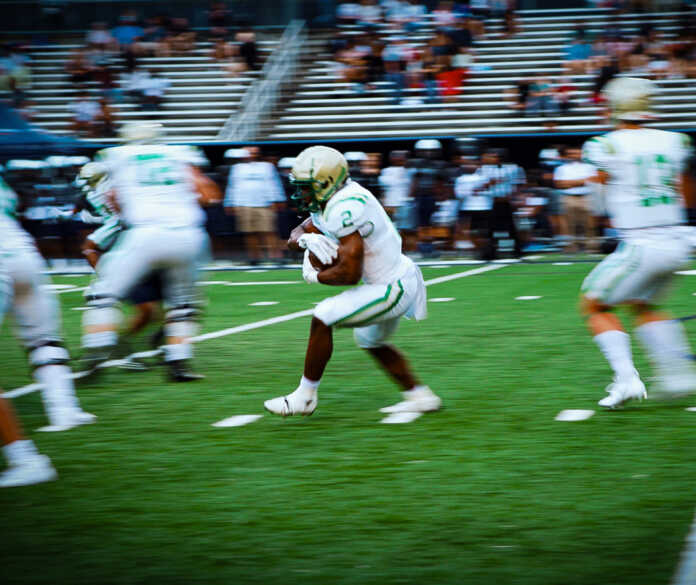 Buford football is a powerhouse. The Wolves have won 13 state championships since the turn of the century, three-peating on four separate occasions. Perhaps most astonishingly, in every season from 2007 to 2014, Buford won a state football championship – except in 2011.
Head coach Jess Simpson's 2007 squad won the state championship in dominating fashion, dismantling Lovett in a 50-point rout. Simpson would repeat that success in 2008, 2009, and 2010, each time defeating the Calhoun Yellow Jackets in the finals.
Skip ahead four years; by then the Wolves had notched three more state championship victories (2012, 2013, and 2014) in three different classifications. That's seven state titles in eight years. The 2011 state championship game prevented the Buford football streak from being a perfect eight for eight.
That 2011 Class 2A state title game marked the fourth consecutive meeting between Buford and Calhoun in the season's final matchup. Both squads traded punches early on, resulting in a 10-10 tie at the half. However, Calhoun began to pull away, maintaining a two-touchdown cushion as the game clock dipped below two minutes in the fourth quarter. It seemed that the Yellow Jackets would finally conquer the Wolves, giving Hal Lamb his first title and ending the heartbreaking three-game skid in title games.
Buford, though, wasn't ready to concede. With just over a minute left, quarterback Sam Clay found Paris Head in the back corner of the endzone to trim the lead to seven. Then, with just 47 seconds left in regulation, Calhoun muffed a punt snap on fourth down, and Buford's Dillon Lee returned the fumble 40 yards for a miraculous game-tying touchdown. Just like that, the Wolves were back.
For the second year in a row, it would take overtime to decide a champion between the two schools. Buford took possession and promptly ran a toss play to senior running back Andre Johnson, who weaved back toward the middle of the field, where he was met from below by linebacker Hunter Knight. Knight jarred the ball free with his helmet and teammate Heath Everett recovered. Momentum had swung back to the Yellow Jackets.
Coach Lamb wasted no time sending future Alabama kicker Adam Griffith out to win the championship with a 32-yard field goal attempt on first down. Griffith split the uprights, and the Calhoun Yellow Jackets had won the 2011 2A state championship.
Only five active GHSA football programs have ever won eight state championships. With a victory over Calhoun in that 2011 title game, the Wolves would have won eight championships in a row. No school has ever come close to achieving that feat, not even 24-time state champion Valdosta.
Buford was just one fumble away from establishing the greatest championship streak in Georgia high school football history, but in the end, that's all it will remain – a what-if.