Coach's Corner/South Georgia/November 2013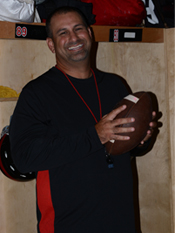 Dean Fabrizio
Lee County High School
Leesburg, Georgia
Robert Preston Jr.
Florida transplant finds success in Leesburg
"The opportunities for coaches are better in Georgia than they are in Florida. When the position came available in Lee County, I knew it would be a good situation. The school system here is very good and I wanted my kids to attend this system. I knew the football team hadn't enjoyed much success but I felt the potential was there to build a sustainable winning program," says Dean Fabrizio, head football coach of the Lee County Trojans, of his decision to apply for the Lee County job.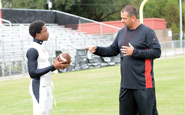 Fabrizio, a native of the Orlando area who had spent much of his career in Florida, came to Georgia after accepting the defensive coordinator position at Peach County under head coach Chad Campbell. He wasn't at Peach very long when the Lee County job opened up. He applied for the position and landed the job. He was tasked with turning around an 0-10 program. In just a few short years, Fabrizio and his staff have turned the Lee County program 180 degrees. Now, Trojan fans are witnessing something they hadn't seen in a long, long time – Lee County is finally winning more games than it is losing.Fabrizio graduated from Lake Howell High School in the Orlando area. He played football at Lake Howell and landed a spot as a tight end at Central Methodist University in Missouri. Fabrizio knew teaching and coaching would be the career path he would pursue. After graduating from college, he spent a few years as a graduate assistant in Missouri before returning to the Orlando area. From there, he went to Peach County, then Lee County.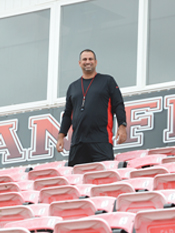 The team he inherited in Leesburg had historically been very weak. The Trojans only had a handful of winning seasons in their history and were winless the year before Fabrizio arrived. Now in his fifth year, Fabrizio's Trojans have won more than they've lost and are enjoying their second 6-0 start in a row. The key to Lee County's success has been the development of a complete program – from the recreation level up to the varsity level. The Lee County system now has two middle schools (when Fabrizio arrived, there was only one), each with its own team. The students in the football program have more opportunities to play and they are all running a very similar system. Fabrizio prefers a spread attack on offense and a multiple 3-3 on defense. Over the last few years, he has tweaked his offense to reflect a more balanced approach.
The Trojans still operate out of the spread but gone are the days of throwing the ball 50 times a game. "We are going to do what gives us the best chance to be successful. In the past, we scored a lot of points but we put our defense in stressful situations. Now, we don't take as many chances and we try to protect our defense more," he says. The teams in the lower levels of the program run the same kind of schemes, and the coaching staff is already very familiar with the players before they reach the high school. "By the time they get to us, we know who they are and we know which positions they need to play. Very seldom does a kid surprise us when he gets to high school," says Fabrizio. The result is program that is becoming one of the stronger 5A programs in the southern portion of the state. The Trojans still have a long way to go but finally, after years of hard work and attention to detail, the program is moving in the right direction. "We believe this program is in great shape and we are enjoying a level of success that can be sustained for years to come," says Fabrizio.
The desire to enter the field of public service is a path several members of Dean Fabrizio's family have chosen. His father is a retired New York City police officer, his brother is a police chief, and his sister is also an educator. "I guess becoming a public servant is something that runs in our family," he says.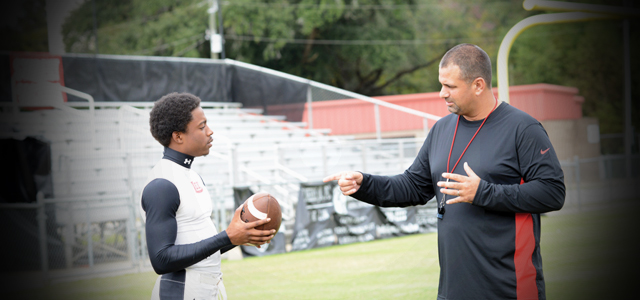 https://itgnext.com/wp-content/uploads/ITGNext-logo-Black-and-Cyan-300x186.png
0
0
admin
https://itgnext.com/wp-content/uploads/ITGNext-logo-Black-and-Cyan-300x186.png
admin
2013-11-04 20:16:00
2013-11-04 20:16:00
Florida transplant finds success in Leesburg