Here at In the Game, we often talk about state championships. We have state title contenders in several different sports among the schools we cover. Seldom, however, do we talk about national championships. For one, national titles are elusive in high school athletics. Sure, there are several national champions crowned each year; but most of the time, those are mythical championships that come from the pens of journalists, not actual national championship games or tournaments.
Things are changing. With more media attention and higher stakes in high school athletics, colleges, universities, governing bodies, and fans all want to know which teams and players are truly the best of the best. And right here in Georgia, we have a basketball team that is considered one of the elites in the United States.
Last year, the Wheeler Wildcats won the Class AAAAAA State Championship with a 59-58 win over Pebblebrook. Gone are three of the starting five players from that team. One of the returners, however, is guard Darius Perry, a four-star recruit who has garnered national headlines for his style of play. And while Perry would like to add another state title to his already impressive resume, he wants something more – a national championship.
Perry, a 6'2", 170-pound shooting guard who came to Wheeler last year from Mount Vernon in Sandy Springs, has a tremendous skill set. Think of all the basketball clichés when it comes to playmaking and shooting ability, and you can apply all of that to him. He's not the biggest player on the court, but he can shoot on the move, which gives him an advantage when he faces bigger opponents. He's deadly from anywhere on the court, and he can also get the ball into the hands of his teammates. He plays shooting guard for the Wildcats, but on his AAU team, he runs the point. He's equally adept at either position, and he will find his way to the basket, no matter where he is.
"I think I have a pretty good basketball IQ but I also think I can do a lot of things well," he says. "I have good court vision and I can shoot pretty well."
At the time of this writing, the Wildcats had played just one game – an 80-48 victory. For this season, Perry would like to win a state another state title, but he'd also like to return to the Dick's Sporting Goods national tournament in New York. Last year, after winning state, the Wildcats traveled to New York for the national championship tournament but lost in the first round.
"We lost our first game and were out for the rest of the week," he says. "But we had a great time. We had also beaten the eventual national champions early in the year. I'd like to get back there this year. But first, we have to win state."
Getting back to state requires a singular focus and the ability to block out distractions. And with Perry around, the distractions are legion.
"I try to tune everything out," he says. "When I'm on the court, I don't hear anything or see anything. It's just me out there. Off the court, I try to stay away from people who aren't going to help me. My dad, Eric, helps me a lot, too. And my friends are good about keeping me out of trouble."
He has a bright future ahead of him. A four-star recruit who already has scholarship offers from around the country, Perry isn't quite ready to make a decision on a college just yet.
"I think about it but I don't focus on it," he says. "Right now, I'm just letting it all come to me."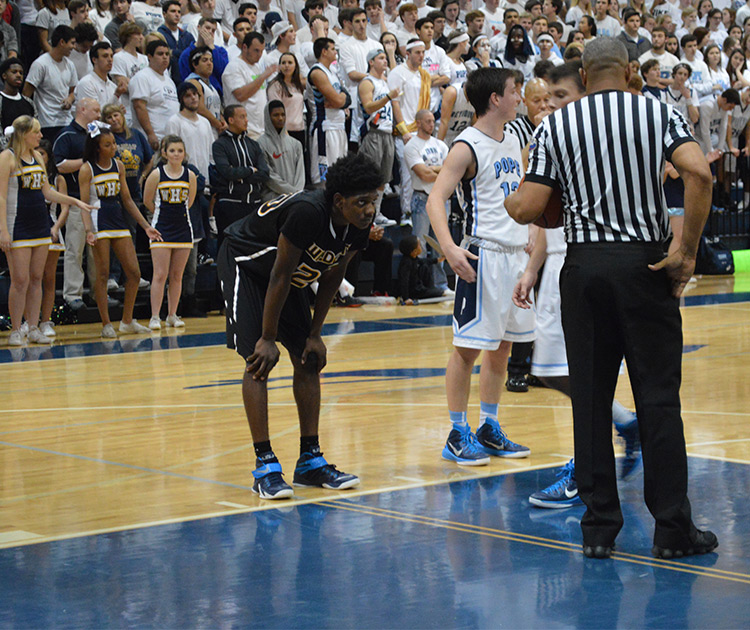 Sidebar:
Darius Perry has made it a point to prepare for the future. While's he's focused on doing the best he can for his Wheeler teammates over the next two years, he also knows that something bigger and better lies ahead. And he won't be able to enjoy those opportunities if he doesn't take care of his academics. It's not easy to balance grades with his playing schedule, but he's done a pretty good job. Perry is an A/B student and understands the role academics play in his future.
"Once when my dad was coaching me, he kept me out of a game because I had a 79.5," he says. "He wouldn't round up for me. I got the message pretty clearly."
---
Player Spotlight/South Georgia/January 2016
Darius Perry
Wheeler High School
Marietta, Georgia
Darius Perry Helps Put Georgia Basketball on the National Stage

By Robert Preston Jr.
photos by Monica Klinkmueller
https://itgnext.com/wp-content/uploads/web_wheeler_main_SG_0116.jpg
630
750
South Georgia
https://itgnext.com/wp-content/uploads/small-version-web-logo-dark.png
South Georgia
2016-01-12 17:03:42
2016-10-13 16:08:35
Darius Perry Helps Put Georgia Basketball on the National Stage