Veronica Leggett thought her score of 296 during the qualifying round at the Georgia High School Association Riflery State Championship was pretty good. It wasn't until later when she heard her name announced as having tied the state record that she realized just how good.
"I was surprised. I would have thought the state record was probably higher than that. When they announced my name, I was kind of shocked," she recalls.
A junior at Columbus High School at the time of the state championship back in April, Leggett is relatively new to the sport of riflery. The 2014-25 rifle season marked only her second year on the Columbus High team.
Leggett, 16, says her peers and others are a little surprised when they learn she is a member of the Blue Devils rifle team. Chorus, drama and theatre have always been high on her list of interests. Truthfully, the 5'2" diminutive rifle athlete looks more likely to be cast as a pixie in some stage production of a fairy tale than a successful shooter with laser-like focus.
It all started two years ago when Leggett accompanied her father to a shooting range. A family friend joined the Leggetts and brought along a few firearms.
"My dad got a pistol and on my sister's birthday we went to Shooter's gun range to shoot it. I tried the pistol and I thought this is cool, I guess, but then I tried my dad's friend's .22 rifle. I was much better with it and thought, hey, I might like shooting on the rifle team," says Leggett.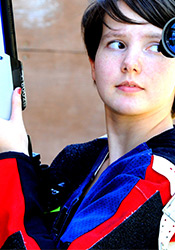 She attended try-outs for the rifle team and made the decision to continue with her interest. Leggett admits the transition to becoming a riflery athlete was hard. There were a lot of rules and techniques to learn and the uniform for the sport is unlike the equipment for any other. She smiles when she speaks about how she was too small for the trousers last year and had to special order a size for this season.
Leggett is unusual in that she is not part of the school's JROTC program even though the rifle team falls under its authority. Most of the rifle team members either have a background as a military family or plan on choosing the military as a career. Both of Leggett's parents are educators and at this point, she is not interested in pursuing an education at a military college or choosing the military for her future vocation.
The rising senior is also unusual because she demonstrated natural shooting abilities even though she had no prior experience as a hunter or a shooting enthusiast. Her rookie season she consistently scored in the 270s out of the possible score of 300. Her high score on the year was 290 and she made it to the state playoffs with her team where she posted a score of 288.
Her junior season got off to a little rocky start with Leggett dropping in her scoring a bit but she worked her way back to the 290s and even scored a perfect 300 at one match. The three positions of air rifle competition are prone, standing and kneeling. Leggett says prone is by far the easiest for her but she likes the challenge of both the standing and kneeling positions.
"With prone, you can kind of get the jitters out of the way because you are basically laying or resting in the position. Standing is the most difficult but I always think that I can redeem myself with kneeling if I don't do well with standing," she says.
On April 4, Northside High School Rifle Team took the state title. Cason Borum was the high scorer for the Patriots with a score of 291. Columbus High finished 8th in the state competition held at Ft. Benning's Pool International Shooting Complex.
Leggett placed second in the individual competition with her combined score of 394.1 which included her state record tie score of 296. The record was set in 2014 by Alana Kelly of Allatoona High School. Leggett was edged out of first place by Rosemary Kramer of Upson-Lee who posted a winning score of 396.4.
Because she has another season ahead as a senior, Leggett is looking forward to the upcoming year. A little excitement is evident in her otherwise reserved demeanor when she is asked about her goals for the 2016 season.
"Winning the state. I really think we can do it as a team and I think, or I know, I can shoot better than I did this time," says Leggett.
Her rifle instructor, Sergeant Major (Ret.) Frank Tuggle also believes Leggett has the ability to advance even further in the 2015-16 season.
"Without a doubt. She has improved every year since joining the team and her ethics, motivation and self-confidence will play a key role in her achieving success next year," he says.
Tuggle also notes Leggett will be key to the team achieving its goals.
"Veronica will have a major role in helping the team accomplish our ultimate goal of winning a state championship. May of the shooters admire her accomplishments. It motivated the team members to work harder to make the team better," says Tuggle.
The rifle team instructor indicated when the Columbus High shooters begin a new season, Leggett will be one of the contenders for the position of team captain.
"She is a true competitor with unlimited potential that will continue to improve and possibly set many records in the future."—Frank Tuggle, Sergeant Major (USA, Retired), JROTC Army Instructor, Columbus High School Rifle Team coach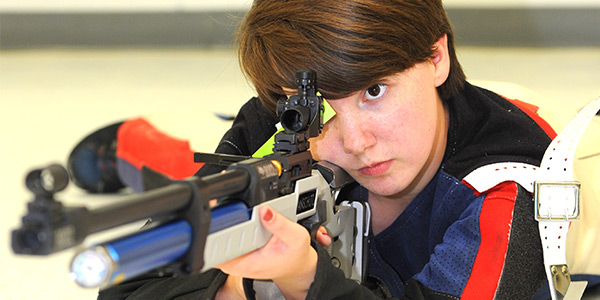 ---
Columbus Valley/Special Feature/June 2015
Veronica Leggett
Columbus High School
By Beth Welch
Photos by Jerry Christenson
https://itgnext.com/wp-content/uploads/web_leggett_main_CV_0615.jpg
1000
750
Columbus Valley
https://itgnext.com/wp-content/uploads/ITGNext-logo-Black-and-Cyan-300x186.png
Columbus Valley
2015-06-12 19:06:34
2016-01-11 16:02:14
Columbus High School Rifle Team Member Ties State Record