Coach's Corner/South Georgia/October 2013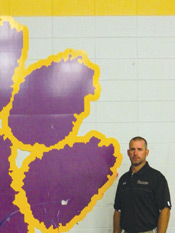 Jeff Littleton
Bainbridge High School
Bainbridge, Georgia
by Robert Preston Jr.
"It's not easy getting kids to sacrifice their time for a football team. It's hard getting kids to work towards challenging goals. You have to mix things up, keep it fun. Coaching these days is harder and harder but the rewards are there. We live in South Georgia and our kids love to play football," says Jeff Littleton, Bainbridge High School's new head football coach.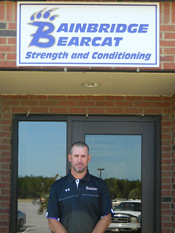 A long-time assistant, Littleton is excited about his first head coaching job. And he couldn't be happier being in Bainbridge.Littleton graduated from Worth County High School, where he played football and baseball. In 1985, his sophomore year, the Rams were a 1-9 team under legendary head coach Milt Miller. A year later, they were 13-2, losing in the finals to Villa Rica. Finally, in 1987, the Rams won a state championship, defeating Marist in the state finals. After graduating from Worth County, Littleton went to Valdosta State. While he was at Valdosta, Miller moved from Worth to Lowndes High. When Miller arrived at Lowndes in 1993, Littleton was dating Kristi Hill, the daughter of Lowndes defensive coordinator Randy Hill. With two strong connections to the Lowndes coaching staff, Littleton was able to land a position as a volunteer coach for the Vikings. For two years (1993 and 1994), he volunteered for Lowndes under the tutelage of Miller and Hill. He discovered he enjoyed coaching and, in 1995, he got his first job as an assistant coach at Dooly County. Other jobs followed at Worth, Tift, once more at Worth, and, finally, to Cairo. Littleton went to Cairo in 2005 and became defensive coordinator in 2006, a position he held until he became head coach at Bainbridge.
In 2007, the Syrupmakers made it to the state finals but lost to Carver (Columbus). The following year, Cairo went undefeated and won a championship. "We had a lot of success at Cairo and that allowed me the opportunity to get this position. I'm very thankful for that," he says.Throughout his career, the things he learned under Miller and Hill helped shape Littleton's coaching philosophy. "They were like second fathers to me," he says. Miller and Hill taught Littleton the importance of working hard each and every day, never taking a day off or letting up even a little. "My goals at Bainbridge are the same no matter where I am. I want to make our players better people first and foremost and to do things the right way. If we can do that, everything else will take care of itself," he says.They also taught him that the team is the most important thing – everything on the football field should be done with the best interests of the team in mind. Littleton and Kristi Hill would eventually marry. Randy Hill now serves as a volunteer with the Bearcats.
Coaching at Bainbridge is a family affair for Littleton. His brother-in-law, Brian Hill, is Bainbridge's defensive coordinator."It's been tremendous having him work with us. He is with us on Monday and Tuesday, and he also helps us on Friday nights. He remembers everything – he can remember games decades ago like they were yesterday."Littleton is fortunate to have a wife who understands the coaching profession better than most. She grew up the daughter of a coach and now she's a coach's wife. Being married to the head coach is an adjustment, one complicated by the fact that she also has a new job herself. "She is in a new situation teaching at Bainbridge High as well. Football season is busy and now that we have kids, she is just as busy as I am. It's hard on her when I'm at the office until 8 p.m. during the weeks. But we enjoy it and we make it work," he says. Littleton also enjoys being in Bainbridge and plans to stay for quite a while. "We've got good facilities here, a good staff, and good support from the community. I think we can really do something special here.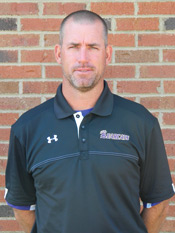 In week two of this season, Jeff Littleton returned to Cairo when the Bearcats and the Syrupmakers played each other. Cairo won 6-0 in what was a very intense, hard-fought game. Littleton enjoyed the game, all except for the outcome. "It was good to see everyone there. It didn't turn out the way I wanted it to but they are an established program. We are still trying to get there. But I did tell them not to get used to beating us," he laughs.
https://itgnext.com/wp-content/uploads/ITGNext-logo-Black-and-Cyan-300x186.png
0
0
admin
https://itgnext.com/wp-content/uploads/ITGNext-logo-Black-and-Cyan-300x186.png
admin
2013-10-01 18:41:00
2013-10-01 18:41:00
Coaches Corner - Jeff Littleton - October 2013