Coach's Corner/Columbus Valley/September 2013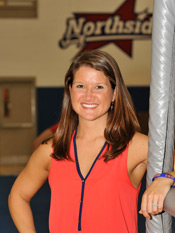 Jessica Farrow Smart
Northside High School
Columbus, Georgia
Robert Preston Jr.
Coach Smart: A winner as a cheerleader and a coach.
For Northside High School cheerleading coach Jessica Farrow Smart, there have been at least three constants in life: cheering, winning, and the city of Columbus. Smart attended Hardaway High School, where she cheered on the competition team and on the sidelines during football season.
She continued cheering at Columbus State University. After graduating from CSU, she remained in Columbus, teaching and coaching the Patriots cheer squad to multiple region championships and top 10 finishes in the state.While cheering at Hardaway, Smart and her teammates won region once, finished runner-up once and placed in the top 10 in the state twice. She missed her junior year because of a torn ACL she suffered doing a routine maneuver. Smart recovered from her injury, had a great senior year, and went on to Columbus State. With no football team at CSU, she cheered for basketball and on the competition team.
During her Columbus State career, she was a member of a team that won the national title in Orlando in the Small Co-Ed Division. A back injury derailed her senior season at CSU, but it did nothing to diminish her love for the sport.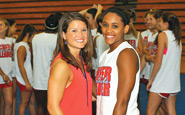 After she graduated from college, she became a teacher and a high school coach. Smart also has a part-time gig helping with the Columbus State cheerleading team, something she has done for several years.Northside High teams have done very well under her tutelage. Each year, the Patriots have qualified for the state meet. They have won the last three region titles and finished in the top 10 in Georgia in each of her five years at Northside. Three times the Patriots have come away from state competition with a fourth-place finish – their highest. They have also finished ninth, and last year, sixth. The Patriots have done so well because of the girls' passion and love for their sport. Their enthusiasm is rivaled only by that of their coaches – Smart and her assistant, Tamara Garner. Most of the girls are very experienced cheerleaders by the time they reach high school. United Cheerleading in Columbus churns out very talented girls each year, and those girls end up on their local high school competition teams. And Northside has certainly had its share of United Cheerleading talent."Every once in a while, though, we get some girls who don't have a lot of experience from a competition standpoint.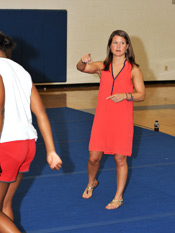 No matter what their talent level is, our girls are extremely hard working.
As coaches, we can only do so much. It's up to them to be successful. Tamara and I are passionate about what we do and it's our job to hold them accountable," says Smart.The Patriots are a very young team this year. Youth on any team always presents its share of challenges but it can be particularly troubling with cheerleading. Many freshmen don't understand how demanding competition cheerleading is and how serious the sport is in Georgia. It's more than wearing a cute uniform and being seen in front of a crowd. It's a difficult, challenging sport where one can get injured quickly and severely if the team isn't properly conditioned and doesn't communicate well."We lost eight seniors off last year's team. So we have a brand new group this season. We have to get them to realize how difficult cheerleading is and they have to learn the ropes pretty quickly," says Smart.
Smart's goal isn't necessarily to go out each year and win region or place well at the state meet. Instead, it's to teach the girls how to be responsible young adults, to work hard, never settle for second best, to set goals and follow through on those goals. She feels if she and Garner can do that, then the success at the region and state level will take care of itself. "We want to build good people out of our program. We want them to do their best. If they aren't we need to show them how to straighten things out. Jessica Smart and her husband David – and his two daughters, 16-year-old Carly and 13-year-old Callen – are very content in Columbus and don't plan on going anywhere. "We work with great people and we love this program. I don't see us leaving anytime soon," Smart says. Carly and Callen are athletes but they don't cheer. "People ask me all the time if they cheer. They don't. They're volleyball players," laughs Smart.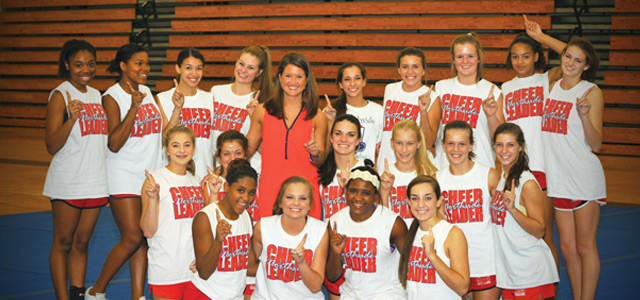 https://itgnext.com/wp-content/uploads/ITGNext-logo-Black-and-Cyan-300x186.png
0
0
admin
https://itgnext.com/wp-content/uploads/ITGNext-logo-Black-and-Cyan-300x186.png
admin
2013-10-01 18:46:00
2013-10-01 18:46:00
Coach Smart: A winner as a cheerleader and a coach