Special Feature /South Georgia/ November 2013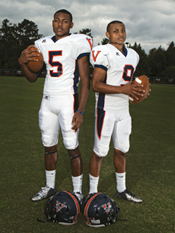 Char and Marik Merine
Valwood School
Valdosta, Georgia
Robert Preston Jr.
Move from Hamilton County, Florida to Valdosta worked out well for Merine brothers
A year ago, the Merine brothers – Char and Marik – moved from Hamilton County, Florida, about 40 miles up I-75 to Valdosta. They made the move to attend Valwood School. Academics are very important to the Merine family, and they knew that the academic environment at Valwood was exactly what the brothers needed. Char and Marik were also student-athletes who grew up playing sports. They planned on joining the football and basketball teams at Valwood. But with the football program welcoming a new head coach, they didn't really know what to expect. They just wanted to play.You might say that things worked out well for the brothers.Char, now a senior, and Marik, a junior, were among the Valiants' biggest contributors on an undefeated Valwood team that won a state championship. They picked up where they left off this year and have continued to put up big numbers on what thus far (through six games) has also been an undefeated team. A year ago, Char, a defensive back/wide receiver, was the Valiants' second-leading receiver with 30 catches for 540 yards and eight touchdowns.
Defensively, he tallied 58 total tackles. Through three games in 2013, he had nine receptions for 152 yards and two touchdowns. He had 20.5 tackles, one tackle for a loss and one pick six. Marik has also put up some impressive numbers over his career at Valwood. In 2012, he rushed for 626 yards on 68 carries and scored six touchdowns. He caught 13 passes for 177 yards and another touchdown. On defense, he totaled 42.5 tackles, one sack and an interception. Through the same three games this year, he had 33 carries for 196 yards and five touchdowns. Marik continues to be a productive receiver out of the backfield with 17 catches for 187 yards and one touchdown. As a defensive back, Marik had 16.5 tackles, one tackle for a loss and one interception.Given the brothers' performance on the field, one might think that the move to Valwood was easy for them.
While they did adjust fairly quickly, the move presented its challenges. "It was difficult at first. But the people at Valwood welcomed us and made us feel at home. It has been a good move for us," says Marik.Neither the Merine brothers nor the rest of the team has grown complacent after last year's state title run. They are just as committed as they ever have been to win another championship. As of In the Game's press time, Valwood was 6-0 and only played one close game, a 13-12 win over Memorial Day in September. While the goal is to win another title, Char and Marik understand the importance of not looking too far ahead or taking games for granted. "We definitely want to win state again. Our team isn't as big as last year's team was but we have more depth. We talk about winning a championship but we're still just taking it one game and one week at a time," says Char.They have never forgotten the primary reason they came to Valwood in the first place – academics. Char and Marik are very good students who are committed to their grades.
They try to get as much homework done as they can during study hall at school, but inevitably, they have work that must be done at home. On those occasions, they fulfill their football obligations (or, during the winter and spring, basketball and track obligations) and then hit the books after practice. The schedule can get monotonous but Char and Merine know that it will be grades, not sports, that pave their future. "It can get to be a real grind sometimes," says Char.Both Char and Marik plan to pursue careers in the medical field. Char has some interest from a few smaller college football programs. He has an offer on the table from Colgate and when ITG spoke with him, he was planning a visit to Furman. Marik still has some time to make his decision, though he says he plans to pursue a career as a physical therapist.In looking back on nearly a year and a half at Valwood, Char and Marik were very appreciative of how they have been received at their new school. "The coaching staff and parents have pushed us both in the right direction and encouraged us to do the right things. Coach [Ashley] Henderson is more than just a coach. He's a father figure, brother and mentor who pushes us on and off the field," says Marik.
The Merine brothers are very competitive on and off the field. Their friendly but intense rivalry pushes them to their best, no matter where they are or what they are doing. As a result, they both do well in the classroom and are among the top players in the region and state. Char is an All-State and All-Region defensive back and receiver while Marik has been named All-Region at both of his positions as well. Last year, they both had a Spanish class together and their competitive nature pushed them to work extremely hard in class. "We're competitive everywhere. It doesn't matter – on the track, in football, in basketball. Even in Spanish class," says Char.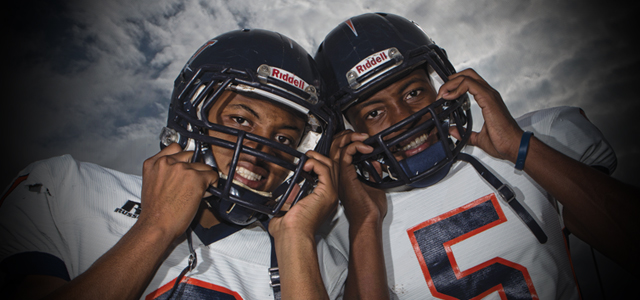 https://itgnext.com/wp-content/uploads/ITGNext-logo-Black-and-Cyan-300x186.png
0
0
admin
https://itgnext.com/wp-content/uploads/ITGNext-logo-Black-and-Cyan-300x186.png
admin
2013-11-04 22:21:00
2013-11-04 22:21:00
Move from Hamilton County, Florida to Valdosta worked out well for Merine brothers