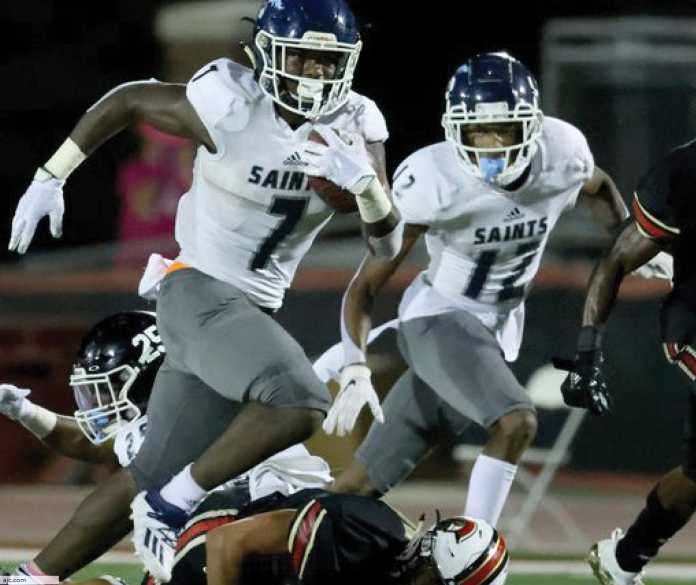 Carver-Atlanta Eyes Rematch With Cedar Grove
They said they would be back. Not many believed them. Carver-Atlanta had a 17-0 shutout loss to Cedar Grove that set them back with a 2-2 record somewhat early in the season. It was nothing new to most around the state, as the Panthers were winless against the Saints all-time (unless the forfeit win counts from last season). Carver would be denied a region championship, which also wasn't something they were used to, only having won five since the school first began playing football in 1949. However, the Darren Myles-led Panthers didn't back down, winning the rest of their region games and knocking off third-ranked Sandy Creek to earn the second seed for playoffs.
Playoffs were nothing new for the Panthers; they had made it every year since 2012. Winning, on the other hand, was its own separate issue. From 2012 to 2019, Carver only made it past the first round once. They reached the quarterfinals in 2020, a big step forward for the program. Could this be the start of something special? Or was it just another odd playoff result in the midst of more first-round losses?
Carver's 2021 playoff run gained momentum rapidly, as they rocked North Hall and Liberty County in the first two rounds. A quarterfinals blowout over Burke County set the stage for a matchup with 3rd-ranked Pierce County in Blackshear. The only thing holding Carver back was their playoff strength of schedule; they were yet to play a ranked team this playoffs, while Pierce County had just defeated a strong Peach County squad. That didn't seem to matter though. Carver jumped out to a 19-3 lead and despite a slow second half, managed to escape with the 19-17 upset on a failed two-point conversion. Of course, that set up a rematch with the powerful Saints from Cedar Grove, who had not won a playoff game by less than 21 so far.
Much of Carver's success offensively is due to three players: QB Bryce Bowens and RBs Jarveous Brown and Quintavious Lockett. Lockett transferred in from Douglass and has been an instant impact, rushing for over 1,000 yards just as Brown has done. This two-headed monster of a rushing attack is complemented by Bowens's accurate passing (14 TDs and no picks in the 7 games he's played healthy). Devonte Amasiani, Terrell Lightfoot Jr, Aquantis Clemmons, and Diallo Mosley anchor a physical front seven that can easily penetrate a lackluster offensive line. This team is loaded with playmakers that have developed chemistry at the perfect time.
This will be Darren Myles's first finals appearance as head coach of the Panthers, which he has been since 2005. It is the second finals appearance in school history. Carver will need to overcome a star-studded Cedar Grove front seven, which they couldn't do earlier this season, to win their first ever state title. This is the ultimate game of matchups, and it will be one for the history books!
Written by: Dhruv Mohan