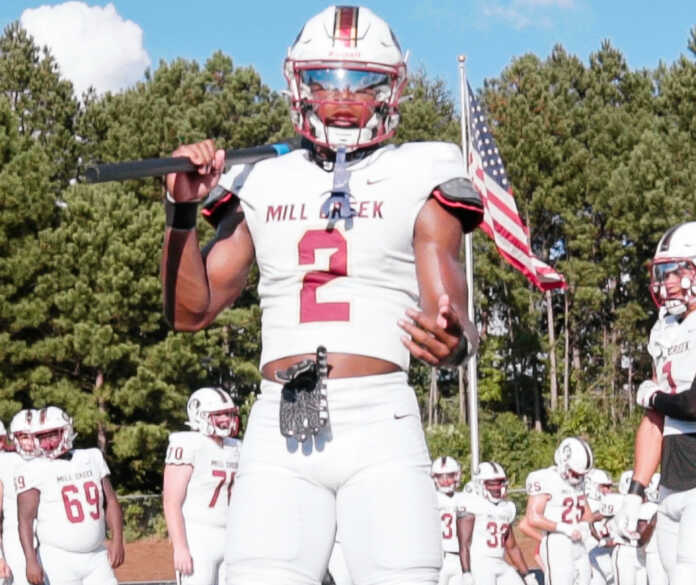 Big Plays, Stout Defensive Efforts Highlight Georgia High School Championship Games
Each Week ITG Next recognizes the best performances from players across the state. Here are the top outings by those who got it done for their team when it mattered the most – in the Georgia high school state championship.
Offense
Prince Avenue Christian QB Aaron Philo completed 21 of 32 attempts for 477 yards and set the GHSA record for TD passes in a state championship game with 6.
Swainsboro's Ty Adams had 16 carries for 259 yards and 3 TDs against the Wolverines. He also threw for 65 yards and had 3 tackles on defense.
Carrollton freshman QB Julian "JuJu" Lewis completed 25 of 46 passes for 5 TDs and a state championship record 531 yards in his team's loss to Mill Creek in the Georgia high school 7A title game.
Ware County WR Jarvis Hayes had 171 yards and 2 TDs on 6 receptions.
Sandy Creek QB Geimere Latimer kept his team's final game-winning drive alive with a 23-yard run on fourth down when they needed 22 yards. He also led the Patriots with 10 rushes for 53 yards and 1 TD.
Thomson's Jontavis Curry rushed for 243 yards with 4 TDs to pace his team to a 32-27 win in the Class 2A state title contest.
Defense
The Benedictine defense stopped Cedartown on four plays from the ½-yard line to preserve the Cadets' 1-point win and clinch their second straight Georgia high school state championship.
Benedictine senior LB Wilkes Albert led the Cadets defense with 20 tackles.
Prince Avenue Christian's two-way standout, Josh Britt, led the Wolverines with 10 tackles, a forced fumble, and an INT. (He also had 201 receiving yards on offense.)
Bowden's JaMichael Jones had an INT and a 19-yard return to set up his team's and the game's first TD against Swainsboro.
Mill Creek's Caleb Downs had 6 tackles on defense and helped lead the Hawks' effort on both sides in winning their first state championship.
Special Teams
Mill Creek's Makhail Wood returned a kickoff 96 yards for a TD in the Hawks' blowout win over Carrollton.
Mill Creek's Jamal Anderson returned a blocked FG for an 88-yard TD.
Hughes' Jekail Middlebrooks scored on a 72-yard kickoff return for a TD.
Schley's Jalewis Solomon had a 77-yard kickoff return for a TD against Bowden in the Class A-D2 championship game.
Thomson's Jordan Lane had a 75-yard kickoff return for a TD in their Class 2A state championship victory.