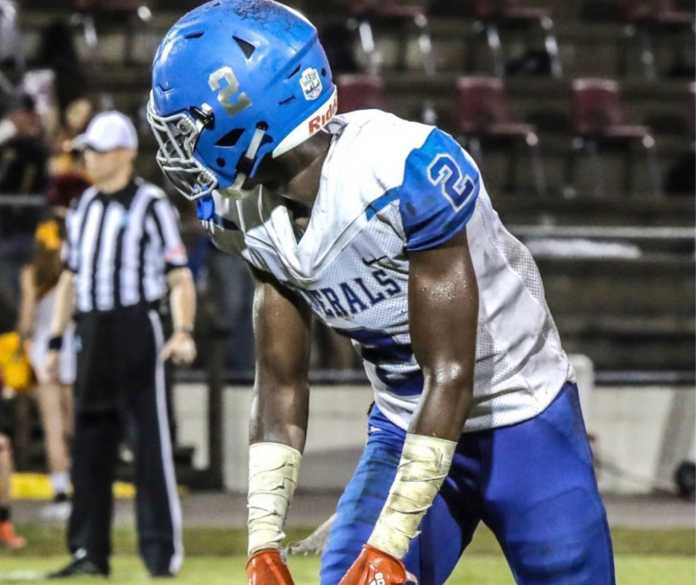 With Cormani McClain and Desmond Ricks entering the 2022 season as the top defensive backs in Florida high school football in the 2023 and 2024 classes, respectively, it got us thinking: Who were some of the state's best DBs in previous years? Here are 10 names – one from each of the past 10 years – to hold that billing, along with a look back at their senior seasons. (Rankings courtesy of 247Sports Composite)
2022 – Jaheim Singletary (Riverside-Jacksonville)
Singletary, who's entering his freshman season at Georgia this fall, was arguably the top headliner in a deep 2022 Florida high school defensive backs class that also included names such as Daylen Everette, Kamari Wilson, and Sam McCall. Singletary, a five-star cornerback, played both sides of the ball at Riverside-Jacksonville, finishing his senior season with 28 tackles and four interceptions.
2021 – James Williams (American Heritage)
A sophomore at the University of Miami, Williams not only was the state's top defensive back in the 2021 class, he was also the top safety nationally. The five-star recruit ranked among American Heritage's top tacklers as a senior in 2020, posting 74 total while also collecting seven TFL and three sacks.
2020 – Eli Ricks (IMG Academy)
A former five-star cornerback who transferred from LSU to Alabama this past offseason, Ricks played only one season of high school football in Florida, as a senior in 2019. After transferring from national powerhouse Mater Dei in California prior to that season, he starred on an Ascenders team that was one of the best in the state.
2019 – Tyrique Stevenson (Miami Southridge)
Now a redshirt junior at Miami after beginning his collegiate career at Georgia, Stevenson was a four-star cornerback in the 2019 class. Attending Miami Southridge, he was arguably the top Florida player in the 2019 class who did not attend IMG Academy, with Nolan Smith, Trey Sanders, and Evan Neal all ranking within the Top 10 nationally.
2018 – Patrick Surtain II (American Heritage)
Back in 2017, American Heritage had one of the top cornerback duos Florida has seen in recent memory with Tyson Campbell and Surtain. Both were five-stars, as well as the top two Florida high school defensive backs in the 2018 class. Prior to being a day-one starter at Alabama, as well as an eventual first-round pick by the Denver Broncos, Surtain was a standout cornerback for the Patriots who helped lead American Heritage to back-to back state titles in 2016-17.
2017 – Shaun Wade (Trinity Christian)
Before he was a multi-year starter at Ohio State, Wade was one of the top cornerbacks nationally in the 2017 class out of Trinity Christian Academy in Jacksonville. Rated as a five-star prospect, Wade made his senior season in 2016 a memorable one: 63 tackles and seven interceptions defensively, along with 520 yards and six touchdowns as a wide receiver.
2016 – Chauncey Gardner-Johnson (Cocoa)
A current New Orleans Saint and a former collegiate standout at Florida, Gardner-Johnson was a versatile defensive back who sat atop the rankings of Florida high school defensive backs in the 2016 class. The four-star prospect did it all on both sides of the ball for Cocoa as a senior in 2015, accounting for 11 total touchdowns on offense, and 55 tackles and four sacks on defense.
2015 – Derwin James (Haines City)
Florida had three of the nation's top five overall recruits in the 2015 class, one of whom was James, the top safety that year in high school football. Nowy one of the NFL's top safeties with the Los Angeles Chargers, the former Florida State standout is one of the more accomplished football players to come out of Haines City in recent memory.
2014 – Trey Marshall (Columbia)
The former Florida State product was the state's top defensive back in the 2014 class as a four-star safety. Attending Columbia High School, Marshall was among the top 15 players at the position nationally out of high school, as well as the top 30 overall in the state.
2013 – Vernon Hargreaves III (Wharton)
A former first round pick and University of Florida star, Hargreaves might've been the biggest name on this list coming out of high school. A five-star cornerback and top-three player nationally out of Wharton in 2013, Hargreaves played both sides of the ball for the Wildcats. He posted a memorable senior season defensively, collecting 100+ tackles and five interceptions.