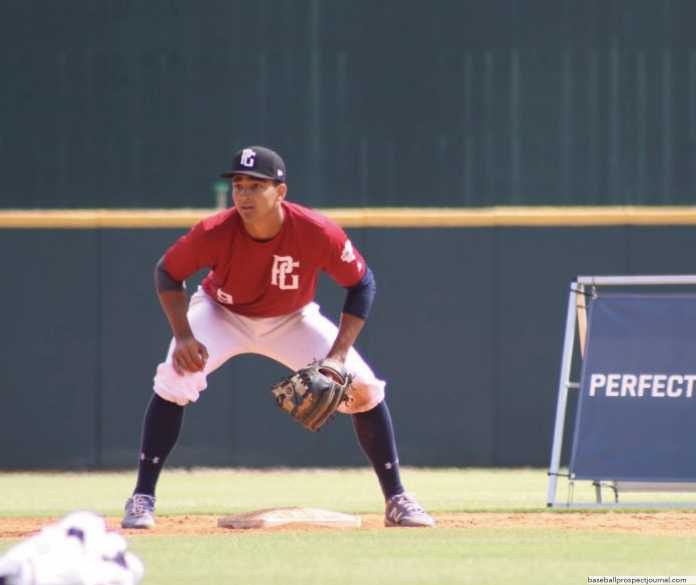 Best 2021 Baseball Players According to Perfect Game
With the 2021 high school baseball season coming to a close, the focus is beginning to turn to the upcoming 2021 MLB Draft. There are a few high school players in particular that will be very high picks in the Draft, and they are in that position through their performances in high school and travel baseball throughout the past couple of years. Not only will they be top MLB Draft picks this season, but are where they are today because of high school and travel baseball. These are the best 2021 baseball players according to Perfect Game.
Jordan Lawlar – SS
Remaining as the top overall player in the Class of 2021 is Irving, TX SS Jordan Lawlar. Lawlar has been a standout on the national scene for years, fully cementing himself as one of the top projected picks in the 2021 MLB Draft. The Vanderbilt commit attends Jesuit College Prep where he dominates high school baseball, but has recently played for the Dallas Tigers where he has showcased his talents on the travel baseball scene. Lawlar has won numerous awards throughout his time playing travel baseball including All-American, All-Tournament Team, and more.
Brady House – SS
The Winder, GA native remains as the No. 2 player in the Class of 2021, as Brady House continues to show out during his senior season. House attends Winder-Barrow High School where he has a .551 AVG, 46 R, eight HR, 19 SB, and 18 RBIs during 26 games this season. House has also played for Team Elite where he has showcased his phenomenal hitting and base-running abilities. 
Marcelo Mayer – SS
The lone player to rise in the updated rankings, SS Marcelo Mayer is up to No. 3 in the Class of 2021 rankings. The USC commit and Chula Vista, CA native has shined this season for Eastlake High School hitting .389 with seven HRs and 27 RBIs, while also starring on the travel baseball scene with San Diego Show. Mayer continues to rise as a prospect, and because of it is becoming a potential top MLB Draft pick.
James Wood – OF
James Wood comes in at No. 4 after having a successful high school and travel baseball season. Wood is one of the overall top power prospects in the Class of 2021, as he has played for one of the nation's top high school teams in IMG Academy where he has hit .258 with 26 RBIs. The Mississippi State commit has also played for Dirtbags 2021, as well as IMG's travel team.
Joshua Baez – OF

 
Joshua Baez remains in the Top 5 of the updated Class of 2021 rankings due to his hitting abilities. The Boston, MA native is committed to Vanderbilt, but has showcased his abilities playing most recently with Boston Blue Jays 16U. Baez can do it all as he is not only a phenomenal power hitter, but also impressive on the mound throwing in the upper 90's.
Written by: Matt Melton