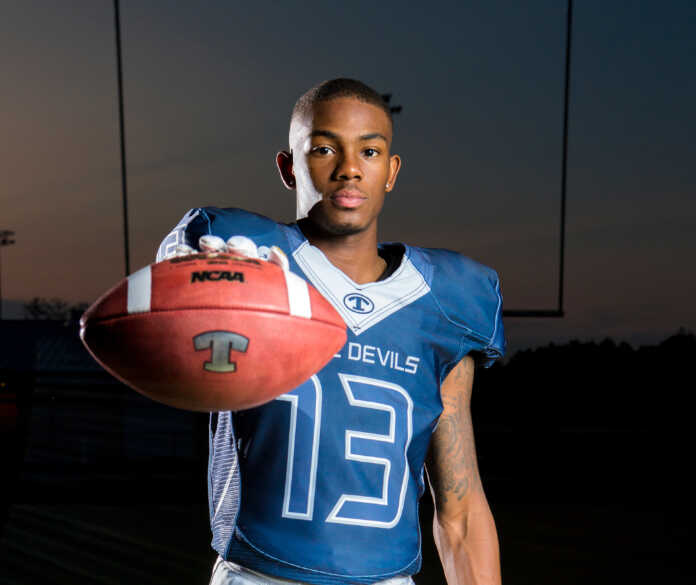 Baltimore Ravens standout wide receiver and former Tift County two-sport star Rashod Bateman was recently honored by the City of Tifton, with February 18 declared "Rashod Bateman Day." Tifton Mayor Julie Smith presented him with the key to the city. Bateman took pride in soaking in the accolades from his hometown.
"This is definitely special, to come back to my hometown and be recognized," he said.
Following the ceremony held at the Anthony Bateman Center, Bateman took time to sit down with ITG Next Georgia for an exclusive one-on-one interview, during which he talked about growing up in Tifton and playing for the local high school team, the Tift County Blue Devils. He also talked about his decision to leave his hometown for the cold Minnesota fall, where he played collegiately for the University of Minnesota Golden Gophers, and his journey to become one of the most talented wide receivers in college football.
"This is definitely special for me, growing up here in Tifton," Bateman said, soaking in all the admiration from a large gathering of family, friends, and fans who remember him from his days as a Blue Devil. "To have a day like this and to have all these people behind me definitely means a lot to me."
Bateman played for Tift County from 2015 to 2018, the year he graduated. While Bateman is mostly known for playing football, he was also a standout basketball player at the Tifton school. In fact, he received quite a bit of attention from colleges for his basketball skills, just as he did for his football prowess.
But football was where Bateman decided he wanted to stay, and it would be his performance on the football field as a standout receiver in his junior season that started attracting attention from college recruiters. In 11 games that year, he caught 56 passes for 825 yards and 5 TDs. That was enough for Georgia Southern to offer him a scholarship, and Bateman committed to the Eagles.
However, a satellite camp at Mercer University changed that. The camp was attended by college coaches from all over the country, and Bateman had received an invitation to attend the camp.
"Minnesota wanted me to come to the camp," Bateman recalls.
He was one of several top players who was there to show off their talent, and Bateman did not disappoint.
"I went to the camp and performed well, and they offered me on the spot, and I committed without visiting yet," Bateman said.
Admittedly, his commitment to Minnesota caught many people by surprise – perhaps even Bateman himself.
"I had never even left Tifton or the state of Georgia, so going to Minnesota was definitely a big culture shock for me," Bateman said.
Bateman said he began researching Minnesota online, trying to learn more about the school that he had committed to sight unseen. He recalls there were moments of second-guessing himself about the decision.
"I thought, what did I just do?" he admitted.
But Bateman had made a promise to Gophers coach P. J. Fleck at the camp that if he would make an offer, Bateman would accept. In the end, Bateman knew he had made the right decision.
"I had a good relationship with the coaches, and they treated my family well, so it was an easy decision for me," he said. "I was definitely committed to Minnesota 100 percent."
Armed with the confidence of knowing a Power 5 school scholarship awaited him following his high school graduation, Bateman returned to Tift County for his senior season and showed Fleck and the Golden Gophers the type of playmaker they would be getting. He had 83 receptions and nearly doubled his receiving yards from the previous year. He finished with 1,539 yards and 21 touchdowns.
Once he got to Minnesota, it didn't take Bateman long to make an impact.
"Coach Fleck told me that I had the opportunity to come in and be something special, but at the same time, I still had to come in and prove myself," Bateman said.
The new receiver on campus did just that.
"I started in my first college game as a freshman, earned the team's trust, and from there, we had fun," he said with a grin.
After a solid first season at Minnesota – Bateman caught 51 passes for 704 yards and 6 touchdowns – he came back with a breakout sophomore season.
That's when Bateman began to realize that his lifelong dream of playing in the NFL might become a reality.
"My sophomore year, I started out pretty hot," Bateman said, "and I just continued to build up … seeing my name [mentioned as a potential NFL draft pick] and my teammates telling me that I had a shot at it, and as the season went on, we kept playing in bigger games, and I just kept performing well. My coaches allowed me to lead the way I wanted to."
That sophomore season would see Bateman emerge as a top receiving prospect with 1,219 yards receiving and 11 touchdowns on 60 catches. The NFL was right there.
Then 2020 came around. It would be Bateman's junior season and the world was his for the taking.
But, as Bateman recalled, "A lot of things changed."
COVID-19 had a way of making things change for a lot of people, including Rashod Bateman.
"We had a COVID spike on our team, and I have asthma," Bateman said.
He said he and his family decided sticking around was not the best thing for him.
"I opted out halfway through my junior year," he recalled.
Despite playing in just five games, Rashod finished with 36 catches and 472 yards receiving with 2 TDs. It was time for his next step.
Rashod decided to declare for the NFL draft. A standout performance at his Pro Day workout, along with his stellar college stats, solidified Bateman as a first-round pick.
Bateman said he spent draft day with his family in Tifton. And what did he do while waiting for his name to be called?
"I fell asleep," Bateman remembered.
Then the moment came. The moment he had waited his whole life for was here. The Baltimore Ravens were on the clock.
The phone rang. Ravens general manager Eric Decosta was on the line.
"Do you want to play with Lamar Jackson?" he asked Rashod.
"[Heck] yeah," Bateman replied.
"It still feels surreal for me," said the Baltimore Ravens 2021 first-round draft pick.