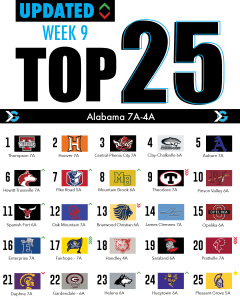 The Week 9 7A-4A Top 25 Alabama high school football rankings saw some change since last Friday night with one notable team rising due to a big win.
No. 17 Fairhope was the biggest riser, as they picked up a big 21-12 road win over No. 9 Theodore, who fell three spots as a result. 5A's Pleasant Grove enters the Top 25 as the Spartans own multiple impressive wins at 7-0, as well as a perfect 5-0 in 5A-Region 5.
Week 9 brings many high-profile matchups including No. 1 Thompson vs No. 12 Oak Mountain and No. 4 Clay-Chalkville vs No. 10 Pinson Valley, while other teams such as Mountain Brook, Fairhope, Hueytown, Handley, and Gardendale all also face tough opponents.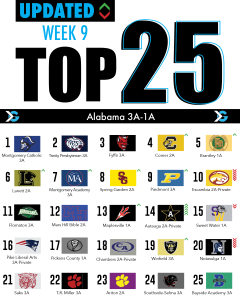 While no new teams entered the 3A-1A Top 25 Alabama high school football rankings, there was some movement among the rankings due to two notable results from last Friday night.
No. 14 Autauga picked up a 31-17 home win over previous No. 4 Escambia in an AISA 2A matchup, which caused movement between both teams, while No. 13 Maplesville also picked up a big win over now No. 20 Notasulga.
Looking ahead to this week, undoubtedly the top matchup from Class 3A-1A comes from No. 1 Montgomery Catholic hosting No. 2 Trinity Presbyterian in a game that could decide Class 3A-Region 4.
Written by: Matt Melton