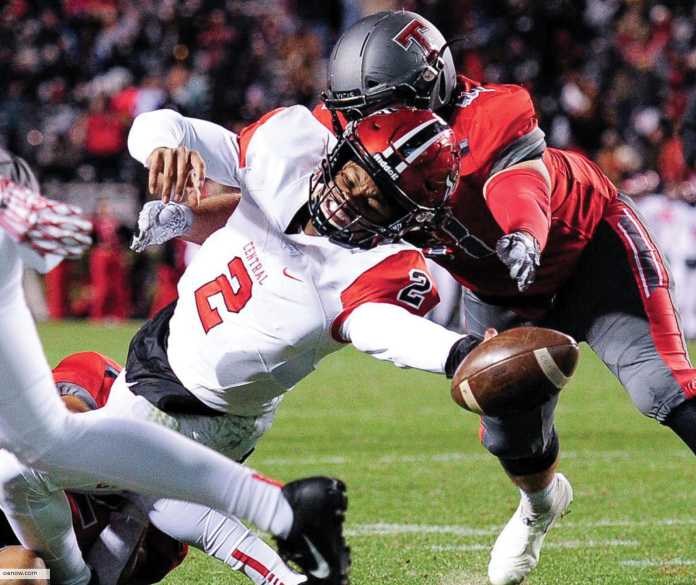 Alabama Class 7A Football State Championship Preview: Thompson vs Central-Phenix City
The 2021 Alabama high school football season will finally come to a close this week when the AHSAA Class 7A-1A state championship games are played at the new Protective Stadium in Birmingham. When comparing each of the seven games to be played however, there are none that stick-out more than the Class 7A showdown between defending state champion Thompson and undefeated Central-Phenix City.
The Warriors and Red Devils will meet in the Class 7A state title game for the third time in the last four years, with each team having won once before (Central-Phenix City in 2018, Thompson in 2019). The first of this year's Super 7 games, kickoff is set for Wednesday, December 1 at 7:00 pm ET, and will feature arguably the top two overall teams in the state, both of whom are loaded with talent on both sides of the ball. 
Thompson will be looking to complete the first-ever three-peat in Alabama Class 7A history, and have an excellent shot to do it led by a dominant offense headlined by quarterback Conner Harrell, wide receiver Ryan Peppins, running back Justin Pegues, and more. The Warriors also own arguably the top overall defense in the state led by the dominant pass rushing duo of five-stars Jeremiah Alexander and Peter Woods, as well as talented at every-other level of the defense featuring versatile defensive backs Trequon Fegans and Tony Mitchell, as well as linebacker Jax Van Zandt. 
The Warriors are led by head coach Mark Freeman, and sport a 12-1 record on the season that features numerous impressive wins over the likes of Hoover, Mountain Brook, and Hewitt-Trussville. Thompson has outscored opponents a combined 598-77 on the season, and have multiple players with state championship experience such as the previously mentioned Alexander.
Central-Phenix City are back in the 7A state title game after missing out a year ago, and also display one of the top offenses in the state led by quarterback Caleb Nix, as well as countless playmakers such as wide receiver Karmello English, running back Jaimel Johnson, wide receiver Marquevious Terry, and more. The Red Devils defense is also deep with talent headlined by one of the top pass rushers in the state in junior Tomarrion Parker, as well as countless others including defensive backs JQ Hardaway and Siraj Muhammed and pass rusher Makhi Gilbert.
The Red Devils sit at an undefeated 13-0 for the 2021 season in what is year No. 2 under head coach Patrick Nix. Outscoring opponents a combined 564-175 on the season, the Red Devils offense is also one of the best in the state, as well as a defense that has multiple playmakers at all three levels. 
Despite two strong defenses, this game will likely be high-scoring due to the talent on offense alone, and should be undoubtedly the top state title game to watch in this year's Super 7.
Prediction: Thompson 35, Central-Phenix City 24
Written by: Matt Melton