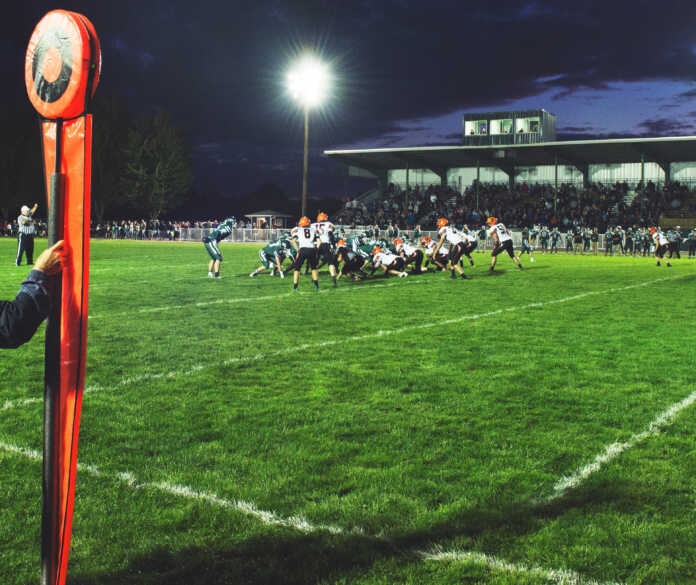 In recent years, almost every offseason has seen multiple transfers throughout Florida high school football, with a majority going on to make key impacts for their new teams the following fall. Last year's group of transfers included names such as Cormani McClain, Joshisa Trader, Blake Boda, and Jerrick Gibson. Following is a look at seven key transfers across the state so far this offseason, each of whom is likely to be an impact player in the fall. (Rankings according to 247Sports Composite.)
RB Stacy Gage (St. Thomas Aquinas)
We begin here with one of Florida high school football's top 2024 running backs. Gage transferred within Class 3M during the offseason, going from Wharton to defending state champion St. Thomas Aquinas. Coming off a season in which he rushed for 704 yards and 14 touchdowns, the rising senior will team with fellow four-star Jordan Lyle to comprise one of the state's top running back duos this fall.
DL Armondo Blount (Miami Central)
Considered the state's top 2025 prospect, as well as a top-five player nationally in that class, Blount is arguably the biggest name of the Florida high school football transfers this offseason. The five-star defensive lineman joins defending Class 2M state champion Miami Central from Dillard, where he amassed 30 TFL and 16 sacks a year ago.
WR Jerrae Hawkins (IMG Academy)
As with last offseason, Florida high school powerhouse IMG Academy has seen several top transfers come from out of state, with one of the biggest so far being Hawkins. A four-star wide receiver in the 2024 class, Hawkins comes to IMG from West Virginia's Wheeling Park High School, where he recorded 67 receptions for 1,173 yards and 14 touchdowns.
RB Anthony Rogers (IMG Academy)
Another one of IMG Academy's prominent transfers this offseason is Rogers, who joins the Ascenders from Pike Road High School in Alabama. Rogers, a four-star prospect in the 2025 class, is coming off a season in which he rushed for 1,626 yards and 22 touchdowns on 187 attempts, and he now joins a deep IMG backfield that could be among the best in Florida high school football.
RB Tovani Mizell (Western)
After spending the 2022 season at DeMatha Catholic High School in Maryland, Mizell has transferred back to Florida to spend his senior year at Western. Mizell, a four-star prospect in the 2024 class, has the potential to be one of the state's most versatile running backs this fall. He put together 1,000+ total yards in 2021 at Cardinal Newman.
QB Davi Belfort (Western)
Joining Mizell in the Western Wildcats backfield will be Belfort, who transferred from Gulliver Prep. A three-star Virginia Tech commit in the 2024 class, Belfort completed 66% of his passes a year ago, while also accounting for 2,358 yards of total offense with 16 scores.
LB Willis McGahee IV (Miami Columbus)
A transfer in the South Florida area, McGahee makes the move from Miami Palmetto to Miami Columbus, the defending Class 4M Florida high school state champions. McGahee, a three-star linebacker in the 2024 class, is coming off a season in which he had 50 tackles, 14 TFL, and 8 sacks. He's likely to play a key role for the Explorers' 2023 defense.