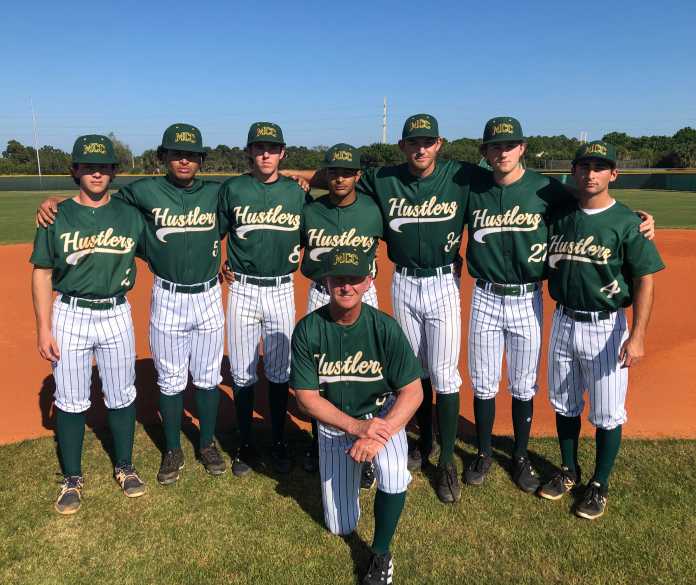 ITG Next spoke with Melbourne Central Catholic baseball coach Tom Dooley about the Hustlers' 2022 season up to this point, as well as a look ahead to the playoffs.
Q: Your team has obviously had a strong season up to this point. What are your thoughts on what this Melbourne Central Catholic baseball team has accomplished so far?
A: On paper the season does look strong. I appreciate what this group has been able to accomplish as a team in so many ways. It is always good to win, but for me it is more important how we do things. Our formula should always revolve around hustle and enthusiasm. The formula must include being selfless and a great teammate. We are always looking to apply our mental conditioning training along with our culture training. These are heavily emphasized and a big part of our standards and expectations.
The seniors were freshmen on a very special team. They know what needs to get done to be successful. They have improved with accountability, leadership, and assisting the younger players with their growth. We must depend on being gritty more than being talented. The buy-in is there. That is a beautiful experience to be a part of when you have those controllable qualities taken care of.
Q: How beneficial is it to have three seniors such as Patrick Corley, Tyler Mecchella, and Joshua Wisler-Esposito in your rotation, and just how big of an impact have those three, as well as this entire senior class, had on this group's success overall?
A: Tyler Mecchella, Josh Esposito, and Pat Corley have been outstanding. Pat is just a pure competitor. Tyler would be more of a power guy at least on this staff. Josh is pure finesse.
Caden Simcox, Alex Westfield, Colin Anderson and Tommy Gonnella have added quality arms to the staff. They have competed and kept us in games. All three have different styles. The reason we have had such a positive experience this season is because of our senior class. We are better this year basically because we are a year older.
Vince Varvaro, Bryant Espiritusanto, and Steven Klassen have also enjoyed a great year as performers and leaders. All three are good offensive players.
Our best teams have the players holding each accountable despite the win-loss record. Usually our winningest teams have that accountability set up, though. We attempt to keep our focus on those qualities over winning, as that is very difficult to control.
Q: Who are a few names you have seen grow into bigger roles compared to this time last year?
A: A host of younger players have played roles to assist in the development and growth of this ball club. Juniors Anthony Soehnlein, Andrew Gallizzi, and Cole Gifford have been instrumental in being great teammates despite not playing every day. Sophomores Alex Westfield, Caden Simcox, Christian Maynard, and Alex Gomez have seen increased roles. Freshmen Austen Hester, Tommy Gonnella, and Tanner Graza have contributed both on defense and at the plate.
Q: As we approach the playoffs, what are some goals for your Melbourne Central Catholic baseball team?
A: This Hustler edition is not the most physically talented team we have had over the past decade. We certainly have had to find other ways to be successful. The emphasis has been more on being successful through mental game, execution, desire, grit and hustle. That has in turn allowed us to win in another fashion. We must prepare and play with that hustle, enthusiasm, grit, and toughness. We struggle when we lose that identity.
It will take us receiving and taking advantage of breaks to get into and advance in the postseason. The biggest areas for us and most teams is to put the ball in play, play throw and catch, and throw strikes. We have to be competitors and control the mental games. Dusty Rhodes used to say "Some teams hope to win. Hope has nothing to do with it." We use faith, trust, believe and hustle.