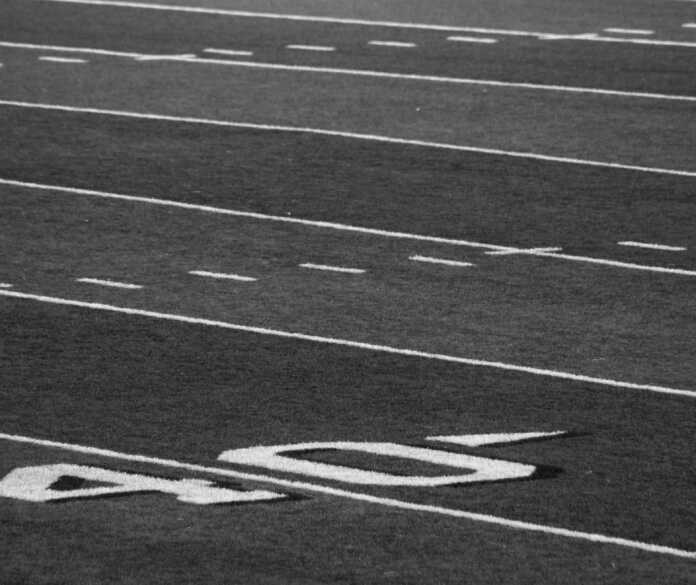 Our ITG Next Georgia "4 Questions with the Coach" guest this week is Collins Hill head football coach Drew Swick, who was named to the position this offseason. He may be new in that role, but he's no stranger to the Collins Hill program: He played for the Eagles and graduated from the school in 2008.
Swick also has been a part of the Collins Hill coaching staff since 2015, including serving as the team's defensive coordinator for the last three years. Let's find out more about Coach Swick and see what he has in store for the Eagles in his first season as head football coach.
Q. Coach Swick, congratulations on being named head football coach at Collins Hill. It's quite an honor to become a head football coach in Georgia, but being able to take over as the head coach at your alma mater has got to be really special, right?
A. Yes, it is a blessing and a dream come true. It is something I set my mind on when I graduated from Presbyterian College and worked very hard for my entire teaching/coaching career. I have been blessed to be in the position I am in today because of the people that have come before me, as well as the Collins Hill administration that believed in me and blessed me with the opportunity to lead this program. I love my school, this football program, and the Collins Hill community, and I want nothing but the best for Collins Hill going forward. My staff and I are set on pouring our hearts into these players to get the best out of them every day.
Q. Coach, you know this Collins Hill football program better than anyone, having been a part of the dominant years, which included a state championship, and having been through last season, which was a bit of a struggle for the Eagles. What has this journey been like, having experienced such highs and lows there at Collins Hill?
A. My time at Collins Hill has been one of the greatest experiences an alumni could ask for. I've had the privilege of playing and coaching with some of the best talent and coaches in the state of Georgia, which has shaped me into the football coach I am today. My senior year I was able to play for head coach Larry Sherill, offensive coordinator Jim Tiller, and defensive coordinator Billy Wells, all great coaches and role models for the young men under them. My position coach that year was Korey Mobbs, and he helped prepare me for the next level. Every day I am thankful for those great leaders and the impact they had on my life.
Coming out of college, my first shot at coaching came from head coach Kevin Reach. Coach Reach took a chance on hiring me and he believed in me, and that is something I will never forget for the rest of my life. Coach Reach is a man that I look up to, and the relationships he builds with his players is something I try to mimic with our football program today.
Reach gave me the opportunity to coach ninth-grade DBs under freshman head coach Roy Groshek. That year Collins Hill made it to the third round of the playoffs and came up short against Roswell, 17-10. The next season I was pulled up to coach varsity secondary and soaked up everything I could from our defensive coordinator, Larry Massey, one of the greatest DCs in high school football. I was able to learn a lot from Coach Massey, and one of the biggest things I took away from that year was watching how he prepared each week for the opponent and seeing that no one would outwork him.
In 2017, my coaching career changed with the hiring of Lenny Gregory as the new head football coach at Collins Hill. Lenny is a very passionate man and he loves the game of football, which he instilled in his players and coaches. That passion is something that lit a fire under me and made me a better defensive coach, which I am very thankful for to this day and will always be grateful of for the rest of my life. I was able to learn a lot from both Gregory and Rob Patton, which helped me understand the defensive side of the ball and ultimately design the type of defense we run today.
In 2020, Coach Gregory gave me the opportunity to be defensive coordinator after Patton took the Social Circle job. I knew it was going to be big shoes to fill with Patton's absence, but the culture was already there, and we had been working with the current juniors at the time since eighth grade. We came into that season as the underdogs, which we all embraced and ended up having a phenomenal season, but we came up short in the state championship against Grayson. In the 2021 season we all came in with the same goal, and that was to be perfect and win the state championship, which we did and brought Collins Hill its first state championship for football! That year was special to all of us and something we will never forget and will stay with us the rest of our lives.
Last season, we had some highs and lows, but came up short of the playoffs in 2022. We knew that was not the standard and something we work for each year. The outcome was tough on both the players and coaches. Heading into 2023 we have made goals as a team and coaching staff to help make sure we get back to the winning standard and strive to be great at everything we do!
I am blessed to be where I am today because of those who have helped me along the way. I would not be where I am without the men who have impacted my life as a coach and as man. I've learned valuable lessons in the game of football, as well as off the field, which has made me a better son, husband, and father. Collins Hill is a special place and always will be. I just want to do the best job I can to ensure Collins Hill and the great people within the community get recognized for their constant love and support.
Q. What have been your primary goals for the Collins football program since taking over as head coach?
A. This season we have tried to instill into our players that we will be great in everything we do! We talk about the importance of the classroom, GPA, and the relationships we build within our school and community. We have a lot of great people who help us everyday, and it only makes sense to give back that same energy and passion to those who have been there with us through the highs and our lows. We believe by doing the small things and doing them at a high level consistently, winning on the field will ultimately become a habit.
Our boys have done a tremendous job since the change and have bought in to what we are teaching. We will continue to build our boys into men and teach them valuable lessons in life, because at the end of the day their education and the decisions they make now will ultimately impact their success for the rest of their lives. We have created leadership council groups to help with leadership on our team in all grade levels. Our leaders were chosen by their peers on the team and is a high honor.
The coaching staff and I wanted to make sure we did not run into another situation where injuries led to a lack of leadership during the offseason and fall. This has helped us make huge strides in both the classroom and on the football field. Our players are holding each other accountable for everything and know it's a privilege to wear the Collins Hill jersey, because not everyone can do what student athletes do daily! Our new saying is #FORTHEHILL – everything we do is for our school, community, and football program, and something we live for every day!
Q. I know you and I talked about some of the players returning, and it sounds like you will be taking over a team that is overall fairly young. Coach, what do you hope to see from the 2023 Collins Hill football team?
A. We lost a lot of seniors after the 2021 season and had a very young team in 2022. Coming into this season we are excited to watch our boys grow up and become veterans on and off the field. This has been the focus: We needed to grow up and understand that football is a team game, not about one individual – "we over me!" Our boys have bought into this every day, and we are starting to see a lot of improvements within our football program, as well as up in the building. There were things we had to address off the field before we could ever be successful on the field. We are working hard everyday to ensure these things happen and lead to a successful 2023 football season for the Collins Hill Eagles.
New additions to the coaching staff are something we took our time on and wanted to ensure we found the right fits to mesh with our current coaching staff. The men who stayed with me after the change are all great leaders and men I want our boys to learn from every single day. I will forever be grateful to have these men by my side and will never forget the trust they have in me to lead this program. All of them stayed because of their love for this school and the relationships they built with each player on our current roster.
Offensively we brought in a lot of new coaches to help ensure we are successful on that end. Gerald Boo Mitchell has been a tremendous hire, and we are very blessed to have him as our offensive coordinator. He brings a father-like presence and holds our players accountable for everything they do. No small things are overlooked, and it's been very positive for our young men.
Juan Daniels is another addition we added this year. His presence and relationships with our boys has allowed our wide receivers to grow at their craft in the short time they have been together, and we are very thankful to have him on staff. Another huge addition to our staff was Jonathan Beverly. Beverly was someone I interviewed for the OC job when I first took over, and I left the interview very impressed and knew he was someone I wanted on our staff. He has helped change our O-line in the short time he's been at THE HILL and has taken over our run game responsibilities.
Lastly, Cory Beck was given the reigns as the DC and is someone who had a huge role in the development of both our D-line and our defensive scheme. He brings with him energy, passion, and love for both the game and the development of his players. We are very thankful to have these great men at Collins Hill. They have been a primary factor in the change of culture at THE HILL!