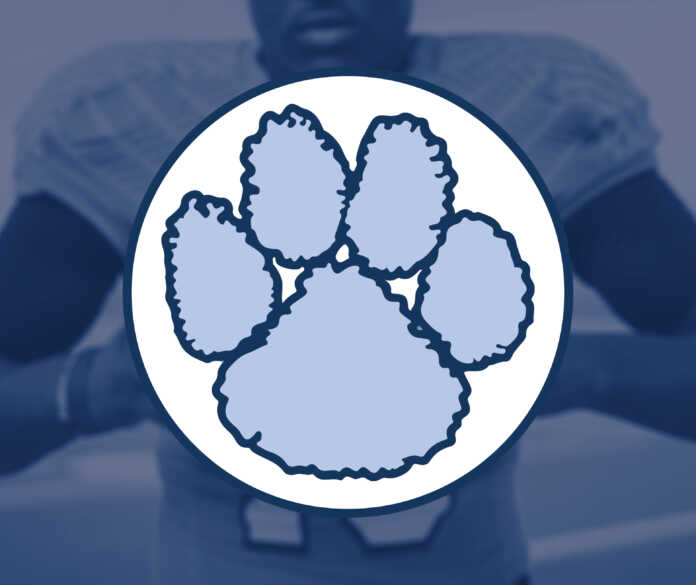 Our guest for this week's Georgia "4 Questions with the Coach" segment is Camden County Athletic Director Welton Coffey, who has been at the Kingsland high school for a total of 16 years, beginning in 2007 as a member of the Wildcats coaching staff. Coach Coffey was the Camden County offensive coordinator for six seasons before being named head football coach in 2013. He served in that position for four seasons, then was promoted to the AD role in 2017.
Coach Coffey attended Raines High School in Jacksonville, Florida, where he played baseball and football before graduating in 1985. He went on to play baseball at Tennessee State University and Florida Community College before furthering his education at Valdosta State University and Troy University.
Coffey returned to his alma mater in 1997, taking over as the head football coach at Raines High School before moving to Georgia, where he would later serve as an assistant on the Valdosta High Wildcats football team. Coach Coffey was recognized as the Region 1-7A Athletic Director of the Year for his work at Camden County during the 2019-2020 schoolyear.
Q. Coach Coffey, as we mentioned in the introduction, you served as the Camden County head football coach for a few seasons, from 2013 to 2017. Now that you have the exclusive responsibilities as the school's athletic director, what was the biggest transition as you went from head coach to an administrative role in which you oversee the entire athletic department?
A. The biggest transition for me personally is the absence of the everyday interaction with the student-athletes, academically and/or athletically. Don't ever take for granted being in the classroom or coaching kids. Nothing can compare to watching a student grow academically, athletically, mentally, emotional, and even spiritually every day. It is the small victories that stack on top of each other that build character.
I miss seeing them struggle, get frustrated and then overcoming every day – the process. The first time he power cleans 225 pounds with firm feet on the ground or the smile after getting that 86 on that math test he studied for. The first time she finishes that 200-meter run under 27 seconds, or has enough courage to walk away from a guy despite what her friends think. The everydayness!
Q. Coach, there seems to be a major initiative among many high school administrators, with athletic directors being squarely in the middle of the discussion and planning of facility upgrades. Many schools, both small and large, are building newer, state-of-the-art facilities, including indoor practice and multi-use facilities. New turfs are being laid down also, as schools look to gain a competitive advantage as well as provide top-tier facilities for their student-athletes. It's no secret that Camden County High has always had some of the finest athletic facilities of any program in the state of Georgia, and perhaps in the Southeast. With that, what can you share with our readers what Camden County High School athletics has planned for upgrading facilities in the near future?
A. Camden County is no different than any other school district in the state of Georgia. It is our desire to provide our student-athletes an environment in which they can grow and feel appreciated. Everyone is aware of our 9,000-square-foot-plus weight room, which has had a recent facelift. We have a new turf playing surface in Chris Gilman Stadium. The Edwin Davis Memorial Gym (CCHS Gym) has had a makeover (flooring, paint, and sound system). Our 10-time state championship wrestling program has its own wing, and our CCHS/NJROTC 2022 Navy national championship rifle team has its own shooting range now. And we can't forget about our new Fine Arts Building!
There are other upgrades in the plans as well. We are blessed to be in a community where the school system, city officials, and parents are willing to work together to provide current and future Wildcats a place to be proud of.
Q. As an athletic director, you are accustomed to dealing with the ups and downs of coaches, good seasons and bad seasons on the field, but you had to deal with a very unique situation when Hurricane Matthew barreled into the coastal area back in 2016. You were still the school's head football coach then. Coach Coffey, what was that time like, being in a coastal city and having to deal with the effects of the hurricane and its effects on Camden County High?
A. We all have seen the devastation a hurricane can have on a community. Camden County did experience setbacks and loss because of Hurricane Matthew. Many of our residents returned to find their homes flooded and personal belongs destroyed. It was scary before, during, and after the storm. You quickly come face to face with what is important in life. We are thankful to live in a community that took the warnings seriously, because we do believe it saved lives.
Football, rightfully so, was put on the back burner, and the welfare of our family and friends immediately took precedent. During the storm I was suffering from a major back issue, which made it difficult for me to get around. But what gave me great joy was to hear how some of our CCHS student-athletes were in the community helping others put their lives back together. Wow!
Q. Coach Coffey, looking ahead, what do you see as the major challenges and opportunities facing you and other athletic directors in Georgia over the upcoming season, as well as, say, the next three to five years? There are a lot of things, good and bad, to deal with right now and in the future, with reclassification, eligibility issues, transfers, and NIL agreements that, like it or not, appear to have made their way into the high school athletics landscape in Georgia.
A. The scope of an athletic director's job varies from school system to school system. The title may be the same, but the responsibilities, duties, and expectations may differ. I do believe we all encounter questions and concerns about budget: Will we make enough to cover the allotments? Transportation and a shortage of bus drivers – how are athletes going to get to games? Do we start contests later? Do we require coaches to get CDLs? There's a shortage of certified teachers who are willing to coach – do we hire more community coaches? How do we educate parents and their students on details of eligibility and transfer rules? How do we protect them from false information? How do we regulate and create consistency out of something as undefined as NIL?
We all face these challenges. But when faced with adversity, a man or woman is introduced to himself. Athletic directors have a unique opportunity to lead their departments, schools, and community in the new era of high school athletics by being knowledgeable of changing policies and effective in their communication.