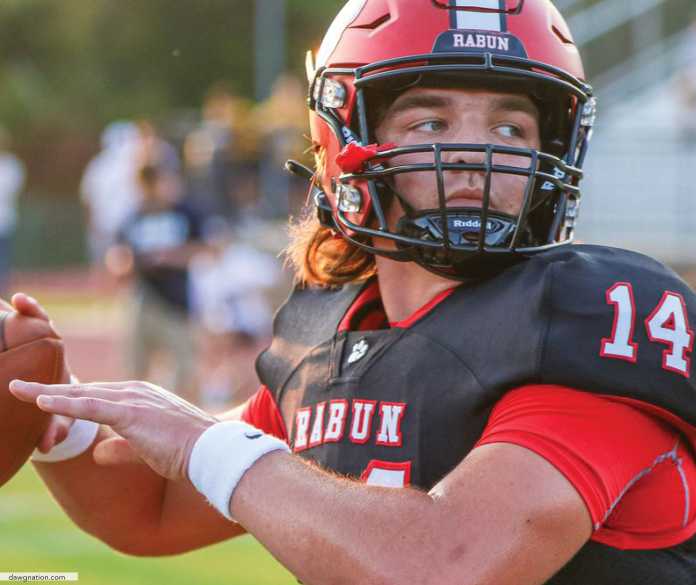 2021 Georgia High School Fantasy Football Team
Much of the NFL's popularity is thanks to fantasy football, which allows regular viewers to interact with the game of football by building a team of players from different NFL squads and tracking their performance in real time. Sadly, fantasy football is rarely found in college football and is completely obsolete at the high school level. But what if Georgia high school football had a fantasy league? Which lineup would be the most ideal? For this hypothetical, I chose players based on their primary position (such as Travis Hunter at cornerback instead of receiver). Here's the lineup I came up with for my 2021 Georgia high school football fantasy team.
QB: Gunner Stockton – Rabun County
This decision was easy, as Stockton has proven himself to be more than capable every week. The Georgia commit once again put up outstanding stats throughout the 2021 regular season.
RB1: Keyjuan Brown – South Atlanta
Brown didn't lead the state in rushing, but he was outright the most consistent each game, which is key each week in fantasy football. He topped 200 yards rushing in seven of his ten regular season games.
RB2: Rob Brown – Trion
Rob led the state in regular season rushing yards, but he struggled against the one good defense he played. This would raise concerns in the fantasy world if Trion were to play a strong rush defense in real life.
WR1: Jaden Gibson – Rabun County
Gibson was a touchdown machine in 2021 and caught for over 100 yards in almost every single game. This pick is a bonus with Stockton in the lineup, as Gibson is his go-to man.
WR2: Kaleb Webb – McEachern
Webb's breakout season began at the Corky Kell Classic, where he hauled in six passes for three scores. He provides solid fantasy value even when he plays tough pass defenses as Bryce Archie's favorite target, guaranteeing him a fantasy point per reception regardless of yards gained. 
TE: Oscar Delp – West Forsyth
This one was close between Delp and Camden Overton from Marietta. I ultimately settled on Delp because of his touchdown consistency. Delp scored in six of ten regular season games and recorded several catches in the games he didn't score. There are so many great tight ends in Georgia that you cannot go wrong here.
FLEX: De'Nylon Morrissette – North Cobb
Despite being a part of a talented North Cobb wide receiver room, Morrissette has consistently proven to be one of the state's best receiving threats. He welcomes a high volume of targets each game and is more than likely to score in every game, making him an outstanding flex choice. 
D/ST: Collins Hill
With the nation's best player, Travis Hunter, at full health, the Eagles' defense is formidable. They shut out 5 opponents during the regular season and average around two turnovers per game, perfect for any fantasy team.
K: Alex Bacchetta – Westminster
Why not go with the best kicker in the Class of 2022? Bacchetta's accuracy and leg strength combines to form an ideal and reliable high school and fantasy football kicker.
Written by: Dhruv Mohan