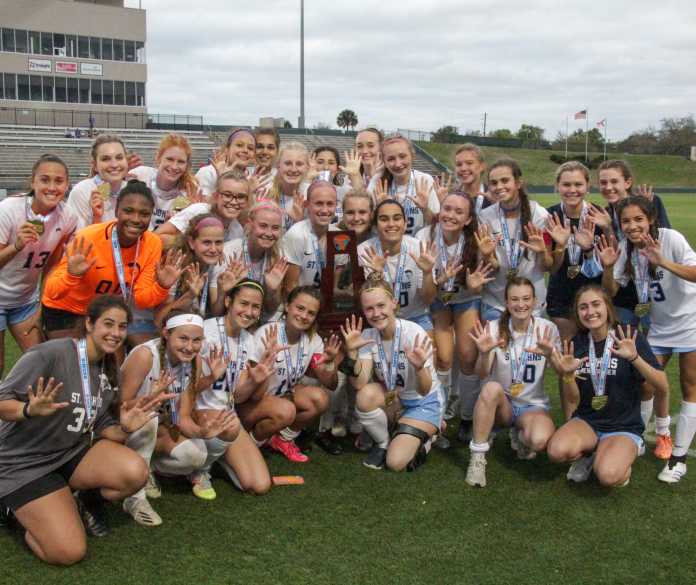 1O Times in a Row: St. Johns Country Day
It's hard to believe today, but the St. Johns Country Day School Girls Soccer program was once a joking matter at the school.
Head Coach Mike Pickett – whose team is coming off its 10 consecutive state championship and 13th overall – remembers an early meeting he had with players and parents when he took over in 1998.
"I told them, 'You guys will not win a state championship. But we will win a state championship in this program,'" Pickett recalled. "And I don't kid you when I say this: The parents and the kids were hysterically laughing at me. I said, 'We'll get the culture right. You're not going to see it in your time, but you're going to be the foundation and you'll be remembered as the first group that started the change.'"
Pickett, a St. Johns Country Day alum, returned to his alma mater after starting a program at Broome High in Spartanburg, South Carolina. At St. Johns Country Day, he found a culture in which girls soccer took a back seat to other sports. Not everyone bought in to the new standards – nine players quit by the second practice, and only 15 stuck around during his first two years.
"It was definitely a rocky time," said Pickett. "The headmaster pulled me in and said, 'I hope you know what you're doing,' and I said, 'I hope I do, too.' Because if didn't, I was going to get fired. But I told them, 'If you want a program, we're going to have to go backwards before we go forward.' It took us probably six years to get the culture right and to get kids who wanted to buy in to it."
Indeed, by 2004 St. Johns Country Day was the state runner-up in its class. The Spartans won their first state championship the following year. They won state titles again in 2007 and 2009, then began their extraordinary 10-year run – an FHSAA record – in 2012. Forty-four graduates have gone on to play at the college level, 12 have earned state player-of-the-year honors, and two, Carson Pickett and Abbey Newton, were named "Miss Soccer" as overall state players of the year.
Pickett's 2020-21 team was utterly dominant, going 18-0, routing Fort Myers Canterbury 6-0 in the FHSAA Class 2A championship game, and finishing the year on a 39-game winning streak that dates to 2019. The Spartans were named the No. 1 team in the nation by the United Soccer Coaches Association.
Pickett, who owns a 483-57-30 career record and six NSCAA Coach of the Year awards, said each championship is special. "It's a different set of girls, a different set of circumstances. They all have a story. Some have been more dramatic than others. This run we've been on lately, we've been pretty dominant."
Now the challenge is to do it again with a team that lost 10 seniors, including its starting goalkeeper, its leading scorer, and its entire back line. Eight of those graduates have gone to play in college, including forward Mia Sadler and defender Natalie Wilson (Southern Miss), midfielder Paige Crews (TCU) and goalkeeper Alexis Agramonte (Troy).
As with many elite teams, however, the Spartans operate in a reload-rather-than-rebuild mode. Players enter the program as middle schoolers to prepare for their turn on the field when the time comes.
"I don't consider my middle school and my JV to be separate from our varsity – we train everyone together," Pickett said. "They're literally woven into the culture very early. The beauty of our program is it's 'Next man up. It's your turn now, it's your opportunity. You've watched and hopefully come in [off the bench] and changed the game for the better.' We don't say 'benchwarmer;' we say 'game changer.'"
This year's squad includes a pair of seniors with significant experience, Hannah Lemieux and Kamryn Towers, and three keepers who logged valuable minutes last season. A new keeper coach, St. Johns Country Day and Notre Dame alum Sarah Voglewede also is on board.
"We have a lot of talented kids coming back, so we'll see if they can step in and handle the pressure of it being their turn," Pickett said.
Of course, there's also the incentive to keep that remarkable streak of state championships alive.
"I think the motivation right now – and this is not coming from the coaches – is nobody wants to be part of the team that blows the streak," Pickett said. "It kind of takes care of itself."
Written by: Allen Allnoch
Read more stories in the Florida Winter 2021-22 Magazine: