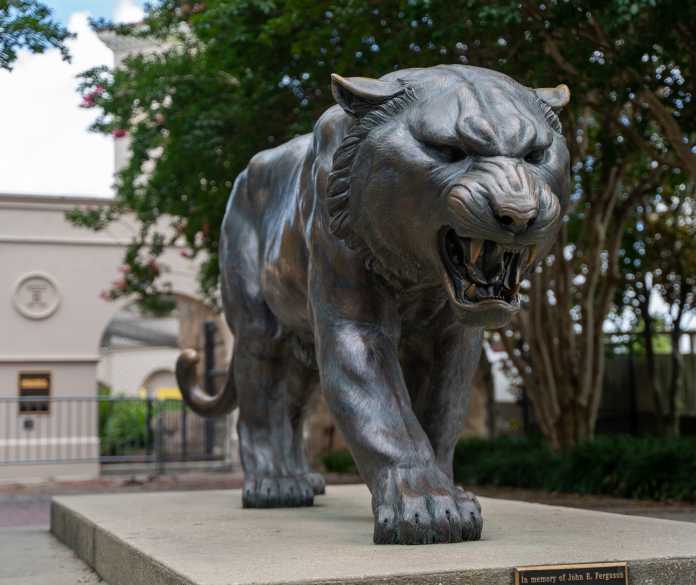 Could they be considered the greatest college football team of all-time? Miami's 2001 squad makes a great case as well, but many have labeled the 2019 LSU Tigers – that season's national champion – as the best to have ever taken the field. Just as Miami's roster was loaded with future NFL superstars, so was this Tiger team.
It's impossible to mention that 2019 LSU Tigers team without Heisman-winning quarterback Joe Burrow. An Ohio State transfer, Burrow was born near Iowa State University, but eventually played high school football at Athens (OH), where he totaled almost 13,500 yards and 185 touchdowns. He was awarded Ohio Gatorade Player of the Year, yet remained a 4-star recruit when he signed with the Buckeyes.
At LSU, Burrow shredded defenses, passing for 5,671 yards and 60 TDs his senior year, throwing only six interceptions in the process. That included a 393-yard performance in Tuscaloosa, where Burrow's Tigers knocked off 3rd-ranked Alabama.
Burrow's two main receiving targets became clear early in the season: Ja'Marr Chase and Justin Jefferson. A Louisiana native, Chase starred at the popular Archbishop Rummel, where he amassed just over 2,000 yards in his high school career. He originally chose Kansas, but flipped to LSU to stay closer to home. Jefferson also grew up in Louisiana and played at Destrehan, where he led his team to a 23-2 record during his junior and senior years. The duo combined for 3,320 yards and 38 touchdowns at LSU in 2019, establishing them as the premier wide receiver duo in the nation.
Running back Clyde Edwards-Helaire was a threat both on the ground and through the air, as he rushed for 1,400 yards and caught for almost 500 more. This was nothing new for him, though, as he used that dual-threat ability to defeat Chase's Rummel squad in the 2015 state championship.
Linebackers Patrick Queen and K'Lavon Chaisson controlled a physical Tiger defense that held six opponents to 14 or fewer points. Just like Chase, Jefferson and Edwards-Helaire, Queen played high school football in Louisiana at Livonia, where he won a state championship as a sophomore. The two-way star rushed for 1,487 yards his senior year, but made his presence felt with 66 tackles and 7 TFLs defensively.
Chaisson, on the other hand, hails from Texas. The North Shore standout actually quit football his freshman year to focus on basketball, but later reconsidered at the end of his sophomore year. Chaisson entered the national spotlight on the strength of his performance against Westlake in the 6A Division I state championship, where he blocked a kick, forced a fumble and made the game-winning, goal-line stop on fourth down to seal a 21-14 victory.
LSU's 2019 secondary was loaded with talented playmakers, including Grant Delpit, Derek Stingley Jr., and Kristian Fulton. Fulton played alongside Chase in high school at Archbishop Rummel, while Stingley Jr. played at The Dunham School. Stingley was a consensus 5-star recruit out of high school and the highest ranked player in his class. He also earned the Louisiana Gatorade Player of the Year award. Delpit was born in New Orleans, but played his senior year of high school at the prestigious IMG Academy (FL), where he picked off 5 passes as a senior.
As a part of the 2019 Tigers, all three secondary members combined for 9 interceptions and 36 pass defenses, mostly during critical third downs. LSU may have had both the most deadly receiving and secondary groups in the nation that season.
Though the 2019 LSU Tigers made national headlines for their star players, several talented individuals flew under the radar as LSU made its championship run. LB Jacob Phillips led the team with 113 tackles and S JaCoby Stevens intercepted three passes while getting involved up front with over 90 total tackles. Both stat-sheet stuffers played high school football in Tennessee, with Phillips at East Nashville Magnet and Stevens at Oakland.
CB Kary Vincent Jr. also played a huge role in the secondary with four interceptions and double as many pass deflections. Vincent Jr. played at Memorial High School in Texas, where he picked off seven passes during his senior year, four of which resulted in six points the other way. LSU capitalized on high school talent around the Louisiana area, and it paid off with a stellar 2019 campaign.
Some believe that the mark of a truly great college football team is the players' future NFL success. While it is still early to judge the careers of those Tigers, there are glimpses of greatness already. The Bengals duo of Burrow and Chase have already reached a Super Bowl, while Queen and Jefferson have become outstanding pieces for their respective teams. A decade from now, will we consider the 2019 LSU Tigers the greatest college football team ever?