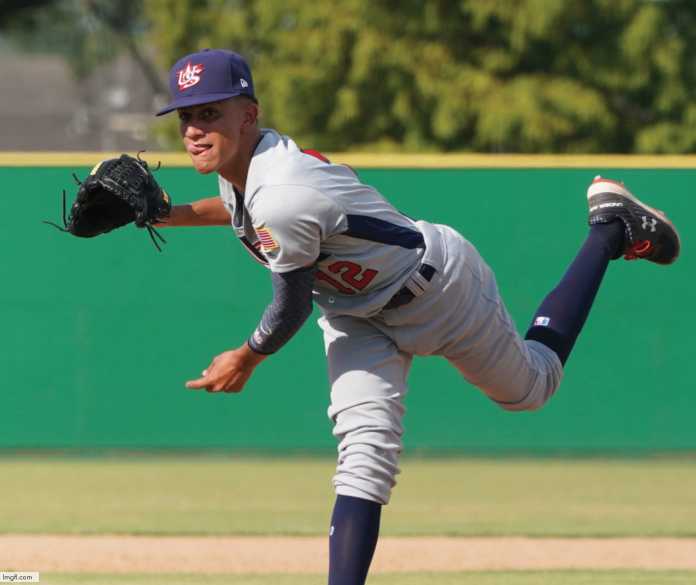 Top 5 Pitchers in Florida
LHP Brandon Barriera
  – 
American Heritage
There are arguably two pitchers that you could make an argument that should be the top pitcher in the state entering the 2021 season with the first being Barriera. After a strong sophomore campaign, the left-hander made three starts a season ago for American Heritage in which he pitched 16 scoreless innings posting a 2-0 record with a 0.00 ERA. Across those 16 innings, Barriera struck out 26 batters compared to five walks, as well as only allowing one hit on the season to opponents, who had a combined .020 batting average against Barriera last season. 
LHP Jackson Ferris
 – 
IMG Academy
The ace for arguably the top team in the state entering the 2022 season, you could make an excellent argument for Ferris as the top pitcher in the state. Making a total of nine appearances for the Ascenders a season ago, the left-hander posted an 8-0 record with a 0.55 ERA across 50.2 innings pitched. Striking out a total of 86 batters compared to 13 walks, Ferris only allowed a total of four earned runs to opponents who batted a combined .103 against the left-hander.
LHP Isaac Sewell
 – 
The First Academy
Arguably the top arm from what will be an experienced The First Academy rotation, Sewell returns for his senior season after a massive breakout 2021 campaign. Appearing in 23 games a season ago for the Royals, Sewell posted a 14-0 record with a 1.13 ERA across 87 innings pitched. With a .170 batting average against, Sewell struck out a total of 112 batters to only 12 walks. 
RHP/LHP Jurrangelo Cinjtje
 – 
Champagnat Catholic
An exciting two-way player for Champagnat Catholic, Cinjtje is quickly becoming one of the top pitchers in the state due to a successful 2021 junior season. Pitching a total of 44.1 innings a season ago, Cinjtje posted a 5-2 record overall with a 0.47 ERA with opponents holding only a .073 batting average against. Cinjtje also struck out a total of 84 batters a season ago compared to 15 walks for the Lions, as well as only allowing 11 total hits.
LHP Zachary Root
 – 
Fort Myers
A two-way player for Fort Myers, Root enjoyed a breakout 2021 on the mound for the Green Wave that could lead to a big senior season in 2022. Pitching a total of 46.1 innings a season ago, Root posted a 7-0 record with a 1.81 ERA that also included a total of 59 strikeouts to 24 walks. Holding opponents to a combined .163 batting average, Root also allowed a total of 27 hits.
Written by: Matt Melton