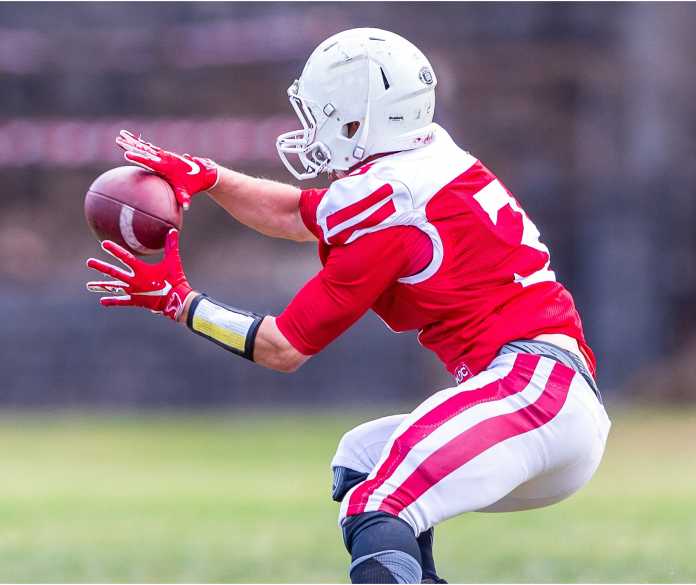 As you'd expect for a position such as wideout, there are countless elite prospects returning for the 2022 high school football season. If you had to narrow that sizeable list down to 10, which wide receivers would make the cut as the best of the best? Here's our take on that question.
1. Zachariah Branch (Bishop Gorman, NV)
While there are plenty of options to choose from when it comes to the top spot, our pick is Branch, a five-star prospect in the 2023 class from national powerhouse Bishop Gorman in Nevada. He's coming off a junior campaign that included 1,094 receiving yards and 14 touchdowns.
2. Brandon Inniss (American Heritage, FL)
The top returning wide receiver in Florida, Inniss is set for a potentially huge senior campaign at American Heritage. Having split time at both wide receiver and quarterback a year ago, the five-star prospect accounted for upwards of 1,000 yards of total offense for the Patriots.
3. Jalen Brown (Gulliver Prep, FL)
A five-star prospect in the 2023 class, Brown is not far behind Inniss for the distinction of best wide receiver in Florida. The Gulliver Prep standout is coming off a junior season that included 1,033 yards receiving with 11 touchdowns.
4. Carnell Tate (IMG Academy, FL)
Yes, the returning talent in Florida at wideout is that good. The third consecutive player from the Sunshine State on this list of best 2022 high school wide receivers, Tate is a five-star prospect from IMG Academy who is entering his second season with the Ascenders in 2022.
5. Makai Lemon (Los Alamitos, CA)
One of the nation's top-rated overall athletes, Lemon is a four-star prospect from Los Alamitos, one of California's most-talented offenses entering the 2022 season. While he plays on both sides of the ball, the USC commit is coming off a special junior campaign as a wide receiver that included 1,062 yards and 15 touchdowns.
6. Joshisa Trader (Miami Central, FL)
One could make a case for this five-star prospect as the No. 1 wide receiver in the 2024 class. Trader is coming off a sophomore season in which he caught 26 passes for 592 yards and six touchdowns.
7. Johntay Cook II (DeSoto, TX)
Cook, a five-star prospect in the 2023 class, attends Texas's DeSoto High School, where he's considered one of the top players in the Lone Star State. He's certainly one of its fastest wide receivers, and that blazing speed helped him post an impressive stat line of 806 receiving yards and 19 touchdowns a year ago.
8. Noah Rogers (Rolesville, NC)
The No. 1 player in North Carolina recorded arguably the best 2021 season from a wide receiver in 2021: 70 catches for 1,432 yards and 22 touchdowns.
9. KJ Bolden (Buford, GA)
Bolden, one of the top returning players in Georgia, is an elite prospect on both sides of the ball. A rising junior at Buford High School, the five-star prospect and Top 10 national player is poised for a massive 2022 season for a Wolves team that will again be one of the best in the state.
10. Jaquaize Pettaway (Langham Creek, TX)
The second name from Texas on this list of best 2022 high school wide receivers, Pettaway is a four-star prospect in the 2023 class from Langham Creek High School. After eclipsing the 1,000-yard mark as a sophomore in 2020, Pettaway hauled in 50 passes a year ago for 794 yards and seven touchdowns.
Honorable Mention:
Jeremiah Smith (Chaminade-Madonna, FL), Cameron Seldon (Northumberland, VA), Jelani Watkins (Klein Forest, TX), Hykeem Williams (Stranahan, FL), Ryan Wingo (St. Louis, MO), DeAndre Moore Jr (Los Alamitos, CA), Ryan Niblett (Aldine Eisenhower, TX), Jalen Hale (Longview, TX), Shelton Sampson Jr (Catholic, LA), Zion Ragins (Jones County, GA)