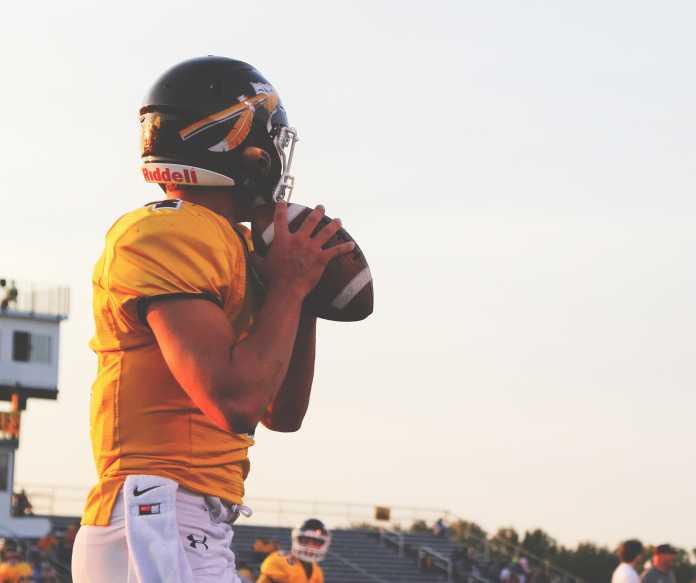 Florida high school football is loaded with talent at the quarterback position. In anticipation of the upcoming fall season, here are the state's top 10 returning quarterbacks.
1. Taron Dickens (Miami Northwestern)
Taron Dickens, the state's leading passer a year ago, tops our list of top 10 returning Florida quarterbacks. As a senior, he'll lead what will again be an electric Miami Northwestern offense. The three-star prospect threw for 3,743 yards and 42 touchdowns against only eight interceptions a year ago, while adding 487 yards and nine touchdowns on the ground.
2. Anthony Colandrea (Lakewood)
A recent Middle Tennessee State commit, Anthony Colandrea is a three-star prospect and one of the state's highest-rated 2023 quarterback recruits. The Lakewood signal caller threw for 3,252 yards and 27 touchdowns with 10 interceptions a year ago, while also rushing for a combined 362 yards and five scores.
3. Marcus Stokes (Nease)
Marcus Stokes, the state's top-rated quarterback recruit in the Class of 2023, is a four-star prospect who recently committed to Penn State. He's coming off an impressive junior season in which he threw for 2,672 yards with 22 touchdowns and nine interceptions, while also rushing for 496 yards and six touchdowns.
4. Ahmad Haston (Palm Beach Central)
A three-star prospect, Ahmad Haston is set to return for his senior season at Palm Beach Central after throwing for 3,108 yards and 30 touchdowns a year ago, with only two interceptions. The Broncos signal caller also rushed for 486 yards, collecting eight touchdowns in the process.
5. Collin Hurst (Western)
An argument could be made for a higher ranking on this list of Collin Hurst, one of the state's top passers last season. The senior is coming off a phenomenal 2021 campaign in which he threw for 3,267 yards with 35 touchdowns to only two interceptions, while also rushing for 325 yards and three scores.
6. Mason McHugh (IMG Academy)
Mason McHugh, another three-star prospect, also ranked among Florida high school football's passing leaders a year ago. Playing for IMG Academy White, McHugh threw for 2,849 yards as a junior, with 31 touchdowns to only nine interceptions.
7. Tyler Aronson (St. Thomas Aquinas)
One of Florida's top 2024 quarterback recruits, Tyler Aronson is a four-star prospect who transferred from Benjamin to St. Thomas Aquinas this offseason. He enjoyed an extraordinary sophomore season with the Buccaneers a year ago, passing for 2,177 yards with 29 touchdowns to only five interceptions.
8. Ennio Yapoor (Champagnat Catholic)
Ennio Yapoor, one of the state's top 2025 quarterbacks, is coming off an outstanding freshman season in which he threw for 3,300 yards and 26 touchdowns to only four interceptions. The young QB also ran for a total of 530 yards with 11 touchdowns.
9. Luke Rucker (Seminole)
You would be hard-pressed to find a quarterback who looked more impressive at the state's highest classification a year ago than Luke Rucker. The rising senior, a three-star prospect, threw for 1,849 yards, 26 touchdowns and only four interceptions for Seminole.
10. Adrian Posse (Miami Columbus)
Our final pick for top 10 returning quarterbacks in Florida is this Class of 2024 four-star prospect. Adrian Posse has spent the past two seasons at Monsignor Pace, and is now set to join Miami Columbus for what could be a massive 2022 season.
Honorable Mention:
Creed Whittemore (Buchholz), Konner Barrett (Gulf Coast), Dylan Rizk (Cardinal Gibbons), Blake Murphy (American Heritage), Brooks Bentley (Gaither), Will Prichard (Santaluces), Jayden Bradford (IMG Academy), Cedrick Bailey (Chaminade-Madonna), Xavione' Washington (Tampa Bay Tech), Luke Knight (Jesuit), Colin Hurley (Trinity Christian), JP Pickles (North Florida Christian)