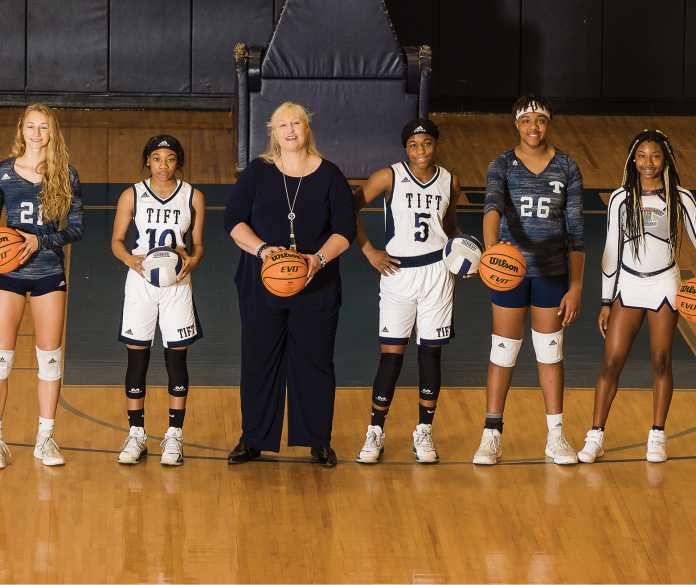 Tift County Girls Basketball Coach Finds Way Back Home
Some people are destined to do one certain thing in life. For Tift County girls basketball coach Julie Conner, that thing was basketball. She grew up in a basketball family, the daughter of a basketball coach and a standout high school player. 
The coach was her father, Johnny Rutland, who also coached at Tift County.
He coached the Blue Devils boys' basketball team from the fall of 1971 through the spring of 1979.
Her mother, Freida, was a four-year starter for the Lowndes High Vikettes basketball team in the mid 1960's, helping lead Lowndes to the final four of the state playoffs in 1965.
Julie herself was a standout player at Tift County.
She played for the Lady Devils from 1985- 1988, and despite the team not performing very well during her time there, it wasn't because of Julie's efforts.
Her efforts attracted the attention of college coaches, including Division 2 Georgia College and State University (the current Georgia College), who gave Julie a partial scholarship to attend and play basketball for the Lady Bobcats in Milledgeville.
Her first experience in coaching would actually come during her freshman season at Georgia College.
Julie broke her pinky finger during one of her first practices, which forced her to take a redshirt, meaning she would not be able to see any action as a player.
But, Bobcats head coach John Carrick knew Julie could help the team, so he allowed her to act as an assistant coach of sorts, and video the team.
"I was glad that I could still help the team in some way, but I really missed playing. I had been looking forward to it," Julie said.
Finish her story in our Georgia February/March 2021 magazine right here for FREE! This issue features Jabari Smith from Sandy Creek, Matthew Cleveland from Pace Academy, and more great athletes.
Click here to purchase the South Georgia print version to have at home!