We tell you everything you need to know about the 2022 Thomas County Central football team in this preview. We take a look at roster changes and what fans can expect from the team this season.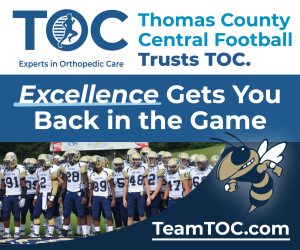 2021 Stats
Overall Record: 5-6
Points Scored: 243
Points Against: 233
Key Losses
The Yellow Jackets parted ways with Ashley Henderson and brought in Justin Rogers from Colquitt County. He will inherit a team that lost its leader on defense, All Region 1-AAAA selection LB Craig Crimley. He ends his Central career with 59 tackles and one sack.
The Jackets lost another standout defender from last season with the graduation of DE Marcus Christian. He winds up his Yellow Jackets career with 64 tackles, 8.5 sacks and a blocked FG. He signed with Mercer University and is ready to make his presence felt with the Bears.
The other top losses for Central include 6-foot 5 DE Don'ya Golson, who signed with Northwest Mississippi College, and WR Tray Huewitt. The speedy wideout had 348 yards receiving with six TD receptions. He also showed his speed with a kickoff return for a TD last season.
One of the top DE in the state, Gabe Harris, a UGA commit, transferred to Valdosta High School this offseason.
The offense will also be without the services of RB Persean Taylor, who graduated after a stellar career with the Jackets that saw him rush for 789 yards with nine TDs. In limited time as the team's QB, he completed 26 of 51 passes with a TD.
Who's Back
A lot of talent returns for Thomas County Central this season, plus a couple of key transfers who should provide quite the impact for the Yellow Jackets. Returners from last season include senior QB Samuel Brown, who threw for 873 yards last season with nine TD's and just one interception. Brown also rushed for 233 yards and five TDs on 53 carries.
He'll have a couple of returning weapons at WR as Tyler Floyd and Adam Hopkins are back. Returning to provide blocking up front will be OL Brandon Sauls. Central will get a boost with the addition of transfer RB Ricky Fulton from crosstown rival Thomasville High.
The defense has some serious talent returning, including several younger players who are already attracting next-level attention. Javion Revels returns to the D-line, while Dezmond Jones is back at his familiar LB spot. Quincy Clark returns at safety, and he'll have company there with sophomore Kendarius Reddick emerging as a big-timetalent. The "super-soph" is already getting offers from several Power 5 schools, but he's not the only one. Sophomore DB Clayton "Smoke" Hutto is receiving D-1 offers, as is junior LB/S Tywon Christopher.
What To Expect
To say that expectations are sky-high at Thomas County Central would be understating the obvious. With so much talent to work with, it's impossible not to feel good about the Jackets' chances this season. There is the fact that Central is moving up two classifications from 4A to 6A this season, and it will be interesting to see how the program makes this transition into a region with the likes of Lee County, Tift and Northside-Warner Robins.
But a team with this much talent shouldn't be worried about competing with anyone. Rogers says he and his staff are sticking to the basics of what to expect from their players. "Our expectation for our program is to put our players in a position to be successful both on the field and in the classroom and community," said the new Jackets head coach.
Prediction
A solid first season for the Jackets in 1-6A: 8-4 overall record.
Want to get the latest news and opinions in the Georgia high school sports world before anyone else? Subscribe to our email newsletter!