It takes a lot of intangibles to win a state title in any sport. The St. Johns County Day School girl's soccer team in Orange Park has won four straight Class 1A championships.
The latest state title came on Feb. 5 when SJCD beat Lakeland Christian, 4-0, at Eastern Florida State College in Melbourne, Fla.
The architect of those championships is head coach Mike Pickett, whose teams have won seven state titles since 2005. Pickett said the Lady Spartans have a system that was implemented when he came aboard 17 years ago.
"I took over a program that was only six years old, so we started with basics," Pickett said. "We concentrated the first two years on defending and teaching them to do the small things well. Overall, we harp on doing the little things. It's not the big things that make a difference in winning championships. It's the little things."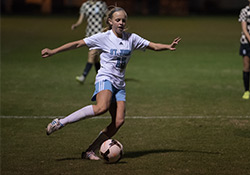 Pickett said another vital aspect of his system is players knowing their role whether it is five minutes a game as a sub or 80 minutes as a full- time player. Pickett said the team who has better role players is usually wins state titles.
Players understanding their roles have also minimized parent issues. Pickett said never in his 17 years as a coach has he had a parent call him to complain about their child lack of playing time or their role on the team.
"That's not normal for many programs in today's world where parents are over-involved and pushy," Pickett said. "I deal with it in club ball, but not in high school."
Pickett laughed when he said he thinks his parents are afraid of him.
"I don't cross my professional line of being a coach," Pickett said. "I don't go out socially with my parents. I don't call them every day. I do have informational meetings. I sit down with ninth grade parents to tell them we're going to start college recruiting process. I tell them that your role is to sit back, close your mouth and let the coach's deal with your athlete. We spend a lot of time educating the parents. They don't bug us. If they have questions I am glad to help them with process. Recruiting is either a nightmare or a thing of beauty. I tell the parents that they are not recruiting you. We educate them on letting kid enjoy the process."
An advantage that SJCD has is many players become involved in the Spartan soccer program much earlier than the usual high school because the elementary and middle schools are on the same campus as the senior high.
"We have kids in our program six or seven years," Pickett said. "It's a big advantage for a small school. Our numbers for a girls program are around 45-50 compared to bigger schools that have 100 kids in varsity tryouts. It's really important that our tradition is set. We don't spend time talking legacy. They know it because they have been listening to it in morning announcements since they were in elementary school."
One of the newest parts of Spartan soccer is a new program for younger kids.
"We now have a fourth and fifth grade elementary program that we started this spring," Pickett said. "We had 35 boys and girls come out. These kids are chomping at the bit to play in the program. They're wearing our practice and game tops just like our varsity. We've had more fans at those games than some of our varsity games. Our varsity girls are helping us coach them. "
SJCD has also been successful in sending 20 players to play on the college level over the past 10 years. Pickett said it's important to bring some of his college players back in late December to talk to the team before the playoff run begins. One of the players to come back is current Florida State player Carson Pickett, who was recently named to the U-23 National team. The younger Pickett, who is the daughter of the head coach, was named to the team for the Four Nations Tour in Norway coming up in May and June.
"I'm proud of her as father and coach," Pickett said. "She spends time with our elementary kids. It's big to have our former players back on campus."
Academics can be as big of a challenge at SJCD as winning state titles. The girl's team is used to carrying the highest team grade point average on campus. Pickett said he takes study hall on game days very seriously.
"If we play at 7:20 p.m. our kids have a two- and- a- half hour study hall before the game." Pickett said. Smart kids in classroom are smart kids on the field. In recruiting for college, if two players have similar skill levels then college coaches are going to take player with a 4.0 GPA compared to a 2.1 GPA. Well- rounded student is what soccer programs such as North Carolina and Florida State are looking for."
All successful programs have a solid support system. Pickett said assistant coach Brad Schmidt has been with him for 16 years.
"Brad is 11 years younger than me," Pickett said. "He had a great soccer career with the Jacksonville Cyclones and Richmond Kickers. He has taken over the boys program the last few years, but he's still involved with our program. We run a lot of practices together where the boys and girls train together and against each other. It really helps our girls to compete against the boys in practice."
Pickett also praised former Spartan players and current assistant coaches Christie Jones and Cody Slaughter, who played with the SJCD boy's 2009 state title team.
He also said the team's medical staff which includes a full- time trainer, who travels with the team, is very valuable.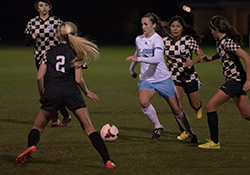 One of the biggest changes for Pickett in recently years is his philosophy for taking time off.
"We used to never take a day off," Pickett said. "Then as I have gotten older and wiser, I figured out recovery is bigger part. Less is more, now. Older players have told me, 'we trained every day and you killed us'. I also told them we didn't always win state titles. We've invested in inflatable ice tubs for our players to sit in for 15-20 minutes in 45 degree water. We're in touch with FSU and other schools to see how they train their athletes and give them down time."
Pickett said his normal postseason routine is to take two or three weeks off after the season. He has individual meetings with each player where both he and the player agree on a plan together for goals over the next few months.
Pickett said coaching on the field is only 20% of what he does.
"I'm a mentor, father figure and manager," Pickett said. "It's a challenge to juggle it and I don't do it for the money."
Still, Pickett said he is blessed to be at a school where he played.
"My whole plan in the beginning was to win one state title and my career would be complete," Pickett said. "God has been good to me. I've surrounded myself with good assistants. I've coached 135 kids in the program. I've had an opportunity to move to bigger places, but I elected to stay here to try to put kids in college and allow them to achieve their dreams."
Retirement is not in the immediate future for Pickett. He is striving to win five straight state titles.
"It's much harder now than before we won state," Pickett said. "If we don't win state, it's almost a failure. It's hard to win state. These kids now are reaping the benefits of those kids before them who established everything, but didn't get a championship. I tell them that I wish I could get them a ring. There is more internal pressure to succeed that I put on myself. All streaks all come to an end. I'm enjoying the ride right now. When it ends, I will reflect, but now I will keep plugging away."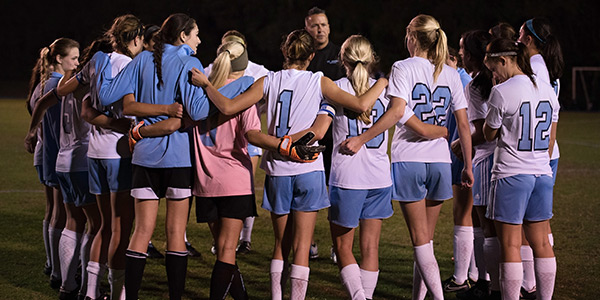 ---
Special Feature / NEFL / June 2015
St. Johns Country Day Girls Soccer
Orange Park, Florida
by Brent Beaird
Photography by Donna Conversano
https://itgnext.com/wp-content/uploads/web_spartan_main_NF_0615.jpg
1000
750
Northeast Florida
https://itgnext.com/wp-content/uploads/ITGNext-logo-Black-and-Cyan-300x186.png
Northeast Florida
2015-06-10 13:53:43
2016-01-11 15:48:29
The Spartan Dynasty