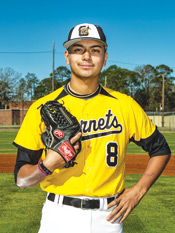 Sam Goberdhan, a senior left-handed pitcher for the Cook Hornets, will play college baseball for the Darton State College Cavaliers in Albany. When he was in seventh grade, few would have thought the lefty would develop into a college-caliber player. "Back then, I wasn't sure I liked baseball. I didn't even make my seventh grade team," Goberdhan says.
The experience of not making the team jolted him into reality. He realized just how much he loved the game, and he finally began to understand how hard he would have to work if he was going to play. Goberdhan kept playing travel ball and working harder to get better and better each day. When tryouts came around the following year, he made the most of his opportunity and earned a spot on the team. And he hasn't looked back.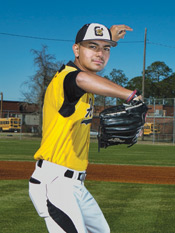 Five years later, Goberdhan is an All-Region Honorable Mention selection who also happens to be one of the top academic athletes at Cook. Last season, Goberdhan posted a 4-2 record with a 2.45 ERA on a Cook team that made the postseason for the third consecutive year of his high school career. He throws in the mid 80s and has solid control. Goberdhan is also a smart pitcher who works extremely hard at his craft. He draws inspiration from his brother Michael, who is overseas in the Navy, and his parents, who have sacrificed a great deal for him to play baseball. He also vividly remembers the experience of not making the team way back in the seventh grade, and he doesn't want to go through anything like that ever again.
As of this interview, baseball season was over a month away. Goberdhan had a lot riding on this season. He wanted to be part of a region championship and make a strong run through the playoffs (the farthest Cook has advanced the last three years is the second round). To accomplish those goals, Goberdhan knows he will have to be at his best every day. Left-handed pitchers are highly sought commodities, and Goberdhan will figure prominently in his team's success. "I'm one of two lefties on the team. I kno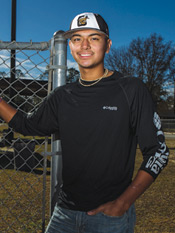 w I have to do my job every day and pitch well each time I'm out there," he says.
Goberdhan's task will not be easy, but he has fought adversity his entire career and has always found a way to make the best out of a seemingly bad situation. There was the aforementioned poor tryout in the seventh grade. Then last year, Goberdhan was slated to play first base when he wasn't pitching, that is until Zane Folsom, a hard-hitting freshman, showed up. Folsom swung his way into the lineup with a take-no-prisoners approach to hitting. He ended up batting over .500 in region play and over .300 for the season. "He simply beat me out at first base. We're similar defensively, but he is such a good hitter. He made us a better team. And he helped me focus on pitching without worrying about anything else," says Goberdhan.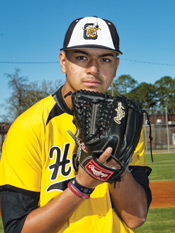 As he focused on becoming the best pitcher he could possibly be, schools began to take notice. Goberdhan attended showcase after showcase and several colleges expressed interest in the lefty. One school showed more interest than anyone else. Darton State College in Albany, one of the top junior college teams in the state, badly wanted Goberdhan. And he liked what he saw at Darton. "I like their program and the direction they're headed. The campus is fantastic. I was sure that's where I wanted to go," he says.
Darton has a good track record of developing pitchers, and it's also a great academic school, one that fits in well with Goberdhan's goals in the classroom. He takes the same approach to academics that he does to athletics, and he plans to follow in his father's footsteps and become a physician. Goberdhan believes Darton will be a great place to begin his academic journey as well as his collegiate baseball career. And if he can put together a solid career with the Cavaliers, he isn't opposed to playing two more years. "I can't give up baseball very easily. I want to play as long as I can. If I can play at a larger school when I'm through at Darton, I'd like to. But once my playing career is over, I'm headed into the medical field," he says.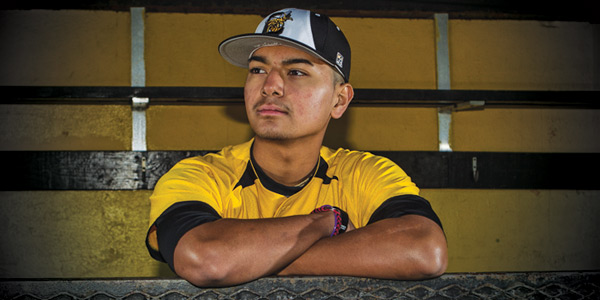 The experience of not making his seventh-grade team was a pivotal moment in the career of Sam Goberdhan. Heading into that tryout, he had played a lot of baseball. He had been on travel teams, and he had played all over the place. But that didn't necessarily guarantee his success. He realized that nobody would give him anything, that he would have to work for everything he wanted to achieve. That experience refocused his attention and proved to be an important reality check. Goberdhan learned his lesson and has worked hard ever since.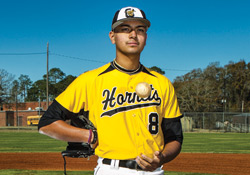 Favorites:
• Team: New York Yankees
• Player: Derek Jeter
• Sport you wish you could play: Football
• Subject: Math
• Least favorite subject: Literature
• Place to travel: France
• Pepsi or Coke: Coke
• Person to meet: Randy Johnson
• Biggest lesson baseball has taught you: "You can never do it alone. You always need to depend on someone else."
---
Academic Athlete /South Georgia/February 2013
Sam Goberdhan
Cook High School
Adel, Georgia
Robert Preston Jr.
https://itgnext.com/wp-content/uploads/ITGNext-logo-Black-and-Cyan-300x186.png
0
0
admin
https://itgnext.com/wp-content/uploads/ITGNext-logo-Black-and-Cyan-300x186.png
admin
2014-02-05 15:08:41
2014-02-05 15:08:41
Left-handed Hornet Eyes Medicaol Career After Baseball