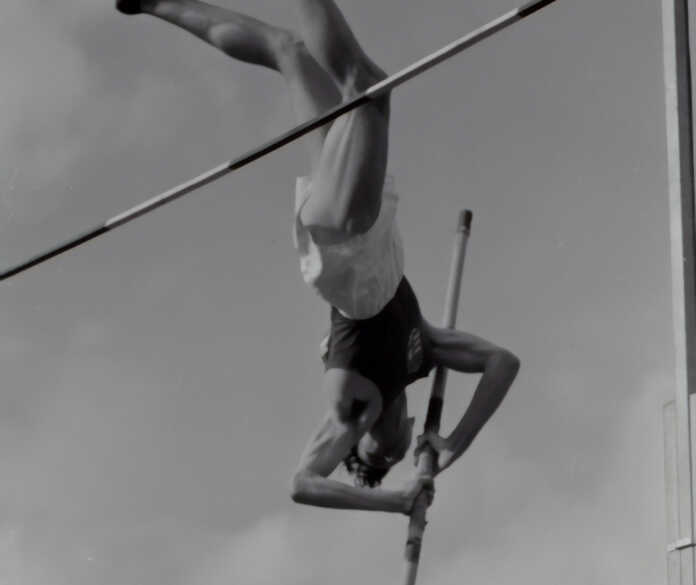 Top Pole Vaulter in the Country Leads Dominant 2023 Team
In a state where high school football is king, Scottsboro High School's track team has become known as one of Alabama's premier athletic programs. Led by head coach Luke Robinson and standout athletes Maddox Hamm and Evan Hill, the Scottsboro track team has carved out its own line of dominance in Alabama high school sports.
Scottsboro recently claimed its second straight Alabama Class 4A/5A indoor track and field state championship and its fourth state title in the past five years.
Hamm, the reigning Alabama Gatorade Track and Field Athlete of the Year and the nation's top pole vaulter, and Hill, a sprinter, led the Scottsboro boys track team to the title. Hamm's pole vault of 17 feet was not only good enough for the state championship, it also set the 4A/5A and all-state indoor meet record. Hill also captured a state championship, and he too set an indoor state record in Class 4A/5A with a time of 4:21.47 in the 1600-meter run. These guys are good. Really good.
"Maddox is the most high-profile track athlete to ever come out of our program, and we've had some really good ones to come through here," Robinson said.
Hamm is considered the top pole vaulter in the country, Robinson said. The senior is headed to Virginia Tech University to continue his track and field career.
"As good as Maddox is, he has always been a team-first athlete," Robinson said.
In addition to Hamm's dominance with the Scottsboro varsity track and field team, he also is a top performer in national track and field events, including the New Balance Indoor Nationals Meet. Last month, he traveled to Boston to take part in the 2023 New Balance Nationals, and he took home the boys pole vault championship with a record-setting jump of 17 feet, 8.5 inches.
Hamm has the nation's all-time highest pole vault leap with a jump of 18 feet, 0.5 inches. He set that record last year at the Adidas Track Nationals in Virginia Beach, Va.
Hamm's older sister, Lauren Hamm, was also a pole vaulter at Scottsboro High. She went on to pole vault at the University of Alabama-Huntsville.
While Hamm has achieved national recognition with the extraordinary performance in pole vaulting, his teammate is making his name well-known, too. Hill, a Scottsboro senior, has become a top sprinter.
"Evan has competed at the varsity level of indoor and outdoor track competition for me since he was a seventh-grader," Robinson said.
Hill has committed to attend Auburn University, where he'll be the latest in a string of Scottsboro track and field athletes who have signed with the Tigers recently.
"With Evan joining Auburn, that will give them at least six Scottsboro track athletes on their mid-distance and distance squad," Robinson said. "Some people have started calling Auburn's track program Scottsboro South."
At this year's indoor state championship, Hill's performance not only helped his team to the 4A/5A state title, it also gave the senior two state championship finishes and a state indoor record-setting time. His performance in the 800-meter event was good enough for second place.
Robinson said Hill is the consummate athlete who does whatever it takes to become the best he can be.
"Evan does all the right things," said Robinson. "He drinks right, he eats right, he goes to sleep right, he recovers correctly. He does all the little things that sometimes get overlooked. He has completely bought in."
The Scottsboro head track coach thinks Hill's strength will be in the long-distance events.
"I think he's going to end up being a 5k, 10k type runner," Robinson said. "He's more of a long-winded runner than the mid-distance events."
Robinson is in his seventh season as coach of the boys and girls track and field and cross country programs. According to Robinson, while Hamm and Maddox have deservedly received most of the state and national headlines, he likes to remind people that the girls and boys teams have been dominant for a while.
"I believe we have 18 state championships among the three sports and two genders over the last seven years since I've been here as head coach," Robinson said.
His Wildcats may not be through just yet. The 2023 Alabama Class 4A/5A and 6A/7A State Track Championships are coming up in May in Gulf Shores, and Robinson said he likes his team's chances.
"I think the boys and girls teams have a good shot to bring both state titles home," he said. "I think if we can bring our A-game at Gulf Shores, our boys and girls are both going to be hard to beat."