He is a classic anomaly – a head-hunting defender on the gridiron with a mission of taking away the football; off the field, he gives tirelessly to others. And somewhere in the midst of all this, Logan Paul maintains his standing among the finest scholars at Pierce County High School. Yet Paul, a member of Mershon Baptist Church, still strives daily for self-improvement.
"Mitch Hall just became our youth pastor in July, and we had our 'blessing of the backpacks', where he gave us the tools to start the school year," says Paul. Mitch said, 'The average student picks (his or her backpack) up 15 times a day. What if you picked up your Bible at least once a day?' After that, I started reading a devotional every day and putting my Bible in my backpack."
His team has been among the premier football programs in Southeast Georgia the past few years,
with three consecutive 10-win campaigns and Paul's senior class has a shot at graduating with the best four-year record in school history. Meanwhile, Paul continues to build an academic resume matched by few. He serves on the First Southern Bank Junior Board of Directors and gleaned Region 1-AAA All-Academic football honors in 2014. He has also been honored with the University of Georgia Certificate of Merit and is a BETA Club member. Paul's mother says her son is also buoyed in part by the memory of his late sister, Beth Ann Raulerson.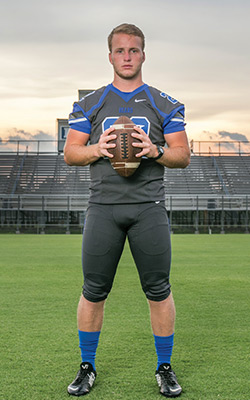 "Beth Ann has played a major role in who he is," says Kathy Paul. "I think we started doing the Beth Ann scholarship when Logan was 6 years old, and he went with me to award it. When he saw the chairs for the people getting the awards, he said 'I'm going to get one of those chairs one day'. Logan wants to change the world. He's not going to settle."
PCHS principal Dara Bennett says, "Logan is not only a great athlete, he is also a standout in the classroom. He is the in the top of his class and serves as a role model for other students. Logan has a great work ethic and gives 100 percent to all his endeavors."
God and family are important to Paul, who spends countless hours with grandparents Windell and Charlotte Smith. He's also a true friend in need who shaved his head when pal Austin King was diagnosed with cancer. When another lifelong friend, Mark West, broke a leg in second grade, Paul served as the designated wheelchair pusher. He was also a junior usher at the 2015 PCHS graduation where he served as a buddy for a special needs classmate.
"Logan is smart, caring and compassionate," says his father, David Paul. "He takes up for children that get picked on. We are just blessed to have a child like that. His maturity level is unmatched in a kid his age. I wish that I'd had it."
The Bears will rely heavily this year on Paul to bolster a defense that lost its entire secondary. He tallied 30 total tackles as a junior including 2.5 tackles for loss. He also recorded a half dozen pass deflections and a sack in his hybrid role. Paul is not the first member of his family to star on the gridiron for PCHS. His uncle, Kenny Smith, made a name as a member of the inaugural Bears squad of 1981. Now the latest football-playing member of the family is gaining notice.
"He is smart enough to play a couple of positions," says PCHS head football coach Sean Pender. "Logan is an outside linebacker, but he also has enough smarts to play inside linebacker and safety and know his job. Coaches tend to lean more on a kid like that to help get other kids on the right page."
Paul's position coach, Tucker Jenkins, calls the senior a "cerebral" player. That's an appropriate description for guy who carries a 4.00 GPA and 100.6 weighted average. Paul scored 1740 on the SAT and 25 on the ACT. He has lettered all three years of high school in both football and baseball while being part of region championship teams in both sports.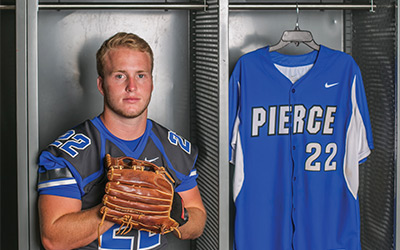 "Logan is an intelligent young man, and when you combine that with his athleticism, you have a very instinctive player," notes Greg Gay, head baseball coach at PCHS. "He gets great jumps on balls in the outfield and is a threat on the bases. Starting his freshman season, he has been 'Mr. Consistency,' helping drive us toward three straight region championships. However, the most impressive thing about Logan is that he is a tremendous young man. He has gone with us to the Dominican Republic on a mission trip, is very active in his church, and volunteers his time helping at one of our elementary schools. He is what you want in a student-athlete."
Listing math as his favorite subject, Paul defends his choice in saying, "I guess I'm just really good at solving math. I'm taking two dual-enrollment college courses through Coastal Pines Technical College." He also added a pair of honors classes through South Georgia State College where he plans to complete his core curriculum. "I still want to do something medical, like maybe being a dentist or an orthodontist," he says.
It probably wouldn't surprise anyone, though, if Paul followed in the footsteps of his mom, a teacher at Blackshear Elementary School. "Logan is very compassionate when it comes to special needs children," she says. "Logan said, 'Mom, I want you to teach me reading recovery strategies so I can teach kids.'"
Satilla Miracle League softball is one of Paul's passions, and he nurtures a dream of seeing nephew Rhett Raulerson walk again someday. "I just enjoy being out there with kids that may not don't have the athletic ability that I have and seeing them get that chance to have a blast," he says. "Always having a smile on their face really touches me in some way."
Paul stands to figure prominently on defense this season as he fills the shoes of Caleb Turner, who earned All-State accolades last season. Paul reveals a real passion for the game. At the same time, though, he notes the team's agenda is foremost.
"I just love being out there with some of my best friends and walking out under the Friday night lights with all those people," he says. "It's a feeling you don't really get anywhere else. One thing we've talked about since I got to high school is advancing further than we have before. When I got to high school, we made it to the Sweet 16, and last year, we got to the Elite 8. Yesterday is gone, the past is the past, and tomorrow is a new day. You just try to get better tomorrow than you did today."
---
Academic Athlete
Logan Paul
Pierce County High School
LOGAN'S RUN
Story by John DuPont
Photography by Jennifer Carter Johnson
https://itgnext.com/wp-content/uploads/web_logan_main_SE_0915.jpg
1000
750
Southeast Georgia
https://itgnext.com/wp-content/uploads/ITGNext-logo-Black-and-Cyan-300x186.png
Southeast Georgia
2015-09-24 20:12:47
2016-01-11 15:57:45
Logan's Run